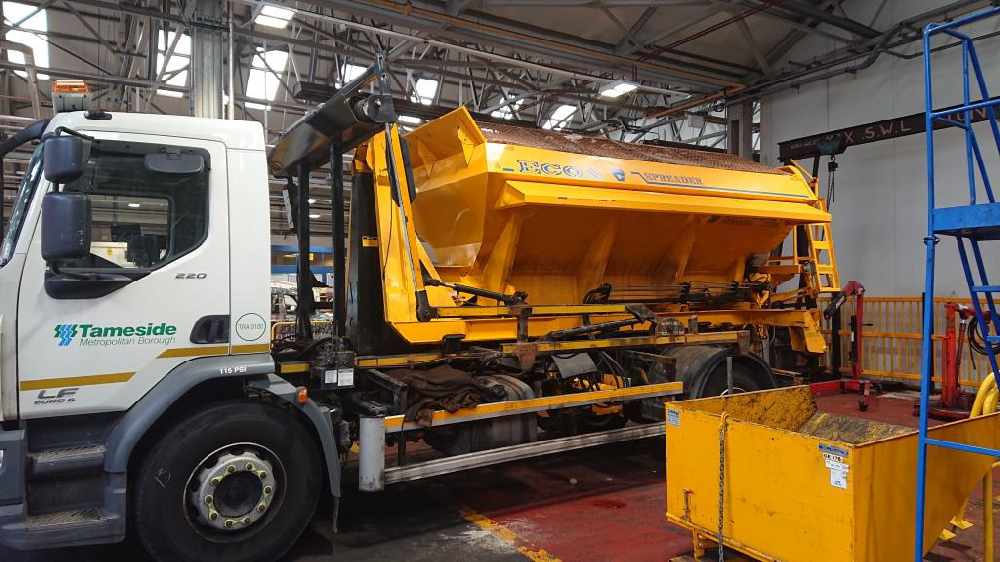 "Be prepared" is a motto that applies to Tameside Council's gritting team as much as it does to the Scouts.
Given the unpredictability of the British weather, no one can say when winter will arrive. However, when it does, Tameside aims to be ready.
The team, who are based at the Tame Street depot in Stalybridge, are already inspecting their fleet to make sure they'll be all set to go whenever the roads might be in danger of freezing.
Unlike most local authorities, which hire vehicles for the winter months at great expense, Tameside utilises its own HGVs which are coupled with the borough's own demountable gritter-bodies.
Not only is this a cheaper solution, it provides a better service all round as the same vehicles are used by the council's engineers in spring and summer.
Once the gritters are prepared they will be calibrated to their vehicles in early September to ensure the right amount of salt is spread.
Cllr Allison Gwynne, Tameside Council's executive member for neighbourhood services, said: "There's an old saying that you should mend the roof while the sun shines. That's just what we're doing by inspecting our gritters well in advance of the winter.
"It could freeze in early November, as it did 10 years ago, or we might have to wait until the new year. All we can say with any certainty is that the gritters will be needed at some point, and whenever that point arrives they will be ready"
Tameside Council's fleet consists of five large gritter-bodies as well as two smaller ones and a selection of ploughs and attachments.
Another vehicle and gritter-body are on order and due in December as part of the ongoing replacement programme.