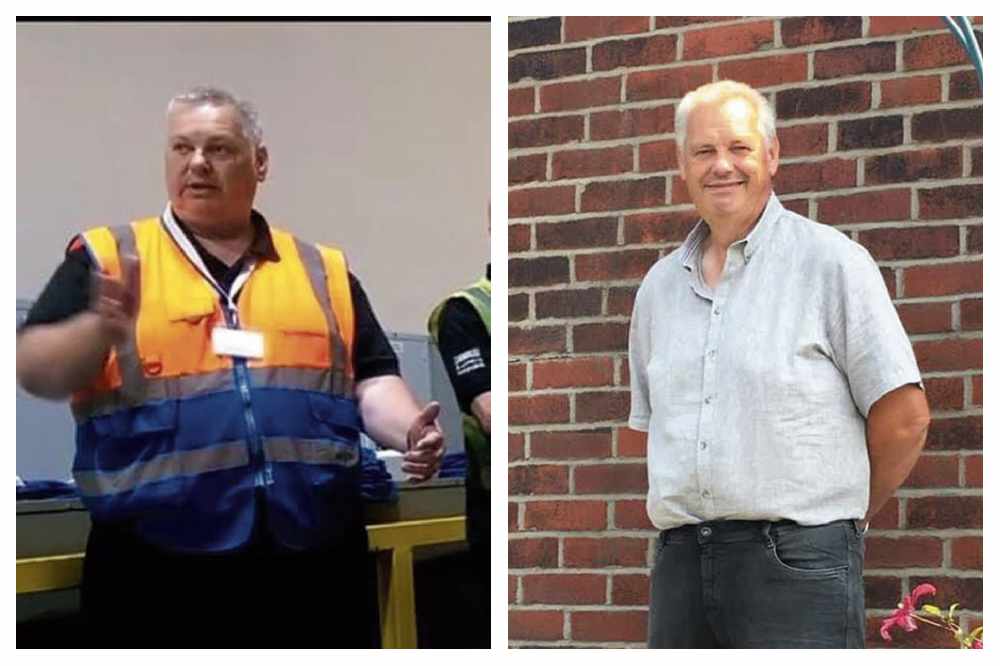 Martin Mills, who attends the St Christopher's Church Slimming World group on Lees Road in Ashton, joined in January 2019.
It has been a long journey for him, and he reveals that it was actually lockdown that got him across the weight loss line.
However, back then his health problems were giving his doctor real cause for concern.
Martin explains: "I was diagnosed with type 2 diabetes a few years ago and my doctor put me on medication to manage it. I couldn't though! I really struggled to lose weight and in fact I put more weight on. I had just had my six month check up at the beginning of January last year, and my doctor was so concerned that he said he would have to consider more drastic measures to control my diabetes, blood pressure and high cholesterol.
"I knew I had to get control of my eating! I didn't want to be taking more medication or contemplating having bariatric surgery!"
Martin explained: "Being overweight impacted on so many aspects of my life, from having to buy clothes online because the shops didn't stock my size, to not being able to do simple everyday tasks without feeling tired and out of breath. I always felt like I was lacking energy and on a slippery slope to gaining more and more weight."
Meanwhile, Martin's wife Sue had just reached her target weight, having been overweight for her whole life. Having shed over seven stones, she decided to become a Slimming World Consultant.
Taking over the group at St Christopher's she needed Martin to support her and hoped he would become a member and resolve some of his health issues.
Sue said: "He is a very private person and I really didn't think he would like to join a Slimming World group full of women! I didn't put pressure on him but was relieved when he said he would join! I know it took a lot to get him on those scales for the first time! He wanted to lose about six stones in total and that was quite a daunting task!"
But Sue needn't have worried.
Martin says: "I managed to lose over four stones in the first six months and then I seemed to maintain that for about nine months! I was enjoying being lighter but needed a good push to get me to the target! That push was Lockdown!
"I started working as a key worker, delivering parcels for Amazon and I was so busy - the weight just fell off! I didn't have time to snack - I just got on with losing the weight! By August this year I was so proud to reach my target weight loss of eight stones! My back pain and knee pain is gone!
"My blood sugars are normal and so is my blood pressure and cholesterol. I feel so much fitter! I have also made some great friends at the group!
"There are quite a few men who attend the group nowadays and they are reassured when they see how well I have done so I inspire them! That feels good!
"We all help and support each other with recipes and tips and if I was ever struggling they were always there to remind me why I'd wanted to lose weight in the first place and how far I'd come since first stepping through the doors."
Martin followed the Slimming World's Food Optimising eating plan and enjoyed eating healthy meals cooked from scratch. He still enjoyed his favourite foods like chilli con carne, cottage pie and curry, just cooked them the Slimming World way!
He says: "People think slimming means going hungry, yet it's not like that with this healthy eating plan. I love food and it's never once felt like I was on 'a diet' - in fact, people are always surprised at how much food I have on my plate and can't believe I'm losing weight eating so much delicious food and without ever feeling hungry. I eat loads of fruit and veg and I have so much more energy nowadays!"
Sue is happy because he can help her deliver her leaflets when she is promoting her group!
She added: "We know the obesity crisis is a ticking time bomb, and type 2 diabetes is linked to obesity too. We believe the support you get from being in a warm, empowering group environment is key to helping you eat more healthily and becoming more active too.
"The changes I've seen in Martin are incredible. I hope his success will inspire other people in Ashton who would like to lose weight and improve their health by forming new lifestyle habits and become happier to take action. There are other members in group who have similar success stories and are reducing their medication due to substantial weight loss!
"That's so important because the latest obesity statistics that show 69.2 per cent of people in Tameside are overweight or obese – one of the highest in Greater Manchester.
"There's a warm welcome waiting and, just think, if you start today you could feel like a completely new person just like Martin."
The St Christopher's group meets on Thursday evenings and Friday and Saturday mornings at St Christopher's Church Hall, Lees Road. To join, call Sue on 07715 844682 to reserve your slot in group.
Main image:
Martin Mills before his weight loss (left) and now (right) he feels like a new man.