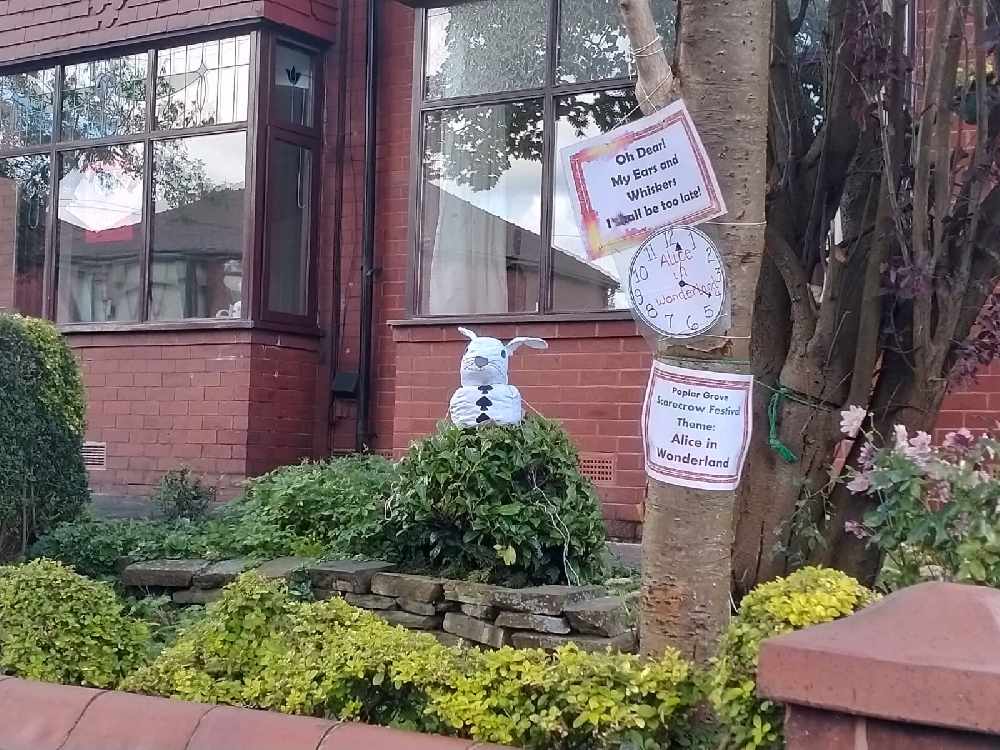 A small street in Ashton-under-Lyne has become a big-hearted community since lockdown hit back in spring.
Residents of Poplar Grove, close to Oasis Academy Broadoak primary school, have got to know each other better over the last few months.
One of the things they've done to help keep each other's spirits up, amid these challenging times, is hold a mini scarecrow festival.
The theme was Alice in Wonderland and residents came up with some brilliant creations of different characters from the popular Lewis Carroll novel to display in their front gardens.
Ruth Summers has lived on the street for 36 years and has been a brownie leader at St James's Church in Ashton for over 40 years.
She told the Reporter: "We started it on Thursday and finished it on Bank Holiday Monday with a socially-distanced street gathering outside.
"There were around six or seven scarecrows. Some residents have tall hedges in their front gardens so they weren't able to display scarecrows but they put up tea cups or paper plates instead, which still followed the theme.
"We chose Alice in Wonderland as there are several young children on our street so we thought there was lots of scope for them to get creative and inventive. The children have been a big part of it and took a keen interest.
"There wasn't a competitive element to the scarecrow festival, we did it just for fun.
"There was a nice reaction from passers-by when they've been walking to the nearby shops – they have stopped to have a look and have been interested by them. It's brightened up the street, broke up the monotony and gave people an excuse to come out of their doors.
"One of our older residents has enjoyed it so much that she asked when we're having the next one. We're already thinking about doing something around Halloween or Bonfire Night. Most residents have a front garden which is great for us getting together at a safe distance."
Browse the photo album below to see some of the scarecrows on show. Images taken by Sarah Moran.
The coronavirus pandemic has impacted all of our lives in some way but it has also brought about some positive elements – particularly for the community spirit among Poplar Grove residents.
Ruth added: "What transpired over lockdown was that we set up a WhatsApp group in May where we started looking out for each other.
"Some residents also became aware of a Quiet Streets Initiative being run by Tameside Council and our street was one of the pilot streets where we could apply to close the road at certain times in the week.
"We applied for Wednesday afternoons and Sunday lunchtimes where residents got together to exercise and socialise at a safe distance. It was great and you could see that children got to know each other as well.
"We also had a socially distanced VJ Day street party, so there's been a nice community spirit and something bright has come from lockdown.
"We have some older residents and some residents who are 'newcomers' if you like so we have a mixed bag. It's been a good opportunity for us to get to know each other better."