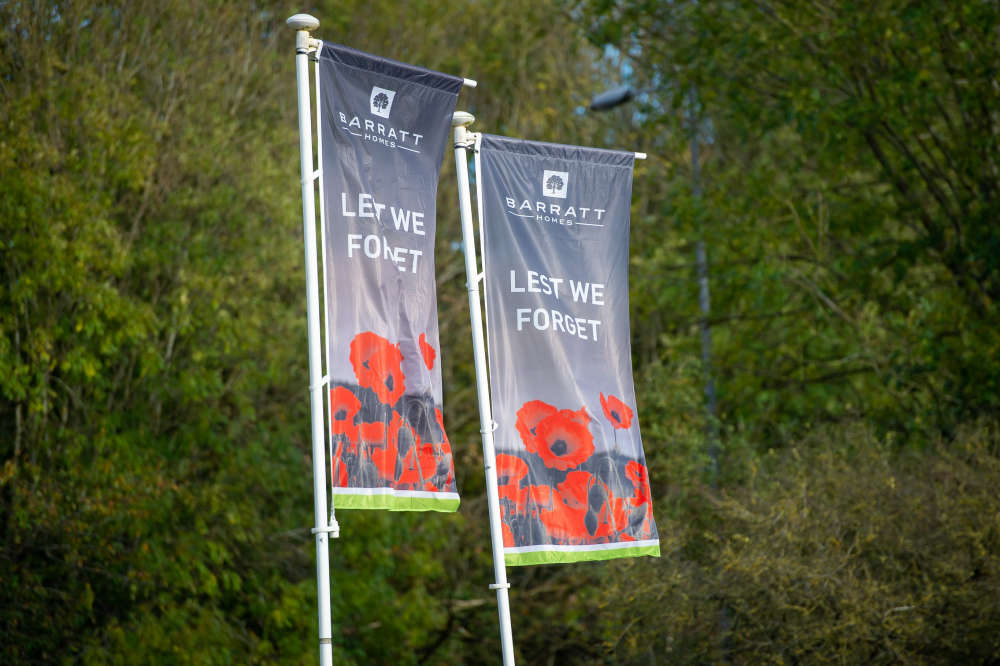 New homes developments in Greater Manchester are remembering fallen heroes on Armistice Day with their latest installation.
Barratt Homes' developments have added Remembrance Day flags to mark the annual tribute to all those who lost their lives during the wars.
This year has already been one of reflection and, following the multiple lockdowns faced during the pandemic, the challenges in 2021 provide a great opportunity for people across the UK to remember the challenges faced by those living through war times.
Residents of the new communities are encouraged to walk past the flags and think about all those who served in conflicts across the world ahead of Remembrance Day on Thursday 11 November.
Michaela Lancaster, Sales Director at Barratt Homes Manchester, said: "We're flying our Remembrance Day flags to honour the occasion as a tribute to all those who lost their lives in conflict.
"Whilst our new homebuyers can't all pay their respects together as a community, we're still encouraging residents of Greater Manchester to take in the flags onsite when walking by, and take a moment of quiet reflection."
Ahead of Remembrance Day, Barratt Homes has announced that it will be extending its five per cent deposit contribution for Armed Forces personnel and recent retirees throughout Greater Manchester.
The homebuilder has been supporting the Armed Forces throughout the last few years. It has a long-standing partnership with Royal British Legion Industries (RBLI), supporting the charity in confronting the challenges of veteran homelessness.
The partnership delivers new homes, mental health support and jobs for ex Armed Forces personnel.
Barratt Homes' scheme works by offering Armed Forces a five per cent deposit contribution up to £15,000. For example, if they were interested in a home costing £200,000, they would qualify for a contribution of £10,000.
Those wishing to apply should speak to a Sales Adviser during an appointment, who can introduce applicants to a specialist New Homes Mortgage Adviser.
Not only will currently enlisted members of the Armed Forces be eligible for the deposit boost, but anyone set to retire from the forces this year will remain eligible for up to 12 months from the date they retire.
For further information, call the Barratt Homes sales team on 033 3355 8474 to make an appointment with a Sales Adviser. Alternatively, visit www.barratthomes.co.uk.