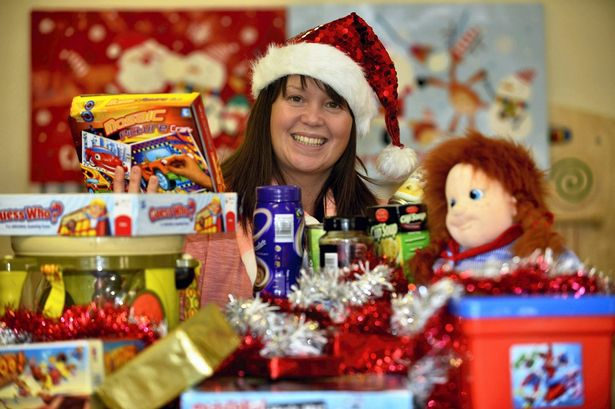 Christmas is coming... but the reality is many children living in poverty locally could genuinely go without a present under the Christmas tree this year.
Step in Tameside 4 Good who aim to make sure every youngster aged up to 18 years old will receive a gift once again this year, thanks to the Tameside 4 Good Christmas New Toy Appeal, which officially launches on Monday.
Once again your Tameside Reporter and Tameside Radio are proud to support the appeal and our offices will be one of the official drop-off points for donated new toys from Monday.
The aim of the appeal, run by Tameside 4 Good and Action Together, and supported by Tameside Council, is to ensure every child living in poverty in the borough will receive a new toy on Christmas Day morning - something they may not otherwise have.
Over the years the appeal has been able to donate literally thousands of new toys to families in need.
Many local businesses and schools have already signed up to support this year's appeal - now all we need is you!
All new donated toys collected go to local children's centres before being delivered (by Santa) in time for Christmas.
Thanks to your incredible generosity over the years we can all make a difference for those most in need this Christmas.
All donations should be unwrapped and only brand new toys can be accepted.
There is always a higher demand for gifts for babies and teenagers, especially boys.
All donations must be received by Friday, December 6 and can be taken along to any of the drop off points listed below.
For more information about the appeal, visit www.actiontogether.org.uk/winter-support or email info@actiontogether.org.uk or call 0161339 2345.
And once again - thank you for your help and generosity.
Donation points can be found at:
• Jigsaw Homes, 249 Cavendish Street, Ashton
• Tameside Radio/Reporter (Quest Media), Bank Street, Ashton
• Greater Manchester Pension Fund, Guardsman Tony Downes House, 5 Manchester Rd, Droylsden
• Tameside Women and their families centre, Cavendish Mill, Ashton
• Denton West End Community Library, Windsor Road, Denton
• The Village Hyde, Captain Clarke Road
• The Village Ashton, Pamir Drive
• Community Cutz, Chapel Road, Droylsden
• Wendy/Mandys Café, Ashton Indoor Market
• Together Centre, Loxley house, Birch Lane, Dukinfield
• St Paul's vicarage, Huddersfield Road, Stalybridge
• St Martin's Church, Greenside Lane, Droylsden
• Action Together
• ABC Nursery, Onwards Street, Hyde
• Godley Community Primary, Hyde
• Denton Festival Hall, Peel Street, Denton
• Gorse Hall Primary, Forester Drive, Stalybridge
• St Marys Primary, Cheetham Hill Road, Dukinfield
• Digital Flamingo – c/o Brianna Harvey, Ashton Old Baths, Stamford Street West
• Ashton Sixth Form College
• Tameside Council, Tameside One, Ashton
• Pearsons Solicitors, 1 Henry Square Chambers, Old Street, Ashton
• Holy Trinity Church and Community Centre, Dean Street, Ashton
• Stalybridge Civic Hall, Trinity street, Stalybridge
• Village Card Shop, Haughton Green
• Droylsden Academy, Manor Road, Droylsden
• Active Ashton, Water Street, Ashton
• Active Medlock, Gardenfold Way, Droylsden
• Active Copley, Huddersfield Road, Stalybridge
• Active Hyde, Walker Lane, Hyde
• Ashton - St Peter's Children Centre, Clyde Street, Ashton
• Droylsden and Audenshaw Greenside Children's Centre, 224 Greenside Ln, Droylsden
• Hyde Children's Centre
• Ridge Hill Children's Centre, Stalybridge
• Parochial C.E Primary
• St.Mary's food bank in Haughton Green, St Marys Rectory, Meadow Ln, Denton
• Guide Bridge MOT & Service Centre, South Street, Ashton.