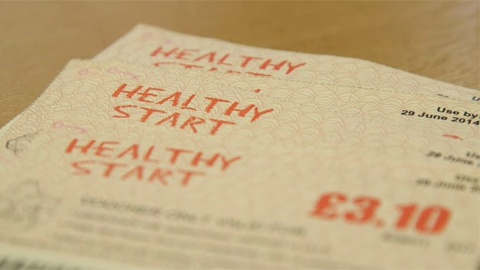 Families in Tameside will now be able to benefit from an increase in the value of Healthy Start vouchers. 
The vouchers are now worth £4.25 each week - up from £3.10 previously.
They can be used at local shops to buy milk and fresh or frozen fruit and vegetables or vitamins, tablets for women and drops for children.
Pregnant women can receive a voucher worth £4.25 each week from the 10th week of pregnancy. Families with children from birth to one year old can receive £8.50 each week and for children between one and four they'll receive £4.25 each week.
People must have a child under four years old or be at least 10 weeks pregnant receiving either Income support, Income-based Jobseekers Allowance, Income-related Employment and Support Allowance, Child Tax Credit (with a family income of £16,190 or less per year) or Universal Credit (with a family take home pay of £408 or less per month).
Residents can find out if their family earns £408 or less per month from employment whilst claiming Universal Credit by looking at their 'take-home pay' for this period on their monthly Universal Credit award notice.
People who are eligible can download a copy of the application form online from Tameside Council's website or obtain a copy from their key worker who can help with the application process.
Anyone struggling to download and print off an application form can request a copy by post - call the Healthy Start Helpline on: 0345 607 6823. Completed applications can be returned using the FREEPOST envelope provided in the application pack.
A Tameside Council spokesperson said: "There will be lots of people struggling financially who are now eligible to take advantage of this offer which will help to reduce weekly shopping bills.
"The increase in the vouchers worth will have a big impact on reducing out-goings. The application process is really simple. Anyone who finds themselves eligible to receive the vouchers should take advantage of this scheme and apply today."
To find out more about the scheme, visit https://www.tameside.gov.uk/healthystart
Read more from the Tameside Reporter
Click here for more of the latest news
Click here to read the latest edition of the paper online
Click here to find out where you can pick up a copy of the paper