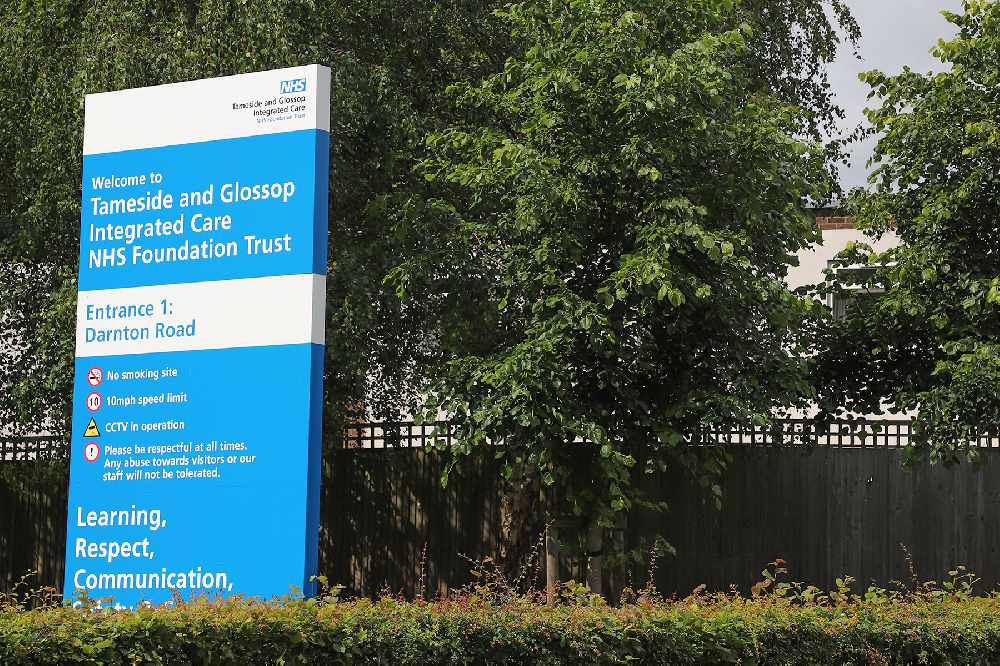 Tameside Hospital, where Glossopdale patients will still be able to access the care they need.
Tameside and Glossop health bosses have said they are 'saddened' by the decision to move Glossop into the Derbyshire Integrated Care System but have sought to reassure patients. 
It comes after the government announced last week its decision that the new ICSs being introduced next year should follow authority boundaries.
Glossop, currently under Tameside and Glossop Clinical Commissioning Group, was due to become part of the Greater Manchester ICS and plans were at an advanced stage.
However, in May, the change was proposed at the urging of Derbyshire County Council.
NHS Tameside and Glossop CCG Co-chairs, Dr Ashwin Ramachandra and Dr Asad Ali, said: "Glossop patients can be assured that they can still continue to access the care they need through their General Practice and wider health care services and can still choose to access urgent care at the local hospital in Tameside.
"In Tameside and Glossop, we have made some important progress in recent years on joining up health and social care services and are seen as exemplar nationally.
"And so, while of course we are saddened that Glossop will no longer be a part of our formal boundary, we are really proud of the work we have done together to improve health outcomes and will continue to work closely.
"We will ensure effective working with all stakeholders and communities to continue to deliver high quality care, champion improvements in the accessibility of health services and work with people locally to improve prevention, support and thereby improve healthy life expectancy in both Tameside and Glossop.
"Not least through the development of care provider systems by the ICFT and locality working in the four neighbourhoods of Tameside and the Glossop area of Derbyshire."
They added: "The announcement has only just been made and it will take some time to digest the implications in detail.
"We will work closely with all partners and the public to ensure people understand exactly what these changes mean and once there is a greater understanding further updates will follow."
County councillor, Jean Wharmby, said the move shouldn't make a difference to the service Glossopdale people receive.
"They still use the same doctors and hospital facilities it is just our funding will come from Derbyshire and not Greater Manchester. Splitting Derbyshire into two ICS's would have seen inefficiencies and incurred extra costs."
She said: "At the end of the day we have got to get on with it. It is the best outcomes for Glossop residents that we want."
However, concerns and questions have been raised on how a decision on healthcare could be taken with so little consultation.
Glossopdale Labour Group, who expressed alarm about the proposals, said at the time there had been no consultation or plans for consultation with residents.
In a statement this week, they said: "There was also only a minimal attempt to collect the views of medical practitioners, the voluntary sector, and social care providers who were against the proposal.
"Nothing has happened since to rectify this situation, and we remain unconvinced that severing well-working links developed over many years for this proposal is either sensible or practical.
"In announcing its decision, the government says that it has consulted 'stakeholders' in the area but provides no evidence for why those views have been ignored.
"The only 'stakeholder' view that seems to have been taken into account is Conservative-controlled Derbyshire County Council, who pushed for this change for administrative ease."
Helen Robson, a Director of Autistic UK, believes not all services will continue as normal.
"Access to extended services and treatment is dependent on living or receiving government funding for health care in Tameside, therefore residents will have extremely limited access and we are concerned about the gaps being overlooked.
"We still haven't been consulted about how those gaps are going to be met and extremely concerned that during transition there will be no further consultation with Glossop residents."