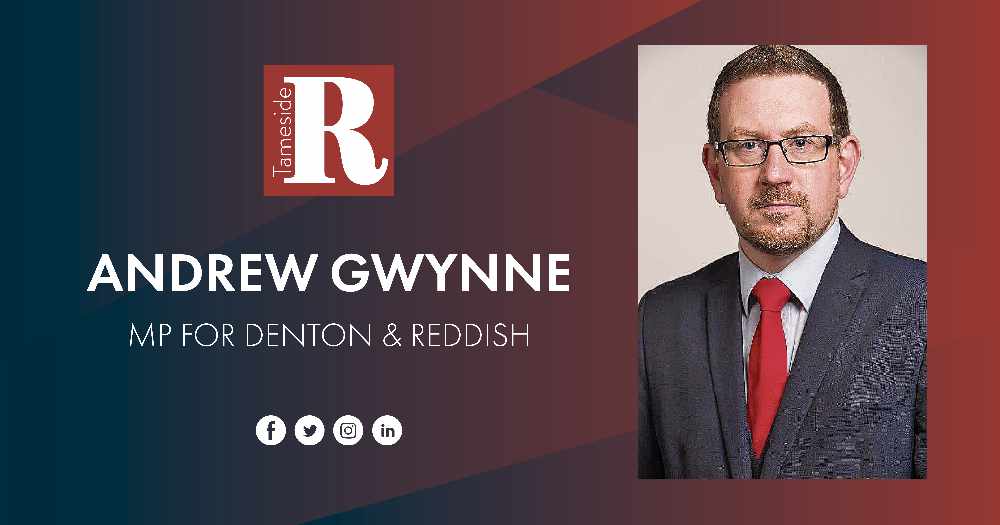 Read Denton MP Andrew Gwynne's latest column for the Tameside Reporter.
On Monday, I announced that I had been unanimously reselected as Labour candidate for Denton and Reddish at the next General Election - whenever it comes.
This is a process that usually takes several weeks, and enables local Labour Party members, affiliated socialist societies, union branches and the Co-operative Party to have their say in who they want running for Labour in the next election.
It's a real honour to represent my home, and I'm so grateful to members and organisations for putting their trust in me again.
I passionately believe that Tameside needs a Labour government and has been badly let down by the Tories over the last 12 years.
2010 (when Labour was last in power) now seems a world away. Back then we had sure start, several school building programmes, a new hospital and the tram extension had just started. Councils were able to boost civic pride and spend money on flowers in parks and hanging baskets in town centres. Health inequalities were narrowing, and we had more police on our streets.
All this hard work has been undone by successive Conservative administrations. Council budgets have been slashed, NHS waiting lists are skyrocketing and health inequalities are growing at a rate not seen for over 100 years. The people of Tameside have felt the full force of a national government that does not prioritise their interests.
That's why I'm doing everything I can to fight for a Labour government. My job is to help people out on a local level, and to be a strong voice for Denton and Reddish in Parliament. But the fact is, if we don't have a Government that understands the issues people in Tameside face on a daily basis, we won't get the proper support that we need.
Unfortunately, the Conservative government are too busy bickering about parties and how best to protect the Prime Minister's job to focus on the serious issues this country faces. In Tameside, we cannot afford to have a government which is perpetually distracted and fighting like rats in a sack.
It's time to tackle the cost-of-living crisis, to give Councils the support they need to improve things on a local level, ensure local schools are up to scratch and much more. The way I see it, Labour is the only party serious about getting on with the job, which is why I will be fighting tooth and nail to win the next election for the people of Tameside.
Read more from the Tameside Reporter
Click here for more of the latest news
Click here to read the latest edition of the paper online
Click here to find out where you can pick up a copy of the paper