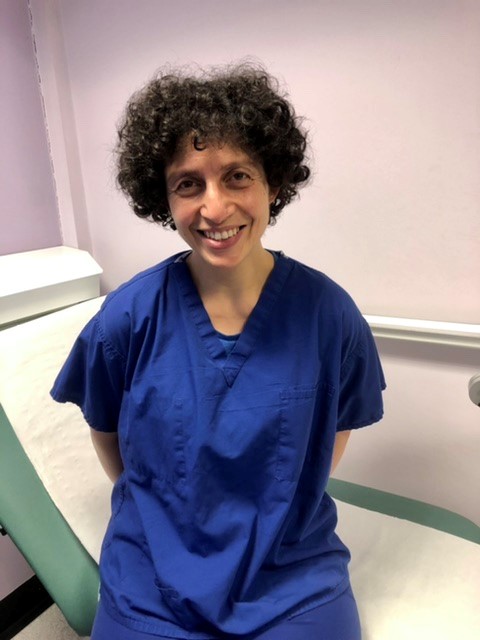 A GP from Denton has told how her general practice changed their ways of working for patient safety at the start of the coronavirus pandemic.
Dr Despina Smith, 45, has been a GP for 16 years and a GP Partner at Denton Medical Practice for the last seven years.
The majority of her practice's consultations had to be done by telephone or video almost overnight to keep patients safe and to prevent the spread of the virus, like many other GP practices in Tameside and Glossop.
In addition to other service changes, the GP practice also introduced an online consultation system where patients go on Denton Medical Practice's website to complete a form which lets the GP practice know how they can help.
Dr Smith (pictured) said: "This has gone very well as patients are able to complete these forms at any time during the day or night. Patients can of course still call the practice if their problem is urgent or they do not have access to the internet. Working in this new way has helped us deal with more patient queries and direct patients to the right member of our team sooner."
Denton Medical Practice is now able to deal with and treat far more patients with their new system of working, and have more appointments. Reduced patient contact has meant reduced exposure to COVID-19 for the patients, which helps stop the spread of the disease.
The GP practice still gets to see their patients via video consultation and they still have several face to face appointments each day for urgent and routine appointments but these have decreased due to the new ways of working.
Since March, together with her colleagues, Dr Smith, who has two teenage children, has had an increased sense of anxiety, especially in the first few months of the pandemic dealing with uncertainty and constant change which they found stressful. The main emotion she felt is a great sense of responsibility to keep herself, her family, her patients and colleagues safe.
She continued: "I am proud of the way that our practice team and our patients have responded to the pandemic. Most people have been very kind and supportive of our attempts to improve communication and reduce the rate of spread of the virus. I am enormously proud that Tameside has had one of the fastest rate of reductions in the spread of the virus in the second peak, and I'm thankful none of my family or patients who I've seen face to face have tested positive.
"Parents with children have been really happy with the video consultations as they do not have to leave their homes as many assessments can be done by video. People with rashes can now send a photo of their rash which can usually be diagnosed and treated in this way too."
Patients are usually able to speak to a doctor within 72 hours for a routine query and on the same day for an urgent problem.
Dr Smith added: "Hopefully, patients who have had contact with our practice over the past nine months know that we are open for business as usual. We have made every effort to be clear that although we are here to support them with help and information about the pandemic, our priorities are their ongoing healthcare needs and health promotion.
"We are still running daily blood tests, GP and nurse clinics and encourage all of our patients to continue to contact us with their physical and mental health problems."
Dr Ashwin Ramachandra, Co-Chair at NHS Tameside and Glossop Clinical Commissioning Group, said: "This is a good example of how the GP practices in Tameside and Glossop have had to change and adapt to new ways of working in order to protect their patients from this dreadful virus.
"Hopefully, patients do understand that their GP practice is open and has been throughout the pandemic thanks to the dedication and commitment of all their staff. GP practices still want to hear from people who have a health concern so please do not hesitate to get in touch with them".
For details on how to access healthcare before, during the Christmas and New Year bank holidays and after, visit https://www.tamesideandglossopccg.org/accessingcare