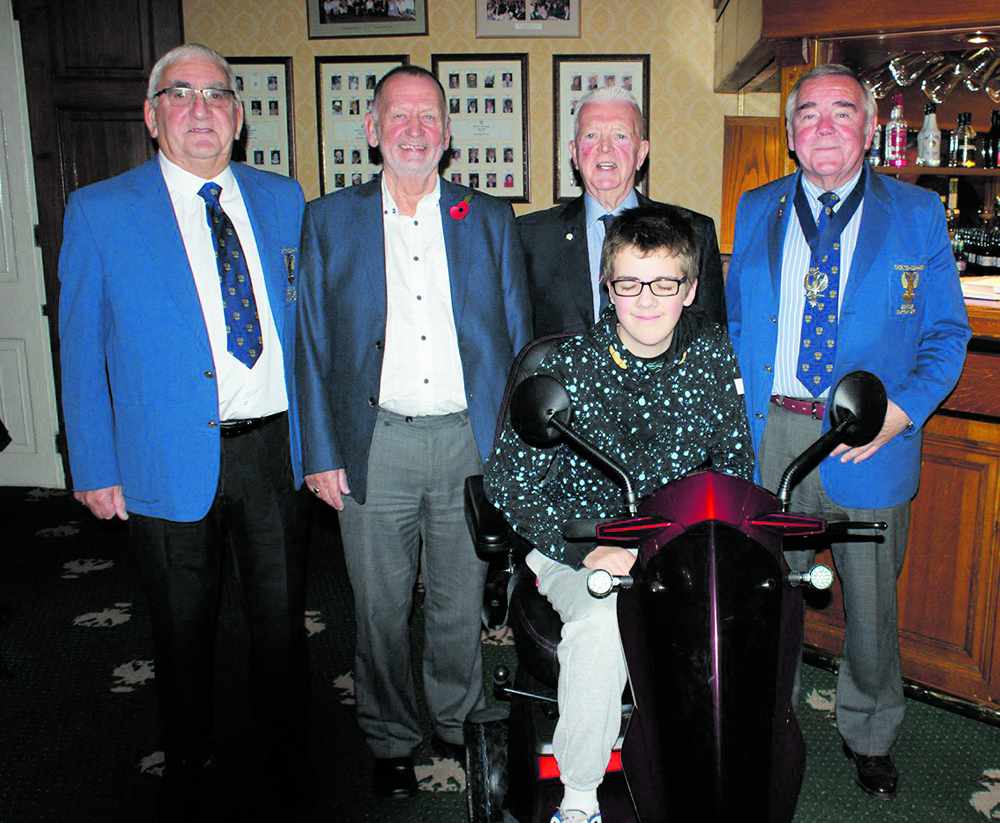 Denton Community College student Dylan Blower has been presented with a powered wheelchair to help him get around.
Dylan, 13, suffers from Severs disease which means he is unable to walk properly and has to rely on walking on his toes with the aid of crutches or crawling on the floor.
He also suffers from a condition called photophobia, meaning he is unable to go out in the light when he suffers an attack of the condition, as it causes him dizziness and instability.
He also has coeliac disease which means he has to have gluten free food.
But the special scooter donation will enable him to get around, plus travel to school without his mother having to take him each day.
The keen Manchester United fan received the donation from the Scroungers' Golf Society, with the presentation being made at Chorlton Golf Club's historic building.
The Scroungers will be celebrating their 50th anniversary in 2020 and over the years they have raised more than £500,000 to buy powered wheelchairs for youngsters with severe physical disabilities. It was the charity's 199th powered wheelchair.
Chorlton Golf Club have been great supporters and hosts for the Scroungers' Golf Society for over 30 years.
Dylan's parents Kevin and Christina attended the presentation and were delighted to watch him ride his new scooter around the Chorlton clubhouse with the assistance of Chorlton Captain Dave Paxton.
Scroungers' President Rod Wild, from Hopwood Golf Club, thanked Chorlton for their great support of the Scroungers over the years and also to the Scroungers' members who mainly come from golf clubs in Tameside, Oldham and North Manchester for another fantastic effort.
Main image:
PRESENTATION: Dylan receives his scooter from Scroungers and Chorlton officials.