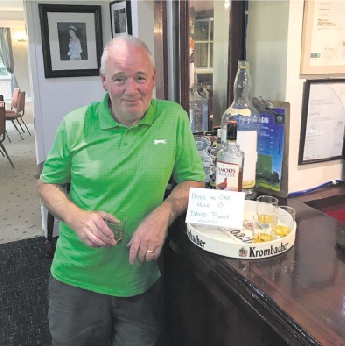 David Poole has recently joined Saddleworth Golf Club and he quickly made a big impression by securing his first ever hole-in-one.
David was playing a social game with the club seniors when he used his hybrid on the 140-yard par three tenth hole into the breeze and to the delight of himself and his playing partners it went straight into the hole for a well celebrated ace at the 19th on completion of the round.
l Saddleworth ladies played a Royal Portrush Open and the winners with 33 were Maxine Parfitt and Brookes Koepka from Kaye Orme and Lee Westwood 35.
A pro's BB medal at Saddleworth was won by Steve and Ben Pullen after a cpo on 59 with Ian Lees and Colin Crawford from Gary Simpson and Tad Knebel 62.
l Kallis Hyde was the main man at New Mills in a medal-topping division one with a sizzling 60 from Neil Stafford 67 and Jack Marshall and Mark Brooks, both 68.
It was closer in division two with Michael Deaville winning a cpo on 63 from Clive Garside, two less than Michael Collinge and Chris Jenson.
A Seniors Stableford at New Mills saw Alan Blakeman cruise to victory with 31 points from Graham Elliott 27 and Philip Holland 25.
New Mills ladies were in 'major' action in the Warren Cup fourth round with Josephine Coull winning a cpo on 35 points from Maureen Harrison, one more than Elizabeth Milne.
l A Sunday Stableford at Ashton had the divisions topped by Liam Jones with a fine 43 points, Billy Holas 39 and Darren Dykes 33.
Tuesday Stableford action at Ashton had the divisions led in by Jacob Hall after a cpo on 40 points with Graham Johnson, James Kennedy after a cpo on 41 with Matthew McLeod and Martin Wild and Lee Batkin 40 with the Yellow Tee winner being Geoff Spiby after a cpo on 37 with Keith Pearson.
Ashton ladies were also in Stableford mode with Sarah Pownell on top with 39 points from Jane Littlewood 38 and Elaine Penning 36.
l A British Open medal for Brookdale's men saw Thomas Barlow unstoppable with his 61 seeing him five clear of Craig Taylor, Mick Scrivens and Captain Peter Buckley.
A ladies medal at Brookdale was led in by Adele Keate with 70 from Lucy Reeves 72 and Valerie Brogan 74.
l Crompton and Royton ladies played a medal for the Marks Cup which was also a qualifier for the MDLGA Bunty Booth competition.
Zoe Styles will be representing the club after posting 70 to finish ahead of Edwina Owen 73 and Linda Haughton 73.
A Midweek Stableford for C and R's men had the divisions led in by Geoff Boyle 40 points, Clifford Wood 41 and Luke Eckersley after a cpo on 39 with Carl Winstanley and the 9-hole Stableford winner was Anthony Morris with 20.
l Lady Captain's Day at Dukinfield was won by in-form Annita Kenworthy with 72 taking her clear of Cathy Peel 73 and Lisa Shea 78.
Duki's men played a Summer League Stableford and Marvin Russell was top of the shop with 43 points from Martin Brennan junior 42 and Tim Beck 38.
l Denton Lady Captain's prize to the Seniors was won by Terry Pottage with 39 points from F Goodwin 37 and D Watts 36.
The Lady Captain's Prize to the men had M Slater on top with a sizzling 61 from M Sayers and S White, both 65 with a nine-hole competition won by the Captain after a cpo on 20 points with Jordan Wood.
A Ladies Red Tee Texas Scramble was won by Norma Boott, Trish Ferguson and Lana Mulhearn with 74.7 from Rose Thackeray, Marie Oetting and Joyce Vernon 83.9.
l The Albert Flindle Trophy for Fairfield juniors was won by Aiden Wrigley with 38 points, two more than Josh Profitt and Cole Parkinson. The latest Green Blazer medal at Fairfield had the divisions topped by Daniel Murray 68, John Furlong junior 66 and George Kay after a cpo on 67 with Martin Stubbs.
l A BB Stableford for Stamford's men had the old firm of Martin Dwyer and Kevin Duffy winning a cpo on 44 points from S Reynolds and M Liddle.
Kim Mulvaney won a ladies Stableford at Stamford with 35 points, one more than Lady Captain Nikki Pimlott and the nine-hole winner with 14 points as Sandra Johnson.
l The latest results in the Oldham and District Rabbits League were: Ashton 6, Dukinfield 2, Oldham 7, Houldsworth 1, Stamford 6, Brookdale 2.
League placings: 1 Stamford 41, 2 Ashton 36, 3 Oldham 33, 4 Dukinfield 32, 5 Brookdale 31, 6 Houldsworth 27
l Delamere Forest Golf Club staged the Cheshire Seniors Strokeplay Championship providing a tough golfing challenge on Day One of the 36-hole competition with a CSS of 74.
Cheshire Seniors Captain Gareth Bradley (Bramhall Golf Club) was the top man with 71 taking him clear of Euan Dunbar (Vale Royal Abbey) 72, matchplay champion Martyn Grimley (Ringway) 74 and Dave Baker (Crewe), John Williams (Prestatyn), Robin Akehurst (Vicars Cross) and Neil Waite (Vicars Cross) all 75.
But day two was washed out by heavy rain so the championship was decided on the first round scores with Gareth Bradley declared as the champion from Euan Dunbar.
The age group prizes were 65+ nett John Nono (Ringway) 71 and gross Roy Smethurst (Crewe) 76, 60-64 years nett Murray Waters (Bromborough) 72, gross Dave Baker 75, 55-59 years nett Marc Bright (Prenton) 69, gross Martyn Grimley 74.
l There was plenty of action in the Oldham and District Rabbits League with the cup final decided as Dukinfield beat Ashton 14-2 to book their final slot as Group B winners and they will take on Stamford at the neutral venue of Oldham.
League results: Oldham 9, Stamford 0, Dukinfield 8, Houldsworth 0, Brookdale 4, Ashton 4.
League placings: 1 Stamford 35, 2 Dukinfield 30, 3 Ashton 40, 4 Brookdale 29, 5 Oldham 26, 6 Houldsworth 26.
by Geoff Garnett