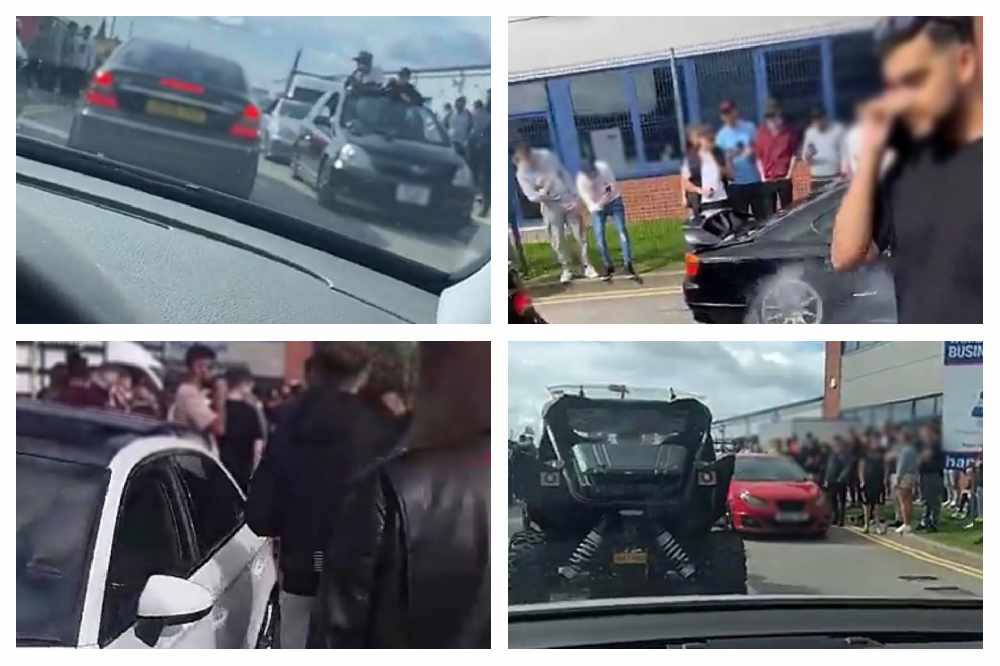 Greater Manchester Police have confirmed that they're pursuing all available options as part of an ongoing investigation into the huge car meet that took place in Denton earlier this month.
In an online question and answer on Thursday [30 July] officers from the forces neighbourhood team took questions from the public about the event.
It's estimated that thousands of people attended the event at JDK Autoworx at the Tameside Business Park.
Plenty of questions were sent in to the police force - many asking if any prosecution wasn't going to take place.
Unfortunately, the police are unable to comment on ongoing investigations, but said they're looking at the organisers and those who drove dangerously.
One question from a member of the public asked whether there was any attempt to stop cars speeding around Dane Bank estate. Sergeant Mahon replied: "Attempts were made to stop the cars speeding, however, the roads soon became gridlocked, access was therefore impossible. Once the gridlock was in place and the zone was 'sterile', speeding couldn't take place. This situation was used as best we could to prevent any further driving issues. Public safety was our priority at the time."
An anonymous user asked why there can't be another event like this, saying there's 'clearly' a market for such things.
Chief Inspector Broadstock replied: "This is an example of the attitude of those that attended, though a minority, it showed on the day they are a significant minority. They show no regard for the safety of others or the disruption they cause. The local authority and GMP will work with organisers who want to organise safe and licensed events, any organiser must show due regard for the local community and health and safety obligations."
Answering a question on why there appeared to be no action from the police, Inspector Smith said: "We did do something. You have to appreciate the situation as it actually was. By the time we were aware, the roads were gridlocked, the industrial estate was impossible to get too. There were multiple thousands in attendance and thousands of cars, some were attending the event, others were general road users. We prevented many of these car cruise attendees from entering the zone, frustrating them and forcing them to leave the area. We could then deal with the gridlock. Once the vehicles started to move more freely, we attended the site. The site was closed within 20 minutes. To go in any sooner would have led to potential disorder – we diffused the situation, stole the impetus of the drivers and then dealt with it."
Any breaches of the Covid-19 regulation are being investigated by Tameside Council, whereas officers confirmed that offences committed on the motorway are being looked into by GMP's Specialist Road Policing Unit.
Answers are available to view online by following a link at @GMPDenton until next Thursday [6 August].