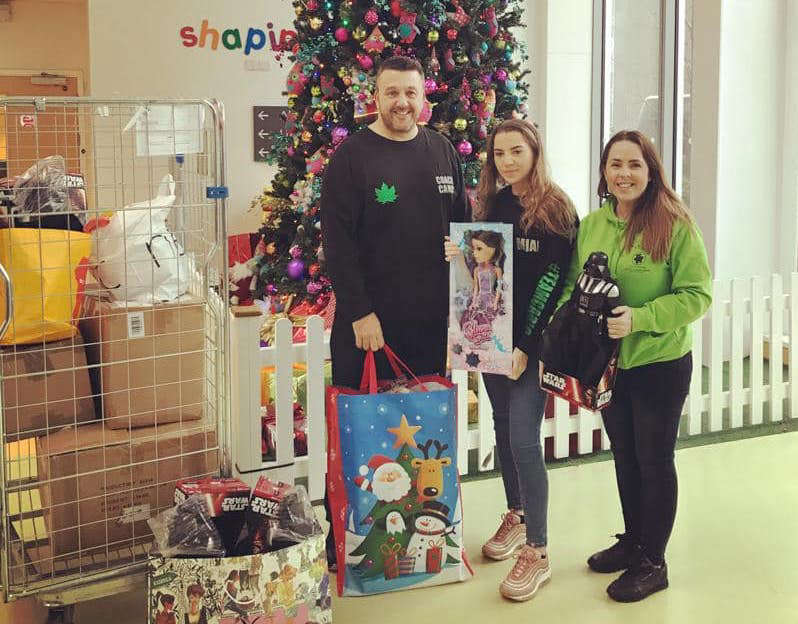 Delivering gifts in previous years.
A young girl spent her childhood wondering if Father Christmas knew to take her presents to the hospital and now works miracles for children in the same position.
After facing a savage attack by a dog when she was just 6 years old, Miah Maddock-Hodgins and her family spent the festive period in a hospital ward.
The attack left her in the care of Royal Manchester Children's Hospital for quite some time, leaving her to wonder if she would receive any of her presents that year.
12 years later, Miah has worked to deliver Christmas miracles to countless children ever since the attack and is looking to do the same again this season.
Her annual fundraiser sees her raising money for Royal Manchester Children's Hospital and Francis House. The 18-year-old also ensures that the children each receive a gift and so is pushing for present donations from the local community.
"The best feeling in the world is seeing their smile warm the whole room when they realise the community has come together to do something for them that they didn't think was manageable.
"I left the hospital with lifelong scars all over my face but what I went through doesn't compare to some of the stories I have heard from children over the years of visiting them during Christmas," she says.
The Covid pandemic has meant Miah has been unable to perform this act of kindness for a while, yet prior to this she loved travelling through the wards and gifting the children she came across.
Christmas time is an incredibly happy time for some, and work like this makes sure that every child can feel some Christmas magic.
Miah is beyond proud to be able to raise money and collect gifts for these two charities again this year.
Noticing a lack of teenage donations, Miah is pushing for presents to gift to those who may be a little bit older, with ideas such as perfumes and cosmetics.
All gifts must be new and in their original packaging. Chocolate and confectionary items must be fully intact and ingredients visible with allergen information.
They ask for presents to be unwrapped and say that they cannot accept homemade food items.
If you would prefer to offer a cash donation then this is also greatly welcomed, with gifts purchased with this donation.
Now could not be a better time to perform an amazing act of kindness and change a child's life.
If you would like to get in touch with Miah to discuss cash donations you can email her at miahmaddock2703@outlook.com.
You can access her drop-off points below:
Stalybridge
Fox Tavern, SK15 1NQ, Ridge Hill Lane.
Open Monday-Friday from 3pm and Saturday-Sunday from 12pm.
The Organ Pub, SK15 2JR, Acres Lane.
Open Monday-Thursday from 2pm and Friday-Sunday from 12pm.
Denton
APEX Cheer HQ, M34 3RQ, Catherine Street East.
Open Monday-Thursday 4:30pm-9pm.
Mossley
Evade Martial Arts, OL5 9AY, Unit E207J Warmco Industrial Park.
Open Saturday 10am-1pm and Monday-Thursday 4pm-6pm.
Harold Stock and Co, OL5 0LN 55-57 Stamford Street.
Open Monday-Thursday 9am-5pm and Friday 9am-4:30pm.
Oldham
Made-Up Hair and Beauty, OL8 3HH, 1 Limegreen Parade.
Open Wednesday-Saturday 8:30am-5pm.
Read more from the Tameside Reporter
Click here for more of the latest news
Click here to read the latest edition of the paper online
Click here to find out where you can pick up a copy of the paper