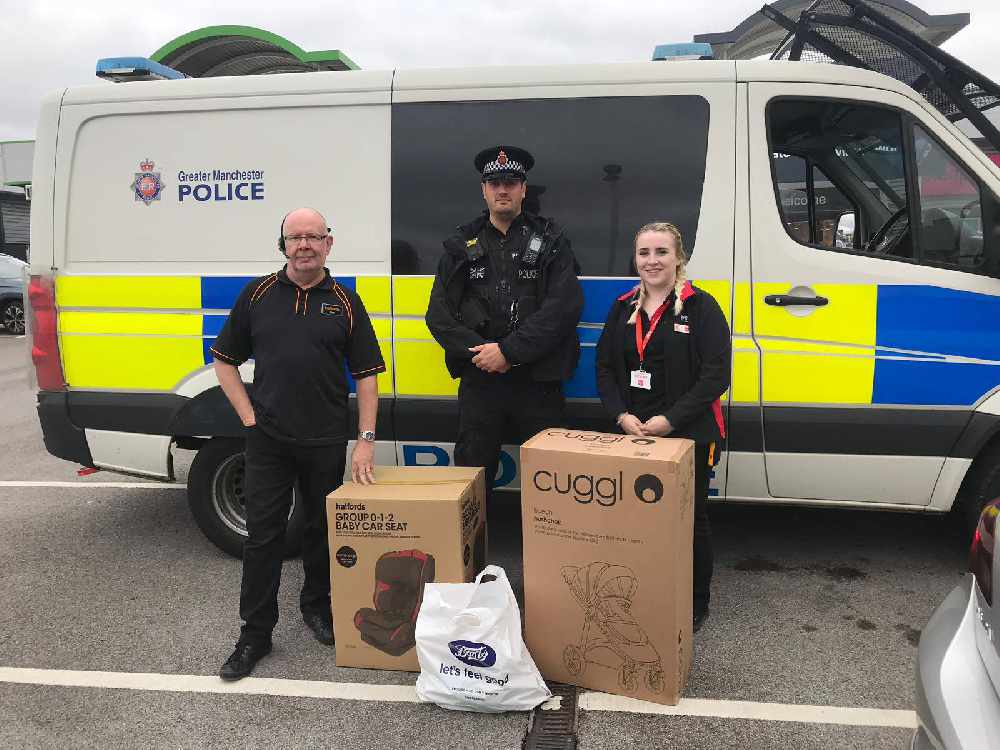 Tameside businesses and a police officer have rallied round to help a heavily pregnant mother whose car was stolen outside Tameside Hospital yesterday afternoon (Wednesday). 
The woman was at the Ashton-based hospital for her final appointment before she is due to give birth when her navy Ford Kuga car was stolen, just before 1pm.
PC Beswick, from Greater Manchester Police's Tameside North team, has been visiting local businesses today (Thursday) in a bid to get mother Amy a replacement car seat so she can leave hospital with her newborn baby and has been amazed by the response.
"Halford's have been beyond generous and have come through for us," Sergaent Jackson said in a statement on Facebook.
"PC Beswick, while on a mission, decided to see if anyone else was in a giving mood. Argos have gone above and beyond and have donated a pram and Boots a fantastic newborn babycare pack.
"Huge thanks to Halford's and Argos on the Snipe Retail Park and Boots Crownpoint in Denton. Not forgetting great work from PC Beswick, trying to make a small difference to a new mother during an unnecessarily stressful time. Faith in humanity restored!
"We wish Matthew and Amy the best of luck with the arrival of their baby - hopefully at some point today."
This evening (Thursday), police confirmed that the missing car has now been found.
Sgt Jackson posted on the GMP Tameside North Facebook page: "Thanks to you amazing lot, the Ford Kuga that was stolen yesterday has been recovered and is back with its rightful owners!
"We're still waiting for official word on the arrival of the baby but we hear all is well.
"This really is a story of people power and we wouldn't have this result without everyone's vigilance and efforts. Thanks again!"