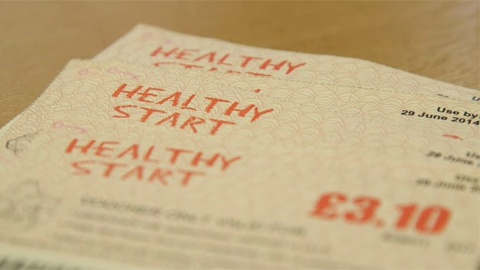 Families on a low income across Tameside can now apply for vouchers to buy healthy food. 
Healthy Start vouchers can be accessed by women on certain benefits, who are either at least 10 weeks pregnant or have children under the age of four.
They can be used to buy milk, fresh or frozen fruit and vegetables, or vitamins from local Healthy Start retailers.
Pregnant women under the age of 18 who are not on benefits also qualify for vouchers and Healthy Start vitamins are also available for eligible women and children.
Depending on where you use your Healthy Start voucher, you could potentially get a pack of bananas, a pack of apples and a bottle of milk every week.
Cllr Eleanor Wills, Executive Member for Adult Social Care and Population Health, said: "Too many vouchers are going unclaimed in Tameside. It's important that we introduce healthy and nutritious feeding/eating for babies and children which supports healthier food choices in later life.
"Eating healthily, especially for children at the start of their life, can have a positive impact on their physical and cognitive development. By having and embedding a healthy and nutritious diet, the risk of developing diseases and illnesses caused by unhealthy food such as obesity, heart disease and diabetes is reduced significantly."
It's a relatively easy process to apply for Healthy Start vouchers but, if help is required, community and voluntary groups, foodbanks, housing, childcare, health and social care professionals can support you to complete the application.
For those who already have an application leaflet, you need to fill out the form inside, ask your GP, nurse, midwife or health visitor to sign it and then send it to Heathy Start using the freepost envelope attached to the leaflet.
Anyone who doesn't have an application form can find one on the Healthy Start website at https://www.healthystart.nhs.uk/healthy-start-vouchers/how-to-apply/. Applicants are advised to make sure all of your details - including your address - are up to date as Healthy Start use information from your tax credits and benefits claims to check if you qualify.
People should receive vouchers within two weeks once Healthy Start receive your application form and it has been filled in correctly, had it signed off by a healthcare professional and it has been confirmed with HMRC Tax Credits or the Department for Work and Pensions that you qualify.
The vouchers can be spent at shops which have registered to accept receipt of them. People can ask inside shops and look out for the Healthy Start sticker in shop windows.
To find your nearest Healthy Start shop, visit https://www.healthystart.nhs.uk/healthy-start-vouchers/where-to-use-the-vouchers/.