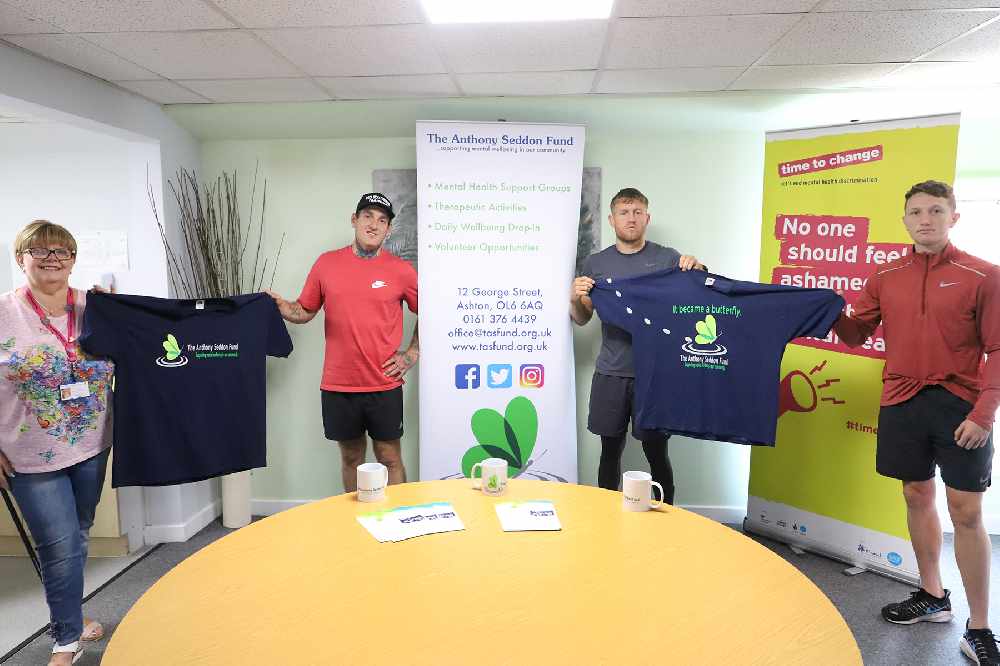 Local superhero and former frontline army soldier William Mahaffey has joined forces with the Anthony Seddon Fund to highlight the importance of men's mental health and promote physical wellbeing and exercise. 
William was recently awarded a 'Citizen's Award' by Denton MP Andrew Gwynne for the sterling work he has undertaken during lockdown to help others.
This has included raising funds for the NHS plus delivering hundreds of bottles of water to Tameside Hospital for key workers and raising funds to donate toys to the children's ward.
Now William, from Audenshaw, is helping to raise awareness that help is available for men suffering with mental health issues and is working with the charity to highlight the importance of mental wellbeing and the part physical exercise plays in that.
Many men are often reluctant to talk about or share mental health problems, but the Ashton-based charity is just a phone call away to help people find the right solutions.
One important outlet is exercise, but lockdown has limited the activities people can take part in, although restrictions are now being eased.
Last week, William invited professional boxer Terry Flanagan to the centre to share how important it is to talk openly about mental health.
The former WBO lightweight title holder also said whilst a lot of men are not involved in the gym there are many different ways you can keep yourself physically active, like walking and running which are also great ways to create friendships too.
Professional Super Featherweight boxer Zak Miller also visited the centre to help support the charity by raising vital awareness about the same topics.
Angie Wild, Community Events Development Worker at the Anthony Seddon Fund, said: "It was a pleasure to meet with Terry and Zak and discuss and share the importance of men's mental health and wellbeing, and how exercise is such an important part of that.
"We would really like to thank them for taking the time to help raise awareness about this vital issue.
"At the moment our charity is not ready to look at setting up physical activities due to capacity and funding, but we were delighted that they are willing to spread the word."
The Anthony Seddon Fund was set up in June 2014 by Donna Thomas and her husband Brian after the death of their son, Anthony, to offer support for those with mental health issues in Tameside.
If you can support the charity they have a Just Giving page, Facebook or visit their website, www.tasfund.org.uk/. All monies received go towards supporting more people living with mental illnesses.
Images by Nigel Wood