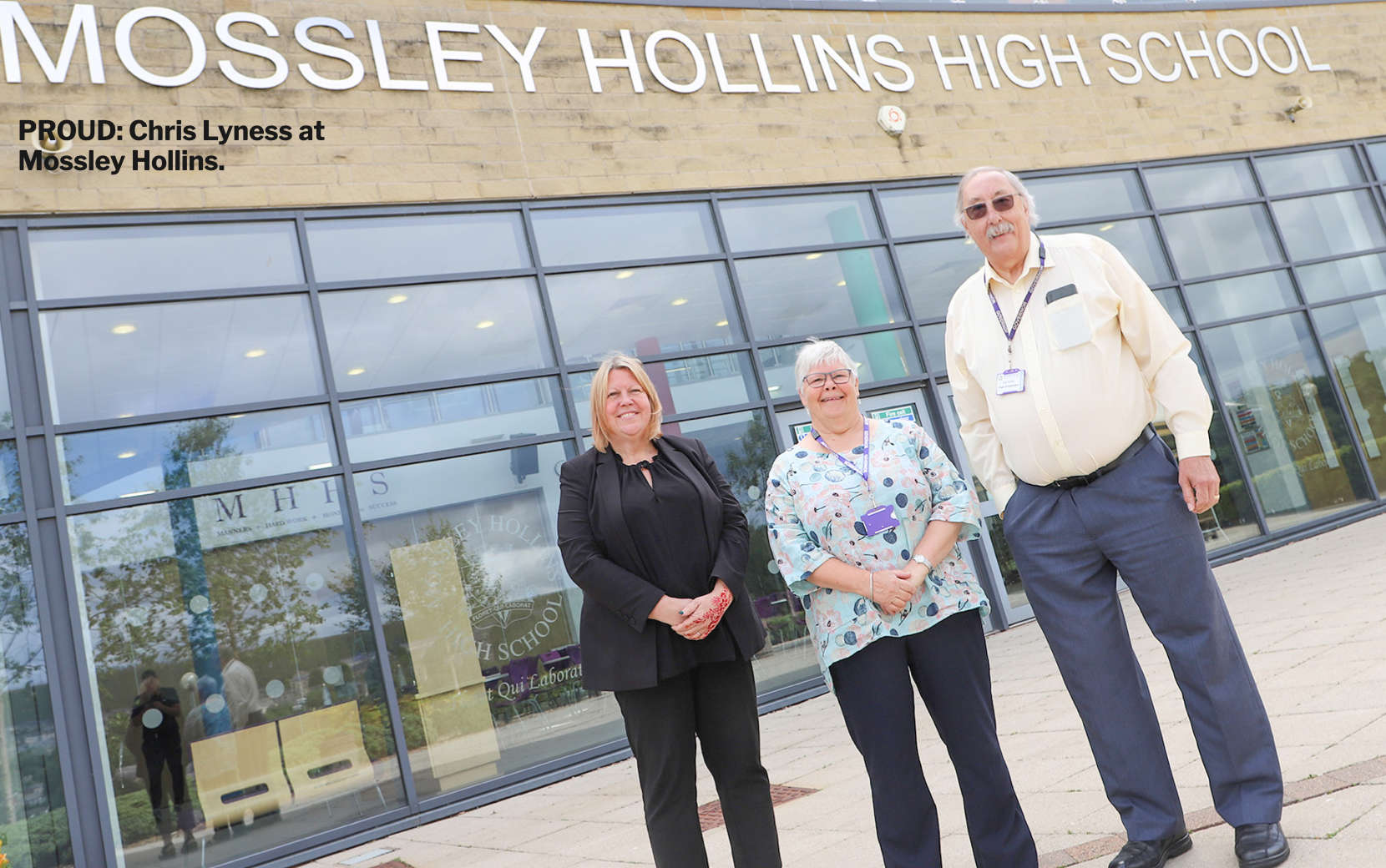 A hard-working school governor is retiring after spending 50 years in education.
Christine Lyness from Mossley began teaching at Ashton Grammar School in January 1972. She taught there for 35 years and has also been a governor over the years at four schools - Fairfield High School, Buckton Vale, Mossley Hollins and All Saints Micklehurst.
Busy Chris, 75, has now decided to take things easier and enjoy her retirement.
She said: "My first post was at Ashton-under-Lyne Grammar School as second in department of biology and I taught science and biology up to and including A Level. I also became a careers tutor and was House Mistress of Grey House.
"In 1979, the school became Ashton-under-Lyne Sixth Form College and I stayed there. Over the years I taught biology, psychology and health and social care and was also involved in new developments such at the Technical and Vocational Education Initiative.
"I joined the management team at the college and was responsible for areas such as curriculum development, introducing new courses, timetabling, staff development, the quality of courses taught and leading on Ofsted inspections. I became vice principal and retired in 2007."
Chris said a lot has changed over her 50 years in education.
She added: "When I began 'new technology' was the overhead projector and I would say that the technological developments in eduction are the biggest change. Young people are now taught far more about where to find information and how to apply it.
"I am shortly to retire from being a governor at the three places I still serve and my link with education in Tameside will cease. But like a stick of Blackpool rock if you cut through me it would say EDUCATION all the way through.
"Only two weeks ago I was involved in helping to organise a big reunion for staff and students of Ashton Grammar School and it was humbling that so many students came to speak to me to tell me how their lives had progressed and the small part I had played when I taught them or by being their careers tutor.
"So 50 years in education is ending for me and if I had my time over again I would still have chosen the same career path. Thank you Tameside and thank you to the schools and sixth form college. It has been a privilege to serve you."
Grateful staff at Mossley Hollins presented Chris with a special gift to mark her 20 years as a governor there.
Chair of Governors at the school, John Denton, said: "I have known Chris for about 20 years as a member of the governing body of Mossley Hollins High School. She is one of the longest standing governors of our school and I have really valued her support and advice in addition to her personal friendship.
"As community link to the governors, she encourages pupils to get involved in their community and value being a member of it. Chris is always the one to ask the important and probing questions, but, in the nicest way possible.
"The school staff, especially the science department, the pupils who she regularly meets at award ceremonies and, of course, the governors, will really miss her, as she enters another facet of her life."
Former headteacher of Mossley Hollins Drew Duncan, who is also chief executive of Tame River Educational Trust of which Mossley Hollins is an associate member, said: "In her school governor role, Chris had an insight and soundness that meant she was listened to by other governors and by me.
"I knew she always wished to support our plans but she would only do so if it was the right thing to do and we were up-holding the values of the school, her town and the priorities of our governing body.
"Chris's good counsel, critical friendship and leadership were a source of immense value in meetings, in interview panels, on curriculum matters, on the community, on science, in appraisals, in subject governor leadership, in fundraising, in attending innumerable school evenings, events, Learning Awards' Evenings and open evenings and on the many other contributions she made over her 18 years as a governor at Mossley Hollins.
"I know this work helped secure the school's two consecutive Outstanding School Ofsted judgements, our Governor Mark Accreditation and the legitimacy bestowed on us by our wonderful parents and community. But, the time has come and Chris has decided to retire and I would just like to thank her for everything she has done for each and every one of us."
Read more from the Tameside Reporter
Click here for more of the latest news
Click here to read the latest edition of the paper online
Click here to find out where you can pick up a copy of the paper