A 'significant blaze' at a self-storage warehouse in Denton, which saw a major incident declared on Sunday (21 February), looks to now be fully extinguished.
Firefighters remain at the scene on Monday afternoon of the large fire at the Self Storage Tameside facility on Holland Street, which broke out on Sunday afternoon.
A Greater Manchester Fire and Rescue Service spokesperson said that three fire engines, an aerial appliance, a high-volume pump and a command unit are in attendance as firefighters continue to damp down small, smouldering pockets of fire.
Crews are expected to remain in attendance for at least another 24 hours, they added.
An investigation into how the blaze started is now under way.
On Monday morning, fire crews were seen at the warehouse continuing to apply water to the badly-burnt building - as shown in this drone footage captured by Mike Holt.
The fire appears to have caused significant damage to the building.
Police were also at the scene, with a cordon in place around the area.
Self Storage Tameside say it is starting to establish the extent of damage and update its customers.
They said in a statement: "Our staff are gradually being allowed access to a small portion of our site and are beginning the process of establishing the extent of the damage and updating customers accordingly.
"As you may imagine, we have an extremely large number of emails, phone calls and messages right now and are doing everything in our power to keep customers updated as we get information.
"Providing you with regular updates on your valued belongings is of the utmost importance to us so regular updates to our social media channels and website will continue throughout the week as well as our team beginning the process of contacting customers individually.
"We would once again like to thank every one of our customers for their continued patience and understanding as we begin the process of assessing the damage and contacting customers."
Greater Manchester Police had declared a 'major incident' late on Sunday afternoon, but it was stood down at around 8pm as hours of tireless efforts by fire crews were able to bring the intense blaze under control.
A spokesperson for Greater Manchester Fire and Rescue Service said at 9.30pm that seven fire engines and two aerial appliances remain at the scene and crews will work through the night to 'monitor the incident and ensure the fire is fully extinguished'.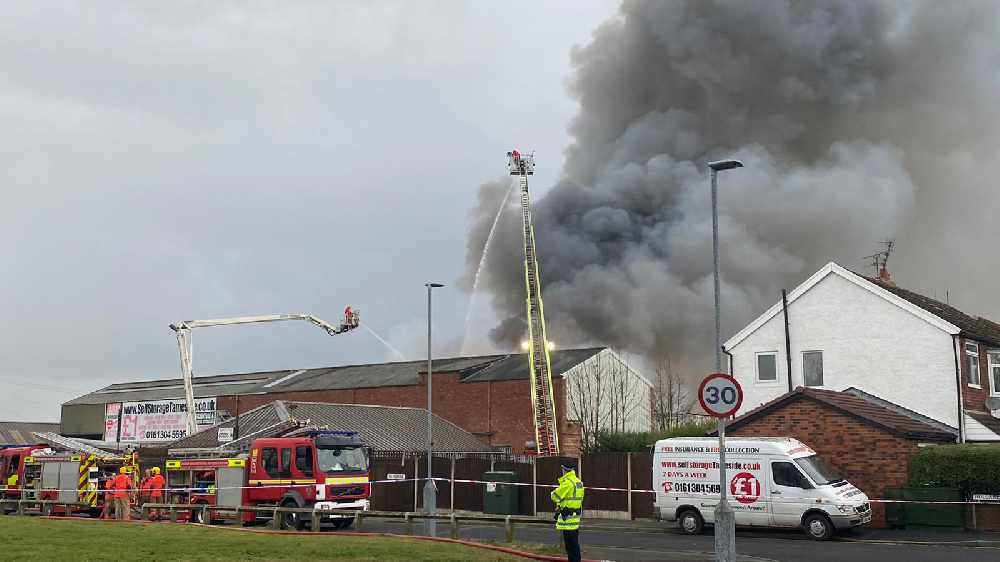 Firefighters responding to the huge warehouse fire in Denton on Sunday. Photo: Nigel Wood.
Residents who had to be safely evacuated from Leaford Avenue and Foxhall Road, close to the site, returned to their homes and the large smoke plume eventually subsided.
All road closures were lifted on Sunday evening but residents were still being asked to avoid the area.
Nobody is thought to have been injured but devastated customers fear their possessions have been destroyed by the huge fire which tore through the warehouse.
United Utilities had water tankers on site to support firefighters in extinguishing the blaze.
GMFRS Area Manager Stewart Forshaw, who is in charge of the incident, said on Sunday night: "Thanks to the tireless and professional work of our firefighters we are now in control of this incident.
"I would also like to thank the local community for their support and co-operation on what has been a difficult day.
"Crews will remain at the scene overnight monitoring the incident and extinguishing the pockets of fire that remain."
An evacuation procedure was put in place earlier in the evening, co-ordinated by GMP and teams from Tameside Council, to ensure all those in the vicinity of the fire were kept safe.
People in the local area were urged to keep their doors and windows closed to ensure they were better protected from any smoke inhalation.
Police were first called to reports of a 'large scale fire' at around 1.15pm.
#INCIDENT | A major incident has been declared in #Denton due to a large scale fire. pic.twitter.com/QJGl9Ri2x0

— Greater Manchester Police (@gmpolice) February 21, 2021
A Greater Manchester Fire and Rescue Service spokesperson said at 5.30pm that around 125 firefighters and 25 fire appliances were at the scene, with their response scaled up as the blaze continued to burn.
The fire started in a three-storey warehouse building but subsequently spread to adjoining units, they added.
Firefighters laid ground monitor jets to pump a water on to the fire, as well as use three aerial appliances, to tackle the blaze from above.
The incident had caused a large plume of smoke.
Self Storage Tameside issued a statement on Sunday afternoon via its Facebook page in which it said it will be in touch with its 'valued customers' as soon as possible and expressed its gratitude to the emergency services.
It read: "In relation to the ongoing situation and the fire at our Self Storage Tameside site, we would like to take a moment to update our valued customers with what information we have available to us at this moment in time.
"To our knowledge, we believe the fire has only impacted one of several buildings we have on-site and not the whole facility. For those customers affected by this, we will be in touch as soon as we can with an update as and when we get more information. As this is a live and unfolding situation updates may take some time but we will be in touch as soon as we know more.
"We would like to ask that for your own safety you do not attempt to gain access to the site as the area is currently closed off while Greater Manchester Fire & Rescue service deal with the ongoing situation. We extend our gratitude to the emergency services who are on site working hard to bring the situation under control.
"We thank you for your continued understanding and will be in touch soon."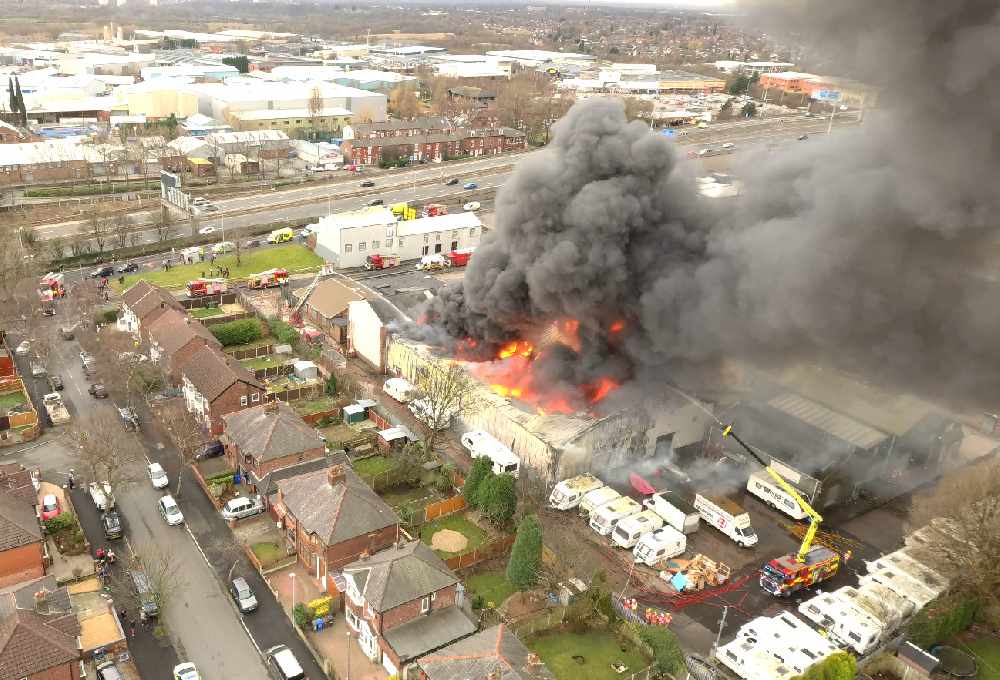 A dramatic overhead view of the huge warehouse fire on Holland Street in Denton. Photo: Mike Holt.
Thick dark smoke was affecting the motorway. The M67 westbound reopened at around 7pm, having been closed for several hours, but it remains closed eastbound between junctions one and two.
GMFRS Area Manager Stewart Forshaw, who is in charge of the incident, said at around 5.30pm: "Around 125 firefighters are working incredibly hard to bring this incident under control.
"The first crews on scene were met with a well-developed fire and more support was quickly mobilised to deal with the blaze.
"The incident is causing a large smoke plume that is affecting the local community and can be seen across the county. I would ask those who are affected by the smoke to keep their doors and windows closed and to avoid the area.
"Smoke is also affecting the M67 motorway and it is closed between junctions one and two. If you are travelling, please take extra care.
"It is likely our firefighters will be here throughout the evening and into tomorrow as we continue to deal with this incident."
Watch a video - captured by our photographer Nigel Wood - from the scene on Sunday at the top of the page.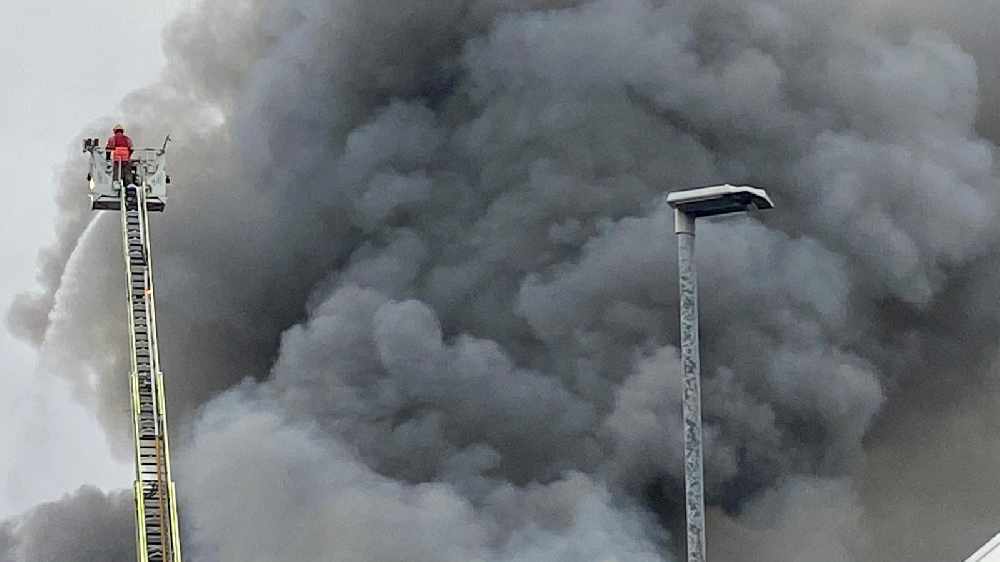 Heavy smoke billowing into the sky from the warehouse. Photo: Nigel Wood.
GMFRS said just before 2pm on Sunday afternoon (21 February) that six fire engines and an aerial appliance were initially despatched to the scene.
Firefighters, wearing breathing apparatus, used jets and an ultra-high-pressure hose to begin tackling the fire.
The M60 was closed in both directions between Denton and Ashton for a period due to a large plume of smoke affecting visibility.
North West Ambulance Service and Greater Manchester Police assisted the emergency service response.
Huge plumes of smoke from the blaze were seen from across Greater Manchester - including as far as Broadbottom and Salford Quays.
Some residents in the area also reported hearing loud explosions coming from the warehouse.
Linda Sweeney said on Facebook: "It's massive, I live at the back of it and the fumes are awful. I'm wearing a mask indoors."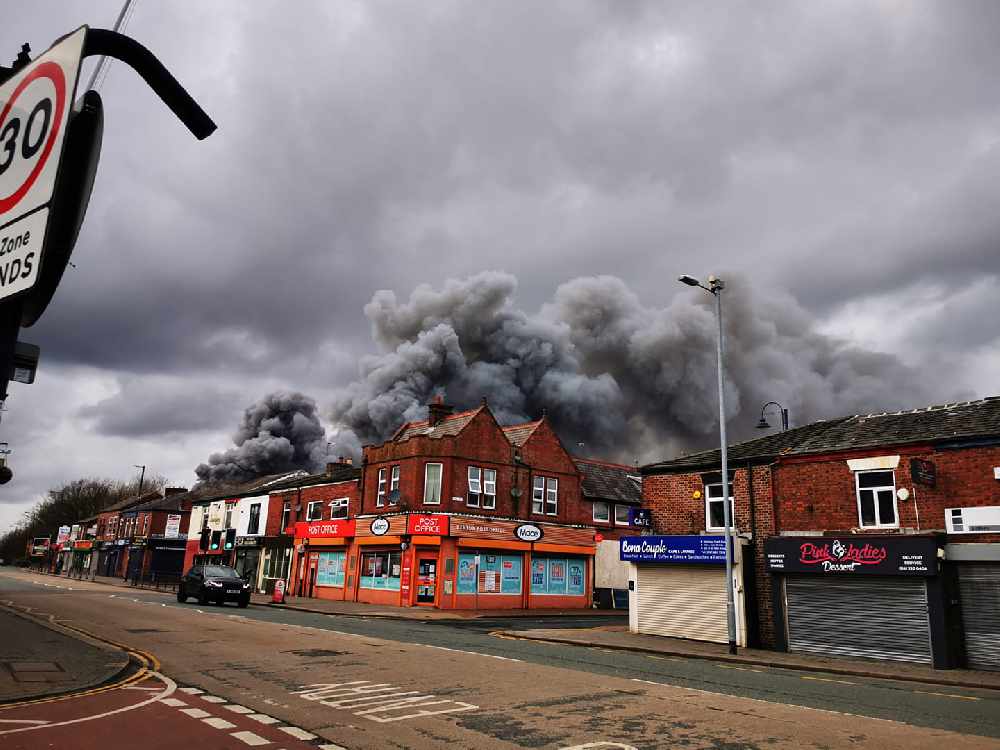 Smoke billowing near Crownpoint in Denton. Photo: Dionne Morrison.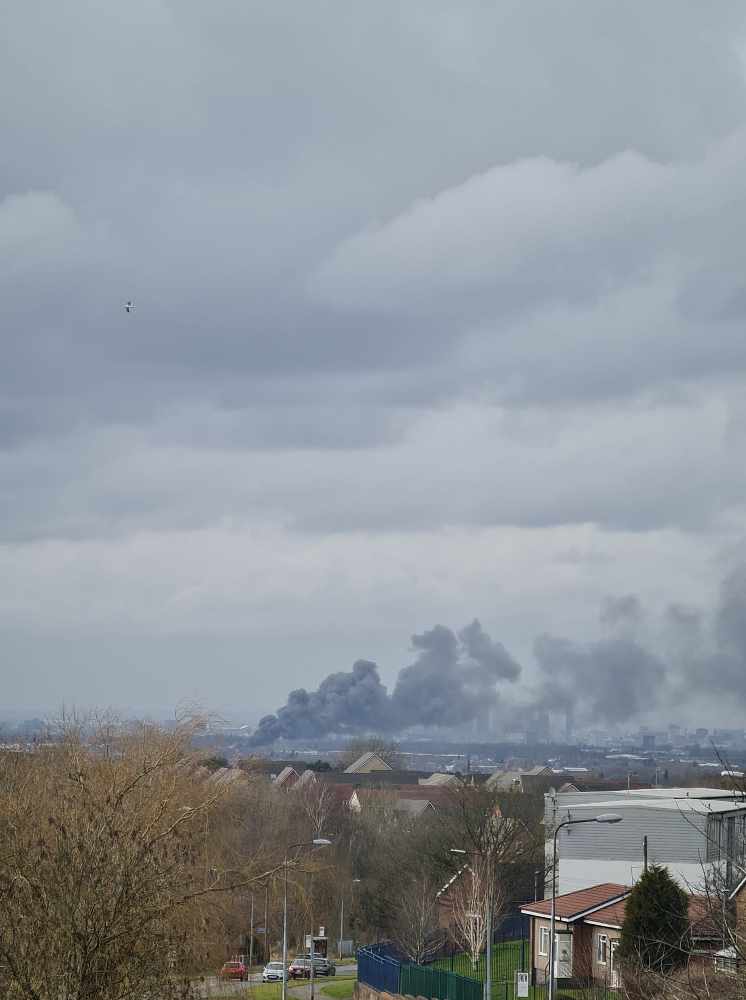 Smoke from the blaze seen in Hattersley. Photo: Tasha Colwell.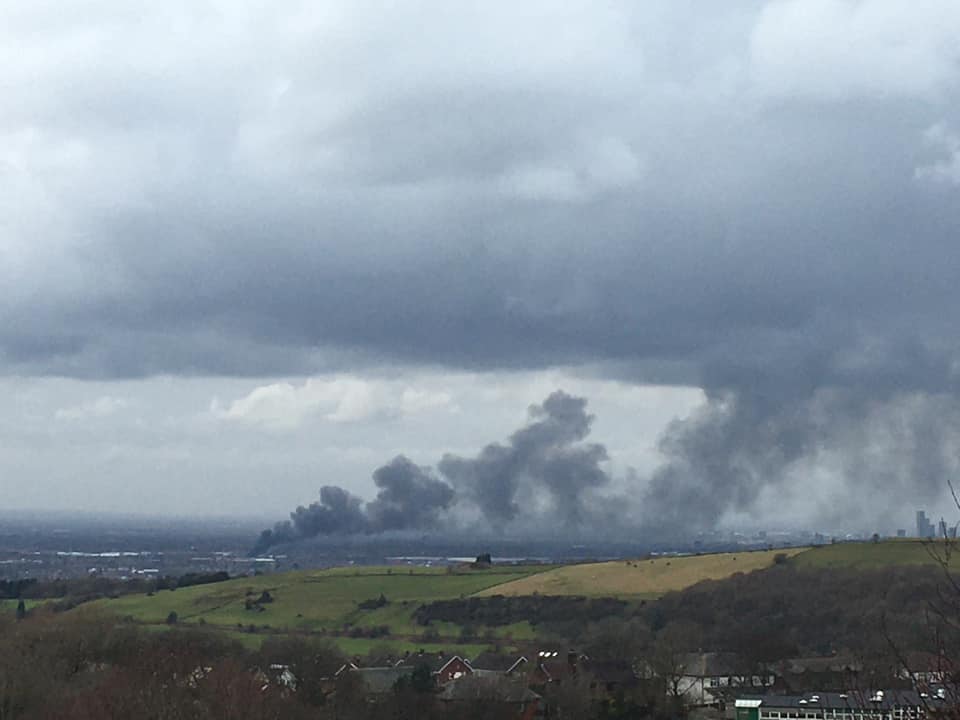 Smoke seen from Mottram Rise in Stalybridge. Photo: Deborah Hardwick Sefton.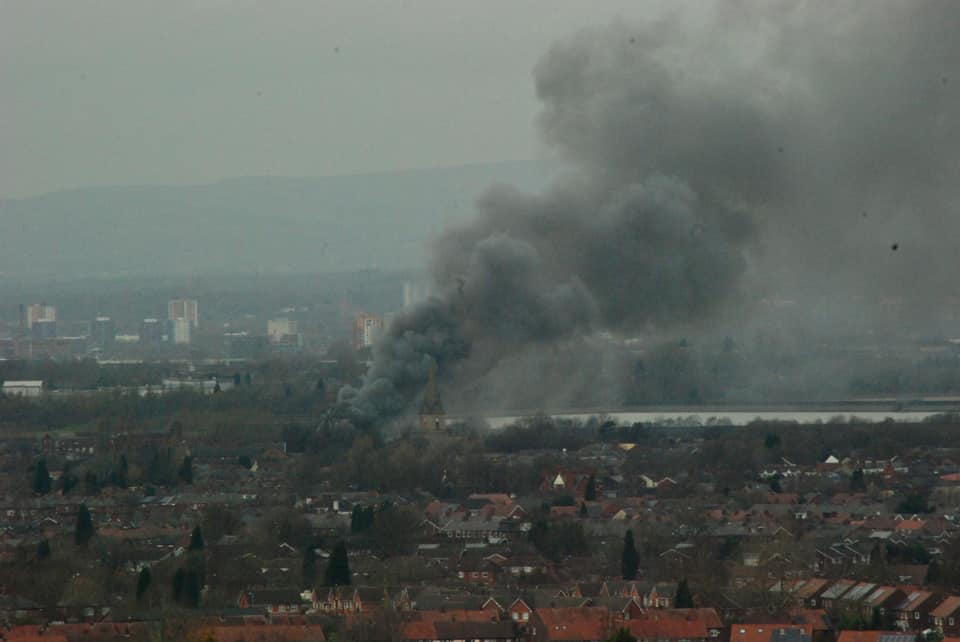 Smoke from the fire in Denton. Photo: Steve Pearson.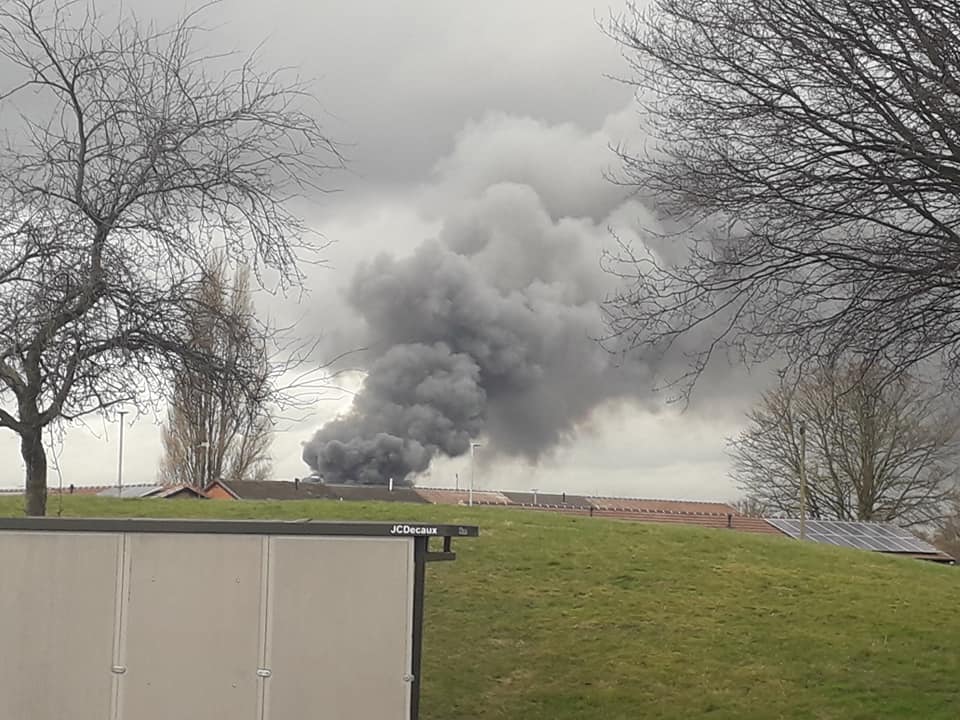 Smoke from the blaze seen in Denton. Photo: Andrew Whitehead.
Main image:
An overhead view of firefighters continuing to fully extinguish the blaze on Monday morning and the damage caused by the fire. Photo: Mike Holt.
Read more from the Tameside Reporter
Click here for more of the latest news
Click here to read the latest edition of the paper online
Click here to find out where you can pick up a copy of the paper