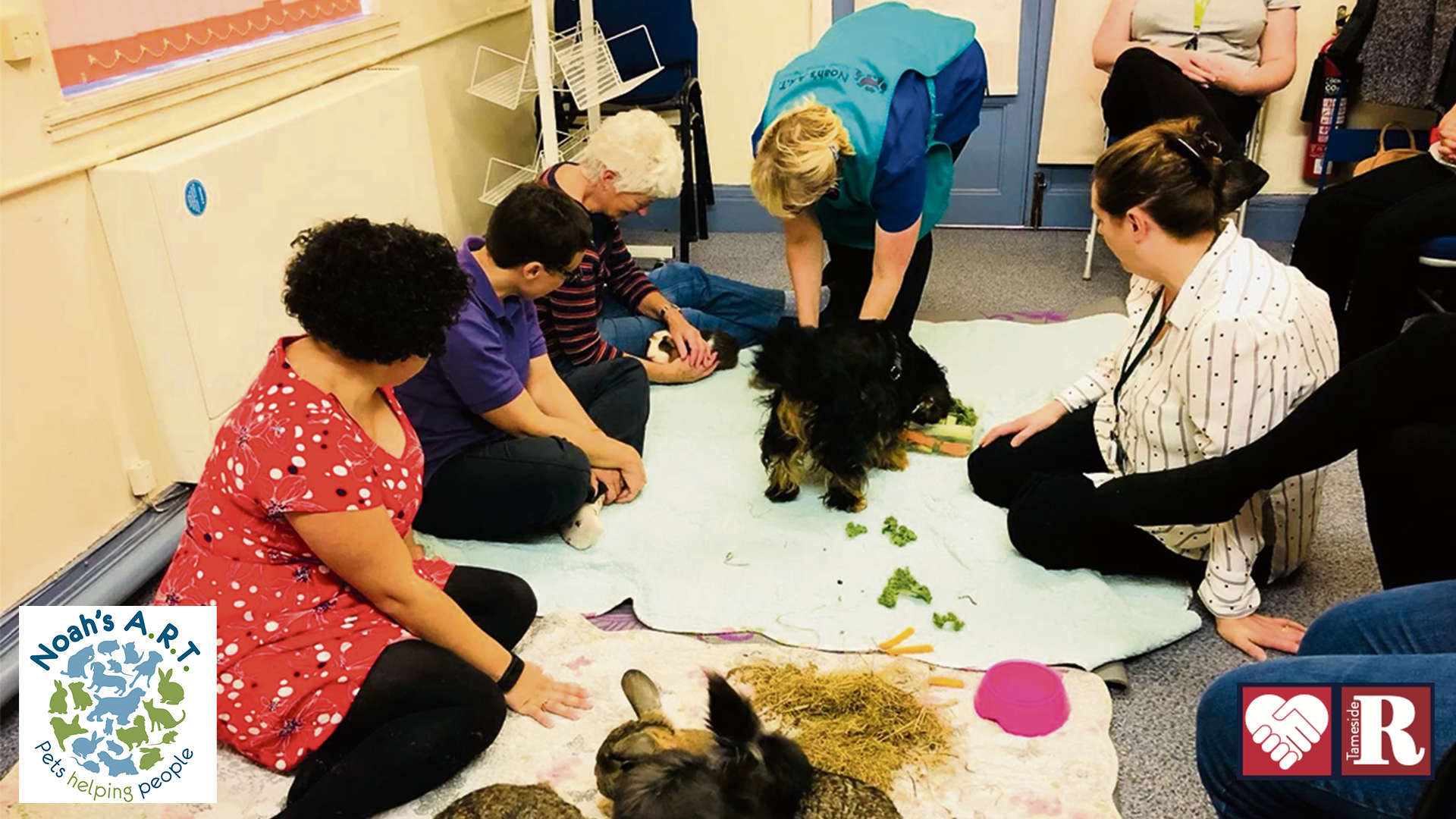 You chose Noah's ART as our new nominated charity to support through sales of the Reporter in the coming months - but how much do you know about what they do?
An animal assisted well-being service, Noah's ART is reducing social isolation in the local community. Offering both outreach services and treatment sessions at Loxley House in Dukinfield, a team of dedicated canines, reptiles, rabbits and rats are joined by an experienced mental health nurse to deliver therapies.
The Noah's ART team has visited care homes, community groups, schools and offices, with the sessions tailored to meet the needs of those they serve. Their approach has helped those with mental health issues, learning difficulties, rehabilitation and dementia.
At their HQ in Loxley House in Dukinfield, the team hosts weekly events and offers safe spaces for people to talk privately about the things they're struggling with.
There are also sessions designed specifically for anxious children, giving them the chance to enjoy the company of animals and escape from their worries.
To get a larger dose of nature, people can access Hoppy Huts, an outdoor space run by Noah's ART. The huts there can be hired privately and used for activities such as bunny yoga, dog agility and mindfulness. There are even weekend activities for families, including nature trails, treasure hunts and homemade pizzas.
In the midst of lockdown, Noah's ART launched a free community magazine called Pet Connect, aiming to keep vulnerable members of the community connected. The pages featured animal-inspired letters, stories, puzzles and artwork and was enjoyed by many Tameside residents.
Noah's ART isn't just one of the leading providers of animal-assisted interventions in the UK, it also offers online training courses, covering the theory and application of the field.
Presently, Noah's ART are recruiting for young people aged between 16 and 25 years old to enrol on a European Social Fund training course.
The course covers animal welfare and employability skills over 16 weeks.
Attendees will be introduced to the basics of pet therapy with a person-centred approach to learning. By week 12, they'll practice interviews and have the chance for work experience in one of Noah's ART therapy teams.
To get involved, contact admin@noahs-art.co.uk, with start dates on 14 September and 1 November.
What's the Charity Edition of the Reporter?
In the months ahead, every 20p from each copy of the Tameside Reporter that is sold will be donated to Noah's ART.
Our very first charity edition of the Tameside Reporter was launched last September as we endeavour to help those who need it the most in what have been extraordinarily difficult times - and not least for charities.
The first local charity we have raised money for was Finding Rainbows and the total amount to be donated to the baby bereavement charity was £3,044.
Since then we have also been raising money for Our Kids Eyes (through sales of the Tameside Reporter) and Glossop Mountain Rescue (through weekly sales of the Glossop Chronicle).
The pandemic has hit all charities incredibly hard - they have been unable to organise and stage any of the usual fundraisers they rely on each year and which guarantee their futures and the vital work they undertake.
For larger charities the cost has literally been measured in millions of pounds of lost fundraising and revenue.
But for smaller causes without the reserves and resources to fall back upon, the consequences have been even more catastrophic.
Many came up with ingenious online money-raising ideas, but they still continue to struggle.
Our communities have literally been amazing at rallying round to help and support each other throughout the pandemic.
We aim to continue to play our part to help our local charities right here in Tameside and Glossop.
Read more from the Tameside Reporter
Click here for more of the latest news
Click here to read the latest edition of the paper online
Click here to find out where you can pick up a copy of the paper