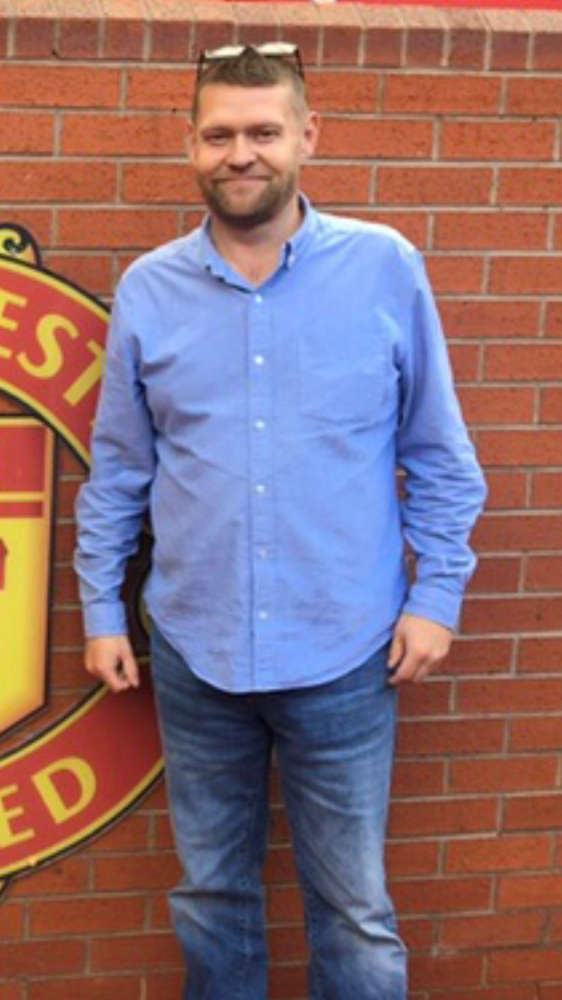 Mark Parker.
A Tameside dad-of-three is enjoying better finances, food, football and a thumbs-up from his family, thanks to support from an NHS stop smoking service.
Mark Parker, 47, from Hyde, had been smoking up to 30 cigarettes a day for 31 years, when he turned to Be Well Tameside, run by Pennine Care NHS Foundation Trust, for help.
Mark explains: "I had tried in the past to give up but never managed to stop for no more than 48 hours, and I didn't hold out much hope."
But thanks to support from Donna, health and wellbeing advisor, Mark has now been smoke-free for three months – which has saved him over £1,000 and made his whole family proud.
Mark said: "Until I spoke with Donna, I thought I couldn't and probably wouldn't have given up smoking. With Donna's help and enthusiasm, I have finally given up smoking for good.
"My food tastes better, my children have noticed, they keep telling me how proud they are, and my fiancé is over the moon.
"Prior to quitting I would go watch Man United and I always wanted to get out after the game and have a cig, it was always on my mind. I now stay after the game in the box with my dad, I don't even think about having a cigarette."
After running through the options, Mark decided on patches and an inhalator to keep the cravings away – with the latter helping to 'keep his hands busy'.
Mark added: "Donna supported me with fortnightly calls, which kept me motivated. I found the longer I stopped smoking the more I didn't want to let Donna down and my family due to their continued support."
"I can honestly say that since the first prescription [of patches and an inhalator] I have not had one single cigarette.
"I've downloaded the 'NHS Quit Smoking' app, which shows I've saved £1,063 from not smoking a total of 1,933 cigarettes.
"Without this help from Be Well Tameside I really would not have done this. Thank you so much, I would recommend the service 100 percent."
Donna added: "It's been a pleasure to support Mark and to hear that he's enjoying life smoke-free.
"It's never too late to quit smoking or to start improving your health. If you live or work in Tameside, then Be Well Tameside is here to help.
"You can contact Be Well Tameside on 0161 716 2000 or bewelltameside@nhs.net, or visit www.penninecare.nhs.uk/bewelltameside"
Councillor Eleanor Wills, Executive Member for Adult Social Care and Population Health at Tameside Council, said: "I am delighted for Mark that he's managed to stop smoking after 31 years – it's a fantastic achievement not only for his health and family but on his wallet too! It just goes to show what you can do with the right support given by Be Well Tameside's stop smoking service.
"Pregnant women can get help to stop smoking from the midwife-led stop smoking team at the midwifery unit, Tameside and Glossop Integrated Care NHS Foundation Trust, Tameside Hospital. It is a joint initiative in partnership with Tameside Council offering additional support. They are open Monday to Friday. Telephone: 0161 922 5989, text or phone 07342 079458 or email: tga-tr.tameside.maternity.stopsmoking@nhs.net.
"The Tameside Council website has lots of useful information and support for anyone who wants to stop smoking. Visit www.tameside.gov.uk/StopSmoking."
Read more from the Tameside Reporter
Click here for more of the latest news
Click here to read the latest edition of the paper online
Click here to find out where you can pick up a copy of the paper