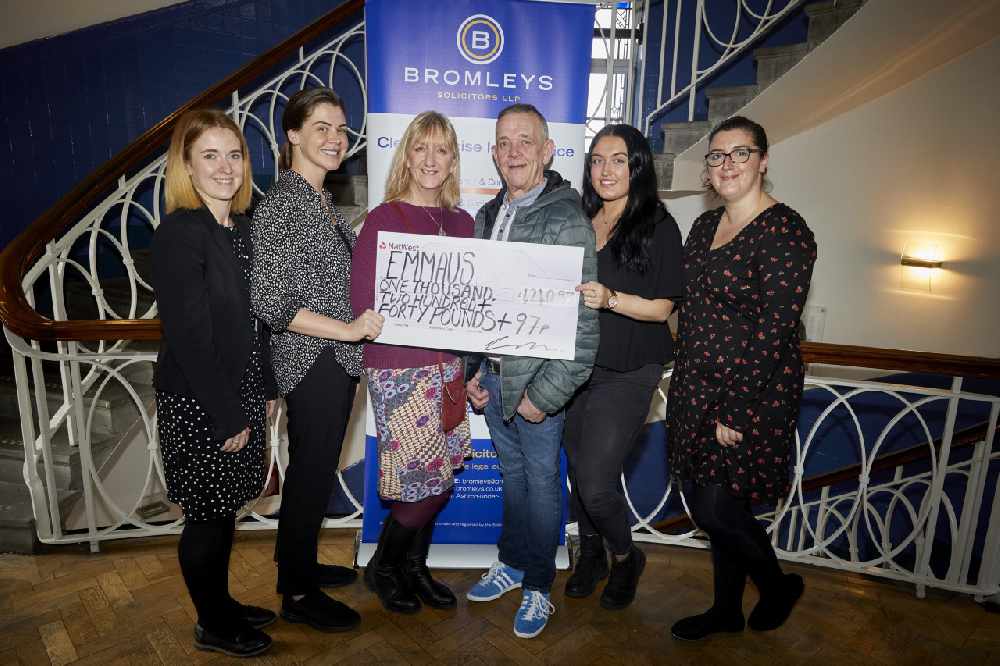 Free legal advice is being offered to visitors of the Emmaus Mossley Secondhand Superstore, thanks to an ongoing charity partnership with Bromleys Solicitors.
Next Thursday, staff from Bromleys will provide free legal advice to Emmaus supporters and local residents.
Experts will be on hand from 10.30am to answer questions or concerns about legal matters including wills, lasting powers of attorney and care home fee planning.
Lauren Taylor, receptionist and marketing assistant at Bromleys, and member of the firm's charity committee, said: "We have really enjoyed working with Emmaus Mossley and we recently presented a cheque to Gillian Nettleton, their support worker, and Gordon, one of the people supported by the charity.
"Our partnership will continue with free pop-up legal clinics throughout the year and we will continue to help them raise awareness about the great work they do."
Staff at the Tameside law firm chose homelessness charity Emmaus Mossley as their charity of the year in 2019. The Pop-up Legal Clinic is the latest in a wide range of support that Bromleys have gifted to Emmaus including legal advice, fundraising activities and awareness raising.
Emmaus Mossley supports 26 formerly homeless people by providing them with a stable home and work in a community setting.
While at Emmaus, people are given the opportunity to help to run the Secondhand Superstore, complete training and develop their skills.
Alison Hill, director of Emmaus Mossley, said: "Bromleys have given our charity great support over the past year including a donation of more than £1,200 raised through employee fundraising activities.
"We're delighted that the team are continuing the partnership and have offered to provide their expertise to help our local supporters."
The Bromleys Solicitors Pop-up Legal Clinic will take place on Thursday, February 27, from 10.30am to 2.30pm at Emmaus Mossley, Longlands Mill, Queen Street, Mossley, OL5 9AH.
No prior booking is needed, just turn up on the day and find the team in Lucie's Café.
For more information about Bromleys visit www.bromleys.co.uk.
To find out more or support Emmaus Mossley head to www.emmaus.org.uk/mossley.
If you would like to get involved or donate an item, please call 01457 838608 or visit the store at Longlands Mill.
Emmaus supports formerly homeless people by giving them a home, meaningful work in a social enterprise and an opportunity to regain lost self-esteem to help rebuild their lives.
There are currently 29 Emmaus communities across the country, supporting more than 800 companions (formerly homeless people) in the UK.
In addition, there are five Emmaus groups, all of which are working towards setting up an Emmaus community in their area.
Social enterprise is central to the Emmaus model as it provides meaningful work for companions but also generates funding to maintain the communities.
Companions living in Emmaus communities are expected to sign off all benefits, with the exception of housing benefit, which is used to help to support the community.
The rest of the funding that is needed is generated through social enterprise and fundraising.
Emmaus communities deliver a significant return on investment.
Research shows that for every £1 invested in a community, there is an £11 return, with savings to the benefits bill, health services and a reduction in crime re-offending.
Main image:
CASH BOOST: Bromleys hand over a cheque to Emmaus Mossley.