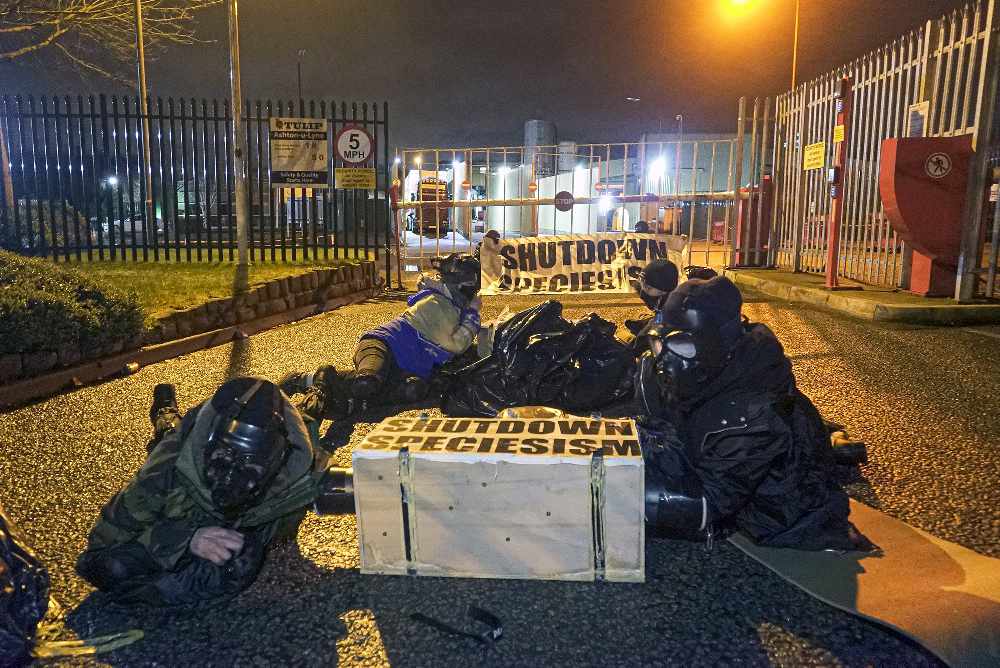 Eleven people were arrested after protestors blocked the gates to a slaughterhouse in Ashton yesterday (Thursday).
Members of the 'Smash Speciesism' group chained themselves to gates and blocked the entrance of the Tulip Slaughterhouse on Bow Street, thus temporarily shutting down the facility.
Greater Manchester Police have now confirmed that 11 men and women have been charged with aggravated trespass - including a man from Stalybridge.
These are:
Edith Sizer, 19, of no fixed abode
Emelia Seniek, 20, of no fixed abode
Alan Guthrie, 51, of Stamford Street, Millbrook, Stalybridge
Els Rijke, 42, of no fixed abode
Max Goodridge, 22, of no fixed abode
Alicia Cobacho, 32, of no fixed abode
Hannah Frost, 18, of no fixed abode
Oliver Niedergries, 25, of no fixed abode
Susan Schnebalen, 27, of no fixed abode
Sally Proctor, 52, of no fixed abode
Elena Cole, 29, of no fixed abode
All 11 men and women were due to appear at Tameside Magistrates Court this morning (Friday).
Shortly after 3.30am yesterday (Thursday), police say they were made aware of a small demonstration taking place at a factory on Bow Street in Dukinfield.
'Smash Speciesism' said they want to put an end to 'speciesism', which they say is similar to racism.
Tulip said that they have always worked with the protestors and their legal right to protest, but that Thursday's tactics were considerably more disruptive.
The demonstration caused disruption to traffic in the area throughout the day.