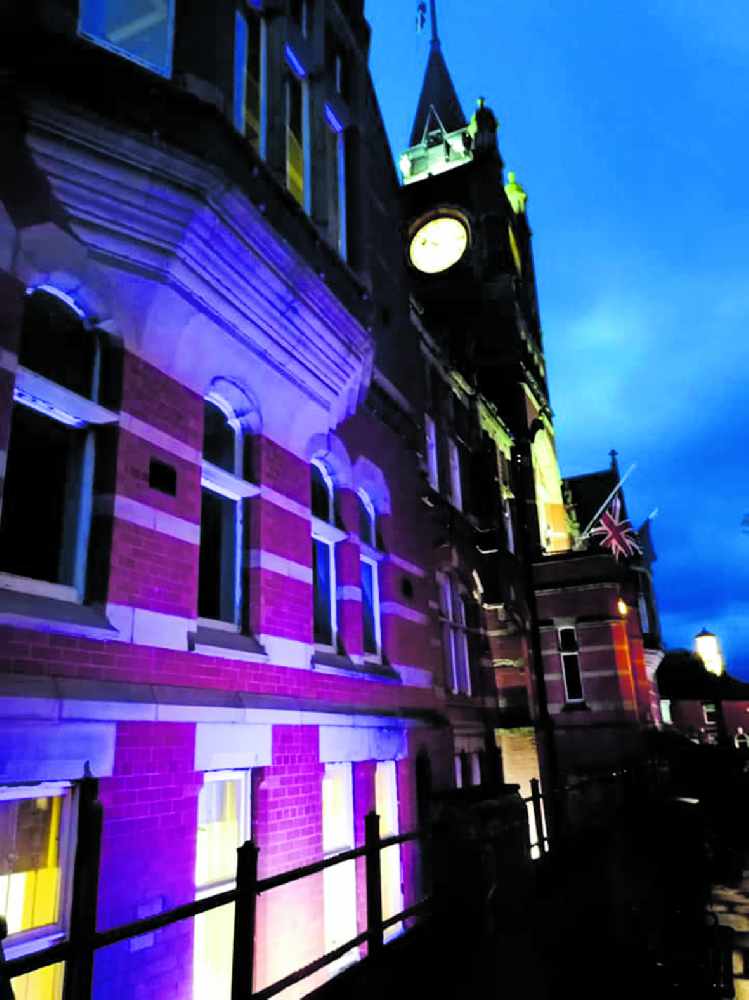 Dukinfield Town Hall lit purple for George Floyd. Image: Tameside Council.
Dukinfield Town Hall was lit in purple one year on from the murder of George Floyd, to highlight 'the inequalities still faced today'.
In a statement on its Facebook page, Tameside Council said: "We can all play a role in eliminating racism and creating better and fairer lives for all."
People were also asked to 'Take the Knee' to mark the one year anniversary last Tuesday, May 25, since the death of George Floyd and anti-racist protests were staged across the country - including in Manchester.
Floyd's death in Minneapolis, USA, sparked an international outcry last year with police officer Derek Chauvin subsequently found guilty of his murder after kneeling on his neck for nine minutes.
Demonstrations across the UK were part of a week of action organised by Stand Up To Racism and the Trades Union Congress.
However, the lighting of the town hall in Dukinfield attracted an astonishing response on the council's Facebook page, with some also questioning why the council had taken the decision to mark the anniversary by illuminating the town hall.
Others responded to vitriolic comments, stating they had never been so disgusted by many of the responses made - while one succinctly summed up that the list of literally hundreds of comments proved exactly why it was important to mark the anniversary.
A Tameside Council spokesperson said: "Our decision to light up our main civic building to highlight the ongoing battle against discrimination and inequalities one year after the murder of George Floyd is one we stand behind.
"The murder of George Floyd sparked a major movement talking about and tackling injustice and inequality faced by people across the world. It has since seen policy changes and progression in the strive towards equality for all.
"By highlighting issues, having conversations and understanding how we can all make a difference, we can begin to work towards an equal and diverse, peaceful world for everyone.
"While we recognise the right of everybody to express their views, hate speech is not free speech. We ask that comments and debating on our social media posts - and indeed anywhere - is done respectfully and in this case particularly in a way which respects the views of the families of victims of violence when these people are being named. We do not tolerate racism or any other form of hate speech and remove any content from our social media channels that others might find offensive or threatening.
"We will continue to promote tolerance and equality across our borough which has a diverse culture and heritage to be proud of."
Read more from the Tameside Reporter
Click here for more of the latest news
Click here to read the latest edition of the paper online
Click here to find out where you can pick up a copy of the paper