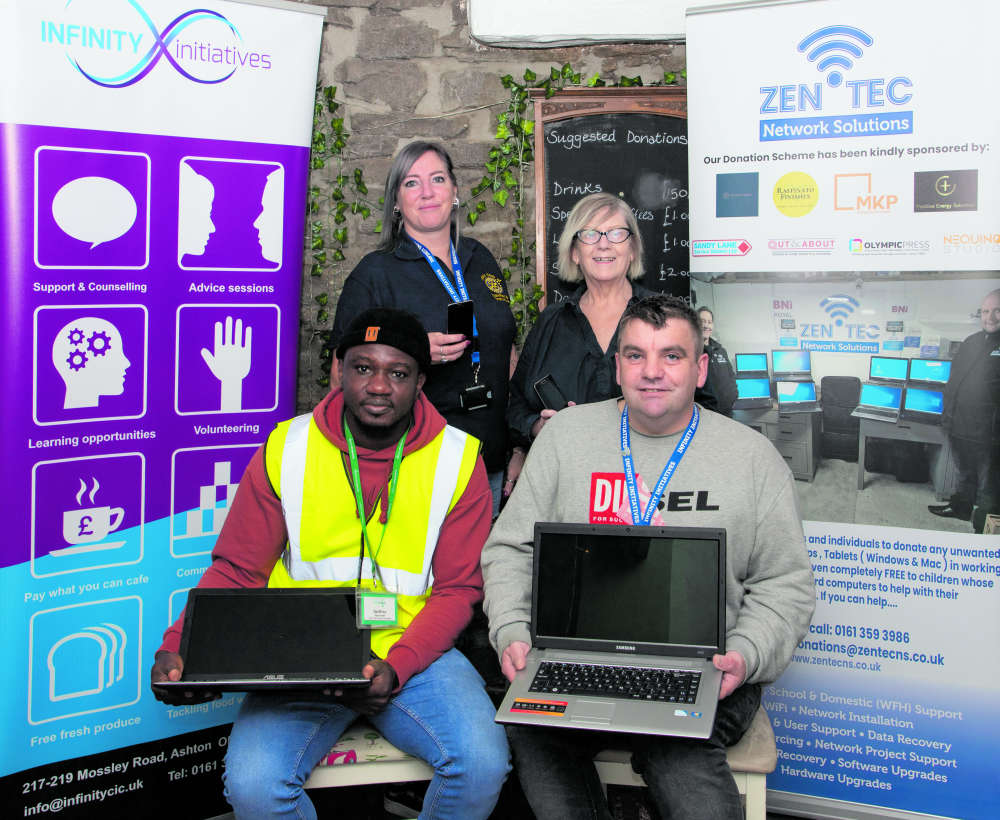 Dukinfield-based ZenTech Network Solutions Ltd have made their latest laptop donations to four good causes.
The big-hearted Dukinfield, an IT support and solutions company, based in The Old Courthouse, Chapel Street, has continued its campaign to donate laptops and tech equipment to schools, colleges and numerous good causes and charities.
Cerid Grimshaw, Business Development Director at Zen Tech, explained: "We are passionate about helping and giving back to the local community and we are helping to reduce the digital divide in Tameside.
"We are still asking the general public and businesses if they would like to sponsor our appeal to help refurbish laptops and if they have any old tech they would like to donate, including laptops, desktops, tablets and mobile phones."
The campaign began back in the pandemic to help provide schoolchildren with much needed tech equipment when they had to work from home during lockdowns, it but has grown and grown.
The latest round of donations took place on Friday and saw the Zen Tech team making donations to Infinity Initiatives and Willow Wood Hospice in Ashton, the Lotus Sanctuary in Droylsden and also People First Tameside in Ashton.
Infinity Initiatives, which helps struggling families, the vulnerable, homeless, refugees and more, received two laptops and four Samsung Galaxy A3s and has itself provided those most in need with phones, furniture, food, school uniforms and technology.
ZenTec donated three laptops and four Samsung Galaxy A3s to the Lotus sanctuary, a community interest company which helps house and empower vulnerable women and men who are facing homelessness, from rough sleepers to domestic violence victims, sexually exploited women, and those in recovery from drug and alcohol addictions.
Willow Wood Hospice received three laptops and had received two iPads as a result of the campaign previously.
While People First Tameside was given four laptops and five Samsung Galaxy A3s. People First support people with learning difficulties and run numerous projects.
The total value of tech that was donated on Friday was £2,400 alone with the total donated so far to schools and charities in and around Tameside standing at an amazing £84,400.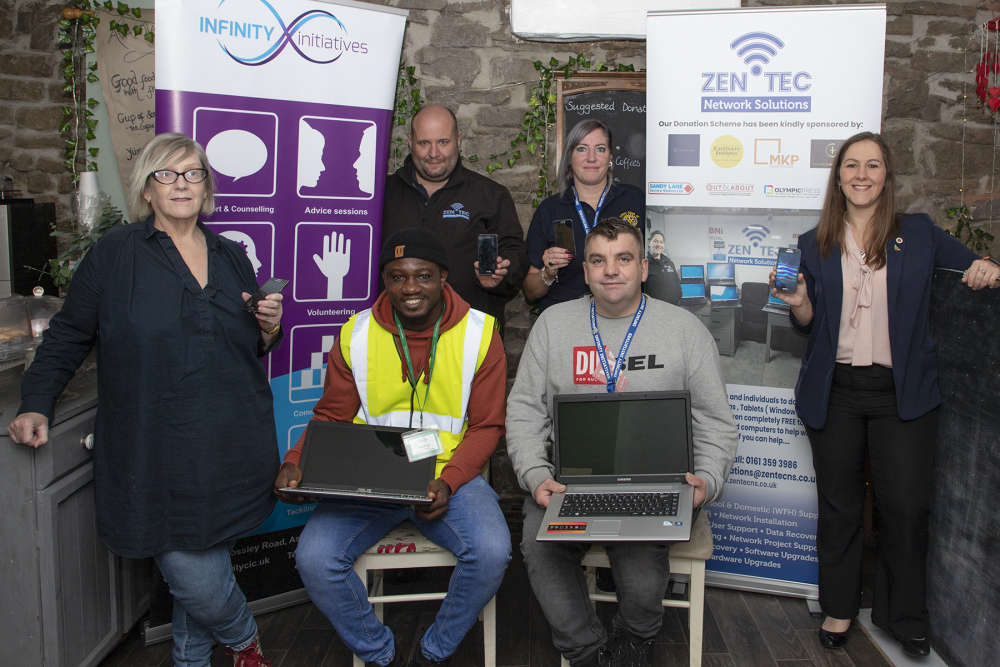 Cerid said: "We wouldn't have been able to carry out this donation without the help of Dominic Leeson, the IT Director at Career Connect in Liverpool, as they have donated laptops, desktops, and phones to us that we have been able to refurbish and help others. We cannot thank them enough for their kindness and support."
Career Connect is also a charity that helps young people and adults to achieve their potential by providing high quality, professional career, employment, and training.
Cerid added: "We would also like to thank Andrew Bowden, owner of Sandy Lane Service Station Ltd in Reddish and David O'Neill, owner of Out and About Carpets in Hazel Grove, for their generous sponsorship that has paid to have the devices refurbished."
ZenTec Network Solutions Ltd is an IT support and solutions company based in Dukinfield, offering onsite and remote solutions to businesses, schools and people working from home. Based in The Old Courthouse, Chapel Street, Dukinfield, they are open to anyone that needs help with anything technical.
The firm has launched Tameside Community Computers to offer affordable computer and laptop repairs and upgrades, screen replacements and training for people that need help with anything. This is for residential users in the Tameside area, based at the same location as ZenTec Network Solutions Ltd.
Over the summer they had three young men helping them get donations ready to go out to charities.
Cerid said: "Their help was invaluable, they gained new skills on how to diagnose, repair, upgrade and reload laptops."
The three were Joshua Tindall, 15, from Dukinfield, a senior prefect at West Hill Boys' school, Bradley Williams, 16, from Stalybridge, who is studying Level 3 esports at Tameside College and Luke Roberts, 17, from Newton, who is studying BTEC TV and Film and A Level Graphics at UTC Media City.
Cerid added: "Since the end of the summer holidays we have also had help in the office from Iani Camen, from Glodwick, who is completing his Diploma in Digital technologies through the back2work government scheme www.b2wgroup.com/ and Rebecca Connor, from Denton, who has been working as a volunteer to help her gain new skills and who wanted to help contribute to the community."
If anyone would like to contribute, then please contact Ceridwen Grimshaw Business Development Director or Mike Brooks Technical Director on 0161 359 3986 or via email donations@zentecns.co.uk
Read more from the Tameside Reporter
Click here for more of the latest news
Click here to read the latest edition of the paper online
Click here to find out where you can pick up a copy of the paper