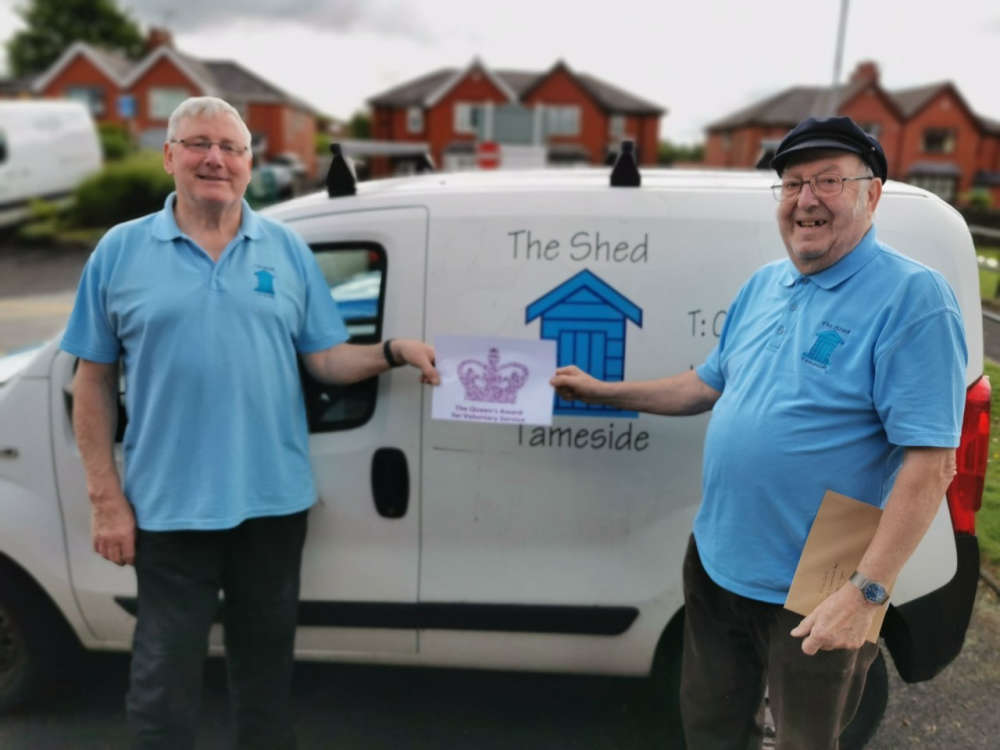 A charitable organisation in Dukinfield has been given the royal seal of approval thanks to the ongoing efforts from its band of volunteers.
The Shed, a registered charity which operates from Loxley House, Birch Lane, was awarded the Queen's Award for Voluntary Service - an accolade which recognises the important role that volunteers play in terms of providing a vital social function to services across the country.
Originally founded in 2013 as part of Age UK, The Shed secured independent status in 2017 and has since become a vital part of the local community, with its popularity growing from strength-to-strength thanks to the selfless nature of its volunteers.
As part of their efforts, volunteers offer a variety of activities centered around men - and women on Fridays - which range from woodwork, pyrography and cycle repairs, to beekeeping, walking football and family history.
At a time when mental health is a topic of national conversation, the work carried out by The Shed's volunteers, and the activities on offer, have never been more important to the wellbeing of men in the area - particularly those who are socially isolated.
Upon being confirmed as a recipient of the prestigious award, The Shed's Facebook page was inundated with messages of congratulations and support. A statement uploaded to the page read: "A massive congratulations to all of our wonderful volunteers here at The Shed for being awarded The Queen's Award for Voluntary Service. This shows that all of your hard work and dedication is recognised. We couldn't exist without you all."
Open between 9am-3pm from Monday to Friday, sessions are priced a £6 for half a day and £12 for the full day. Monday to Thursday caters for men only, while Friday is mixed.
For more information or to register your interest, head to the Shed's official website: www.theshedtameside.org.uk
Alternatively, you can find them on Facebook: TheShedTameside, or call 0161 3684974
You can also email: mike@theshedtameside.org.uk