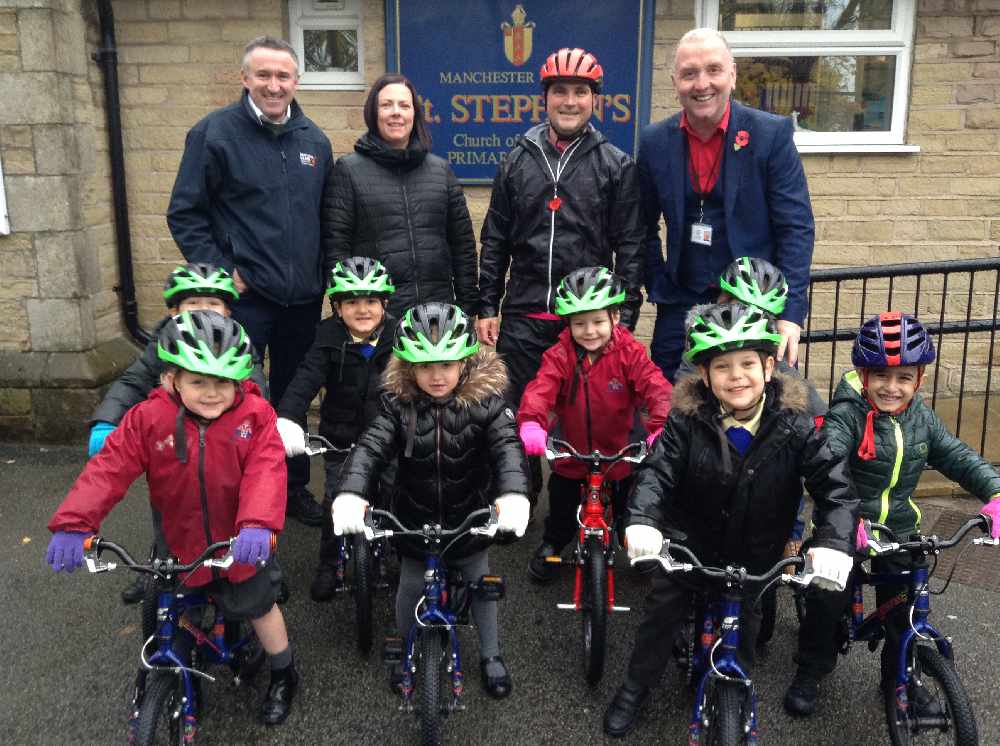 Pupils at St Stephen's C of E Primary School in Audenshaw have been learning to ride a bike thanks to sponsorship from a local company.
Teaching Assistant Julie Miller wrote to 12 local companies requesting sponsorship for the 'Progression to Pedals' scheme.
The scheme, developed by Ross Keeble Outdoors, gives the children a chance to learn how to ride a bike, developing their self-help skills, spatial awareness, motor skills, co-ordination, balance and overall health and well-being.
Droylsden Glass were the only company to respond, with Managing Director Kevin Thackeray delighted to help out.
He said: "St Stephen's School approached our company seeking sponsorship for a cycling program they'd introduced, which delivered significant improvements for the children's learning, and which was evidenced with the results that other local schools within Tameside Borough had achieved.
"The school were passionate about improving the children's learning and skills. Due to the budget they were only able to secure a limited time for the program. The school wanted to secure monies to buy their own cycling equipment so that they could continue with the program, and so, we decided to support the local school community to allow them to purchase the bikes so as to continue with the cycling program."
Through the Progression to Pedals scheme, the children don't use stabilisers, learning on balance bikes and developing the skills to pedal from there.
Julie expressed her gratitude to Droylsden Glass on behalf of St Stephen's for their much-needed sponsorship and highlighted the importance of the cycling scheme in helping the children with other aspects of their education.
"Every aspect of the scheme is important," she said. "Especially things like learning to use the muscles and the techniques of using the brakes such as applying enough pressure. These skills play a massive role in developing writing skills, control and applying the correct pressure to a pencil.
"With the funds from Droylsden Glass we were able to purchase five balance bikes, five x 14" bikes, five x 16" bikes and 20 sets of helmets and gloves. This means we can continue to develop the learning throughout the week with extra sessions, especially important before a writing activity.
"We are hugely grateful to Droylsden Glass and particularly Kevin Thackeray for helping to give our children the best start to their education as is the aim of each and every member of staff at our lovely little school."