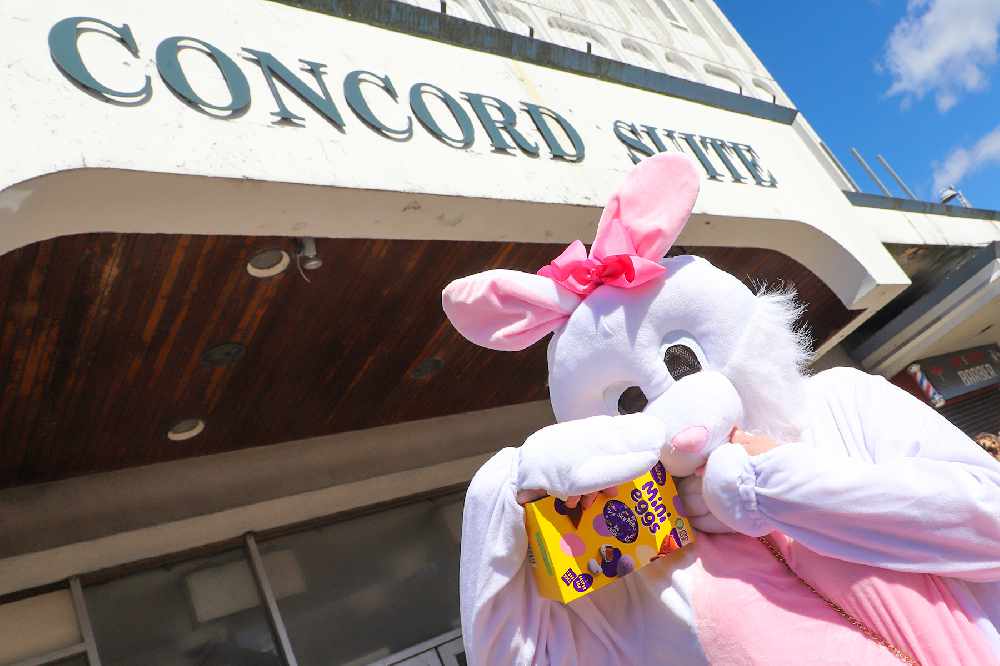 The Droylsden community had a cracking day on Easter Monday as hundreds of youngsters received a sweet treat from the Easter Bunny.
Full-time mum and community champion Emma Power toured the town and surrounding areas with her six-year-old son Alfie, to give out over 600 chocolate eggs and lots of daffodils.
They were joined by mascots, friends and neighbours as community spirit shone through on a glorious sunny day.
Emma said she was overwhelmed by the support she received.
"It was an amazing day," she told the Reporter. "Everyone was brilliant and so happy. I've never felt more proud in my life.
"Me and Alfie left my house with a big long trolley full of Easter eggs. We went round our estate and families were waiting for us. We had done posters which had helped to spread the word about what we were doing.
"We walked over to Fairfield Moravian and on the Fairfield estate. We gave teenagers eggs as well, not just young children, because they have done well during the lockdown too.
"Everyone was beeping at us and Alfie loved it. I bought 12 bunches of daffodils which I separated and gave out to people passing by which made everyone's day."
Browse through some images from Droylsden town centre, captured by our photographer Nigel Wood:
She continued: "We had to go home to restock before going into Droylsden town centre and from there it really was amazing. There was a great turnout and everyone was grateful. I've never seen Droylsden like it was.
"We ended up in Clayton as well where one lady had donated 70 eggs so she asked me to visit her grandson and we went down her street too.
"I've organised it off my own back but I couldn't have done it without everyone else. I bought £5 worth of Easter eggs but that was just a tiny bit compared to what others did. In total, we ended up with 634 eggs!
"I've also dropped off some at a mother and baby unit and I've kept 30 to do an Easter egg hunt on Sunnybank Vale for the children next week, which was Alfie's idea."
Emma wanted to give a special mention to some people in particular who went above and beyond to help her organise the event.
"There are so many people to thank but there are some in particular who I must thank," she said.
"Danielle May, the community champion at the Morrison's store in Openshaw, put a box up and dressed up. She also drove 45 minutes away to another Morrison's store to pick up another 130 eggs and bags of Mini Eggs. She's an amazing young lady. She didn't have to help but without Danielle, I would have felt so anxious that we would run out of eggs.
"My mum Bev Power and good friends Anna Wardle and Lorraine Booth - all over 60 years old - along with my oldest son Jack and his partner Jonathan and best friend Hollie worked hard to set up two tables full of 500 Easter eggs and worked tirelessly all day. I couldn't have done it without them on the day."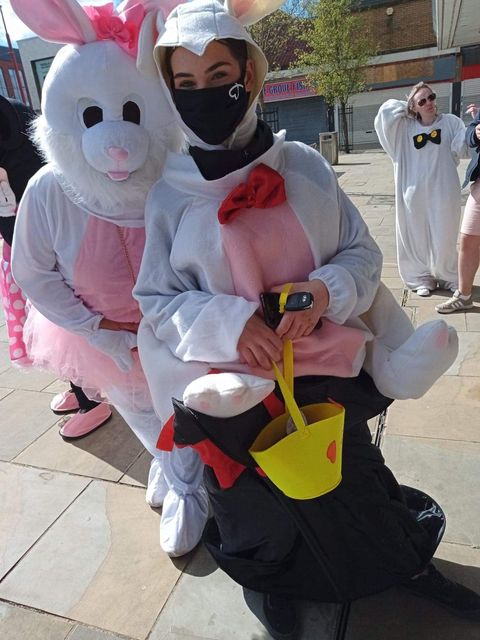 Danielle May with the Easter bunny
Emma said that Covid protocols were in place to ensure the health and safety of everyone. "We had social distancing in place as much as possible and made people aware of the guidelines," she explained.
"I put hand sanitiser on every table around The Silly Country and put out masks for people who didn't have one. At the Concord Suite, there was lots of space too where everyone could space out."
There were a number of colourful and familiar characters who came to say hello when Emma and Alfie, who goes to Fairfield Primary School, were in Droylsden town centre.
"All I had planned was to give out eggs and to dress up as the Easter Bunny," she said. "But after bumping into a dad who was reading one of our posters, it gave me the idea to look into mascots and I found Kris Smith who has a business called Happy Boxes. He was 100 per cent supportive.
"Adele was Princess Poppy and her husband was Captain America. They got involved because Adele and me are friends. At Christmas when me and Alfie gave out presents, there was a lot of kindness thrown my way and one of those people was Adele, who dressed my front door up with a Christmas bow. With that, I've gained a friendship and they were there to support me. A lot of my friends also dressed up as rabbits.
"Alfie was my biggest helper and he absolutely loved it. He's autistic so when he's in character, he is exactly that character. He was exhausted from hopping and putting on a squeaky voice! He worked so hard and he's been amazing. I wouldn't change him for the world."

Alfie with his hero Captain America
Read more from the Tameside Reporter
Click here for more of the latest news
Click here to read the latest edition of the paper online
Click here to find out where you can pick up a copy of the paper