Don't wait to quit – that's the message from NHS doctors and former smokers following the launch of a hard-hitting campaign.  
The Don't Wait campaign has been launched for the New Year when many people are thinking about quitting smoking and making resolutions to improve their health and well-being, after a difficult 2020.
It features a powerful plea from respiratory consultant, Dr Ruth Sharrock, who has spent the last nine months caring for patients with Covid-19 and has seen the challenges colleagues and patients have faced in fighting it.
It also features two Tameside residents who bravely share their decisions to stub out the habit for good on video.
Dr Sharrock said: "I want to help everyone look forward to a more positive 2021, where we all reflect on our health and well-being, and make some really positive changes. For smokers, the single most important thing you can do to improve your health is to stop smoking. I would urge anyone who wants to quit smoking to contact their local stop smoking services to maximise their chances of success, and for smokers' families to really help motivate and support them."
Every year across Greater Manchester, around 5,212 people die too soon from a smoking related illness. In 2018-19 there were 27,904 hospital admissions for diseases that are wholly or partially attributed to smoking in persons aged 35 and over.
Smoking damages the lungs and immune system, making it harder to fight infections like chest infections, flu and the coronavirus. It also increases the risk of heart disease, diabetes, COPD, stroke and cancer.
Carpet fitter Andy Castle from Ashton is backing the campaign. He quit smoking after 25 years in February 2020. The turning point for dad-of-two Andy came when one day, he woke up and decided, 'enough was enough'.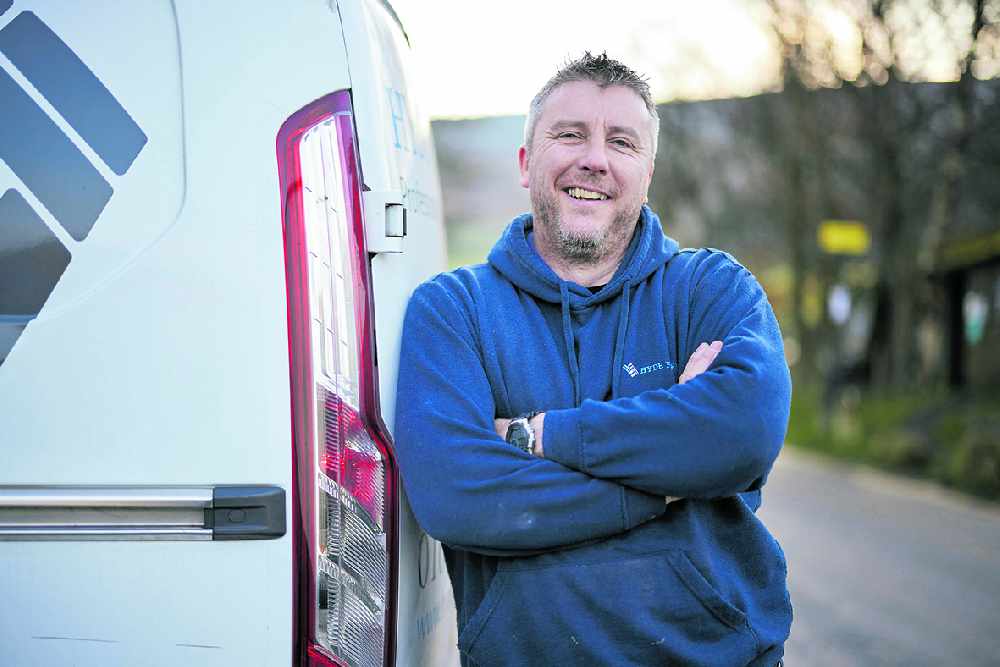 ANDY CASTLE: Think of the children. Picture by Ian Wallman
Andy said: "I quit after 25 years in February 2020. My relationship had broken up and my daughter hated me smoking. She used to say to me: 'you need to stop smoking daddy, or you'll get really ill. And I don't want to see you in a hospital bed.' I knew I had to do something for the sake of my kids, so I made an appointment with my GP and I was prescribed stop smoking medication.
"I was put in touch with Eva, a stop smoking service advisor from Tameside's stop smoking service Be Well Tameside, who was amazing. She called me monthly to see how I was getting on and helped me through some tough times. I did slip up a couple of times during lockdown, but she made me feel better, told me to put it down to experience and keep going as I was doing so well.
"My little girl and my lad love that I have quit. I tried to stop when my son was born, but I wasn't successful. It took me a long time to finally get over the cravings, but I'm over that hill now and I consider myself an ex-smoker. I know it's still early days and I get the odd urge here and there, but I'm happy and my family is happy.
"I have saved a fortune. I used to spend around £375 a month on cigarettes. Quitting has paid for Christmas!
"The health benefits are great. I can breathe a lot better, I have more energy and feel miles better in myself, which helps with the kids and work. Everything tastes a million times better – even the little things you take for granted like tea and coffee."
Former nurse Gail Difford, 64, from Stalybridge, started smoking in her 30s while working in a stressful job.
Years later, after suffering frequent bouts of chest infections and bronchitis, Gail was told she was likely in the early stages of Chronic Obstructive Pulmonary Disease (COPD). Thankfully, the tests came back negative. She was so grateful for the gift of her health, that it gave her the motivation she needed to quit smoking for good.

BACKING CAMPAIGN: Gail Difford. Picture by Ian Wallman
Gail, who now works as a drug and alcohol recovery support worker, said: "I would smoke 20 a day, one every half hour. I was absolutely addicted to cigarettes, my life revolved round them. Once it grips you, you don't have a say anymore.
"For a time, I struggled with frequent chest infections and bronchitis. When I was told I probably had the start of COPD, I knew from my nursing background that it would be chronic and progressive. So, when I was given the all clear, it was a real turning point for me and I knew I had to stop.
"I quit smoking in December 2019 and it is the best decision I made. I booked an appointment with my GP, was prescribed stop smoking medication and referred to my local stop smoking service.
"For me to be successful, I knew I had to be kind to myself. I took some time off work and rested. I told everyone I was quitting smoking – even the shopkeeper I used to buy cigarettes from. I was excited about the future and I put the money I used to spend on cigarettes away – £400 a month in cash savings! I have saved around £2,500 and believe it is important to reward yourself. Now I can taste and smell better, and I have much more energy. I've got my life back.
"What I would say to people is: if you do happen to pick up a cigarette again, don't give up on yourself, accept it and get back on track.
"We are all human and for many people it takes a number of quit attempts to stop for good. It took the shock of my health scare to make me realise that if I carried on smoking I would be ruining good years of my life."
The Don't Wait campaign runs until mid-January.
Dr Tom Tasker, GP and interim chair of the Greater Manchester Medical Executive, said: "2020 was an incredibly challenging year for everyone, but it has been inspiring to see that many smokers have taken action to improve their health, finances and quit for their loved ones.
"The campaign highlights some of the amazing individuals who have bravely shared their stories, in the hope that others don't have to experience the suffering they have been through.
"Our message to people this New Year is not to give up on quitting, or themselves. We know that it can take a few attempts to stop smoking for good, but the benefits start from the moment you stop, so please give it a go. It is the best New Year's resolution you can give yourself – put the past year behind you and make a positive start to 2021."
Cllr Eleanor Wills, Tameside Council's Executive Member for Adult Social Care and Population Health, said: "Be Well Tameside's Stop Smoking Service offers a great variety of information, advice and support to smokers who want to quit. There is often a misunderstanding that smoking helps to relieve feelings of anxiety and stress, however smoking can often increase these feelings as smokers continue to suffer withdrawal symptoms and cravings.
"Smokers should think about the risks associated to their health and to those closest to them at this time and get the help that's available now."
Five top quitting tips this new year
• Download the free Smoke Free app, which provides you with 24/7 support, advice and all the information you need to stop smoking.
• Find the right quit support for you. There are lots of ways to quit – with support from your local stop smoking service, stop smoking tools, medication, nicotine replacement therapy and e-cigarettes.
• Remember your reasons for quitting – your loved ones, health, to give your bank balance a boost. Write them down and keep them as a reminder to keep going and celebrate your achievements.
• Distract yourself – a hobby, puzzles, knitting, walking, yoga or other relaxation techniques, can help you to manage cravings and keep your hands busy.
• Look at how much you've saved. It's a great idea to put the money you would have spent on cigarettes in a jar somewhere you can see it. Watch the money build up and treat yourself to something special.