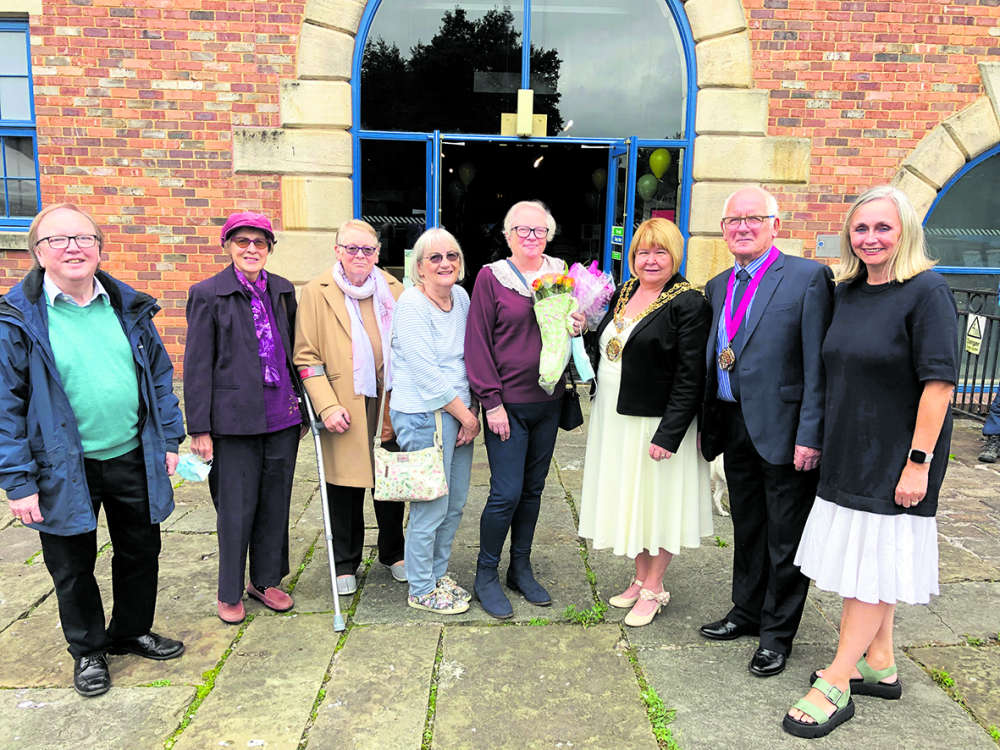 This month is local history month across Tameside.
It's set to be a month packed with heritage events – including the national Heritage Open Days – which will see many historic buildings opening to the public over the coming weekends across the borough.
But this month also marks the anniversary of a special heritage group - for it is the 21st anniversary year since the creation of the Tameside Local History Forum.
To mark the milestone moment a month-long exhibition created by members will remain on display at Ashton's Portland Basin Museum throughout September. Hopes of celebrating the 20th anniversary of the Forum last year of course had to be cancelled due to the pandemic.
But with the museum open again, the exhibition could go ahead.
The Civic Mayor of Tameside Cllr Janet Cooper officially opened the display, with Denton MP Andrew Gwynne among the first to visit.
The Tameside Local History Forum was actually established in January 2000 to increase awareness and use of all the elements of local history throughout the borough.
It fosters co-operation between historical and civic societies - and the exhibition very much reflects this - with all local history groups and History on Your Doorstep members contributing and making the exhibition possible.
Thanks went to everyone who contributed through tough times, plus to the local studies team and the Portland Basin Museum itself.
The germ of the idea to create an 'umbrella' history society was initially planted when the museum itself first opened.
The Mayor praised the Forum members for bringing Tameside's rich history to life and helping to preserve so many factions of history for future generations, as well as involving so many local schools along the way.
In addition, the festival is being used as a chance to relaunch the Family History Help Desks at Tameside Local Studies and Archives Centre, Ashton – Tuesday, Wednesday, Thursday and Saturday 10am to 1pm – which allow you to get free one-to-one help with your family tree.
Events this next week include...
Friday 10, Saturday 11, Sunday, September 12
Dukinfield Old Chapel (Unitarian)
The chapel will be open on:
Friday, September 10, 11am to 3.30pm.
Saturday, September 11, 1.30pm to 4pm.
Sunday, September 12, 11pm to 1pm.
Contact: Dawn Buckle;
Mobile: 07542001003;
Email: dawnbuckle@ymail.com
………………………………………….........….
Saturday 11, Sunday, September 12
11.30am and 2pm,
Dukinfield Old Hall Chapel.
Free, booking essential.
For more details, phone 0161 330 4188 or email jackietucker11@hotmail.co.uk
………………………………………….........….
Saturday, September 11
11am and 2pm,
Currier Lane Historical Society
Join David Dawson on a heritage walk on Tameside's Ancient Highway - Currier Lane, Ashton.
Meet at the Seraphina Café at St Michael's Square, Ashton OL6 6XJ
………………………………………….........….
Saturday, September 11
11am - 4pm
Albion United Reform Church, Stamford Street East, Ashton-under-Lyne, OL6 6QQ
………………………………………….........….
Sunday, September 12
Newton Hall Heritage Open Day.
(please look at website for details)
www.tamesidehistoryforum.org.uk
………………………………………….........….
Sunday, September 12
4pm. Grade 1 listed church built 1882.
Conservation area, rectory and school.
St Anne's Road, Denton M34 3EB.
………………………………………….........….
Sunday, September 12
from 1pm.
Fairfield Moravian Settlement and Museum Tours are available from 1pm, every half hour, the last one leaving at 4pm.
Bookings preferable but not essential, as numbers limited, to jwarr@uwclub.net.
………………………………………….........….
Wednesday, September 15
2pm Tameside History Club Talk
Something to chew on – the history of local
sweet makers by Mike Pavasovic.
To book call 0161 342 4242
or email archives@tameside.gov.uk
www.tameside.gov.uk/archives
Read more from the Tameside Reporter
Click here for more of the latest news
Click here to read the latest edition of the paper online
Click here to find out where you can pick up a copy of the paper