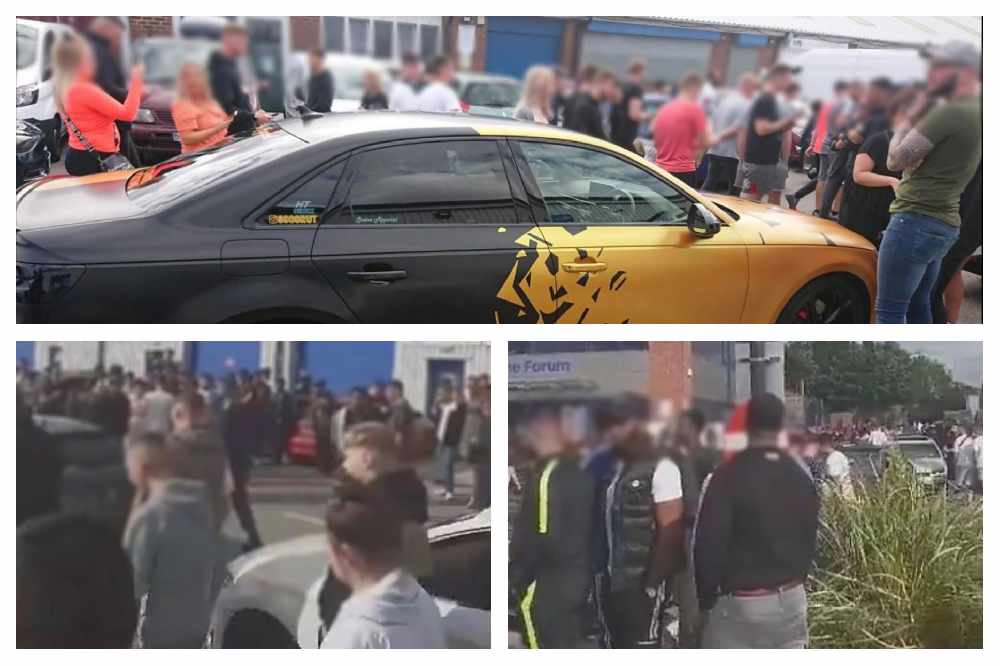 Greater Manchester Police has announced that it will be holding a live Q&A chat online about the illegal mass car cruise in Denton last weekend. 
The chat will take place on Thursday 30 July from 1pm to 2pm.
Residents have the chance to submit any questions they have for the police about the force's response to last Sunday's shocking scenes, before and during the event, by visiting https://app.sli.do/event/vmx4smni.
Chief Superintendent Chris Allsop said it will be an "opportunity for the community to talk to local police directly, ask any questions and enable us to listen".
Denton MP Andrew Gwynne and local councillor George Jones are both urging local residents to take part.
Mr Gwynne said he was "absolutely appalled" by the "disgraceful and extremely dangerous behaviour" on Windmill Lane last Sunday and demanded to know how and why hundreds of cars and thousands of people were allowed to descend on the town.
Convoy from Telford meant misery for motorists
The event caused chaos, resulting in misery for motorists on the M60 and M67 who were stuck for hours in lengthy tailbacks, while Denton residents were subjected to countless cars and motorbikes revving and racing around their streets, cheered on by huge crowds.
A huge convoy of cars had set out from Telford, with social media posts showing it blocking all three lanes of the M60 and the hard shoulder and then grinding to a halt. The occupants of the cars then left their vehicles to film and congratulate themselves.
The event had been heavily promoted by Birmingham-based musician 'DMO Deejay' who boasted on social media that many thousands had attended. Thanking supporters in a YouTube video posted, he said some 500 cars had joined the convoy from Telford to Denton and he didn't realise it would be so many.
He also claimed his car had overheated and when he pulled over on the motorway, the entire convoy also stopped - clogging the M60. Upon arrival in Denton, the convoy's occupants gathered at Tameside Business Park, where 'JDK Autoworx' was the destination - and where a smaller 'car meet' had been planned for Sunday.
The Reporter contacted the owner of the business for comment about Sunday's events but he was unwilling to speak to us.
How GMP have responded to MP Gwynne
Greater Manchester Police, who have made no arrests in connection with the event yet, had been widely criticised for their response but defended their actions in a statement, saying that they were stretched attending other incidents and had no prior warning of the event on Windmill Lane.
After seeking urgent answers from GMP as to why officers hadn't picked up on it and stopped it, Mr Gwynne posted a formal response he has received from the force.
He says he has received reassurance that GMP is taking the incident in Denton seriously, they did their best to "contain and disperse" the event, and that "robust action" will be taken against those involved.
Mr Gwynne has also apologised for a comment in which he described GMP as 'inept' but stated that "things could have been done differently on the day".
In a lengthy update, the MP posted on his Facebook page: "I am reassured that GMP are taking the events in Denton seriously, and they are putting considerable resource into identifying and apprehending lawbreakers from the substantial information the community has gathered from social media and sent to the police.
"They want me to reassure the community that they did their best to contain and disperse the event on Sunday, and that timescales from them first being made aware of the event to cars arriving en masse were very short.
"They also want me to reassure the community that a vehicle was seized and a number of notices were issued using powers conferred in s.59 of the Police and Reform Act 2002 (a warning enabling an officer to seize and remove vehicles).
"Importantly, the police recognise how their response may have appeared to members of the public, especially residents who were watching from their front windows, or sitting in cars stuck on local roads, and did not have the benefit of the footage being transmitted into the force control centre from the helicopter above, or the work being undertaken in the surrounding area and road networks. Frankly, it was a scary situation for many residents.
"GMP is in the process of developing plans with their partners and specialist in this area to look at prevention opportunities for the future. As the investigation continues, robust action will be taken with respect of people involved in the event.
"Community reassurance work is currently taking place in the area and an online event is scheduled for next week for people in Denton to be able to ask GMP their questions about this, and other policing matters.
"Lastly, in my conversations with the Chief Constable and Chief Superintendent, I have apologised for the 'inept GMP' remarks. My anger at the event and the disregard shown to law and order and to public safety should, rightly be directed to those involved. Many of the concerns I have about GMP's handling of the event have been answered. Things could have been done differently on the day.
"But as this unravelled very quickly, the decision was to contain and then disperse. The Police acknowledge how it looked on the ground to the public, and they understand the upset and raw anger in some quarters. I'd personally like to thank all the officers who are involved in the next stages, of bringing to justice those who brought chaos to the streets and motorways of Denton last Sunday."