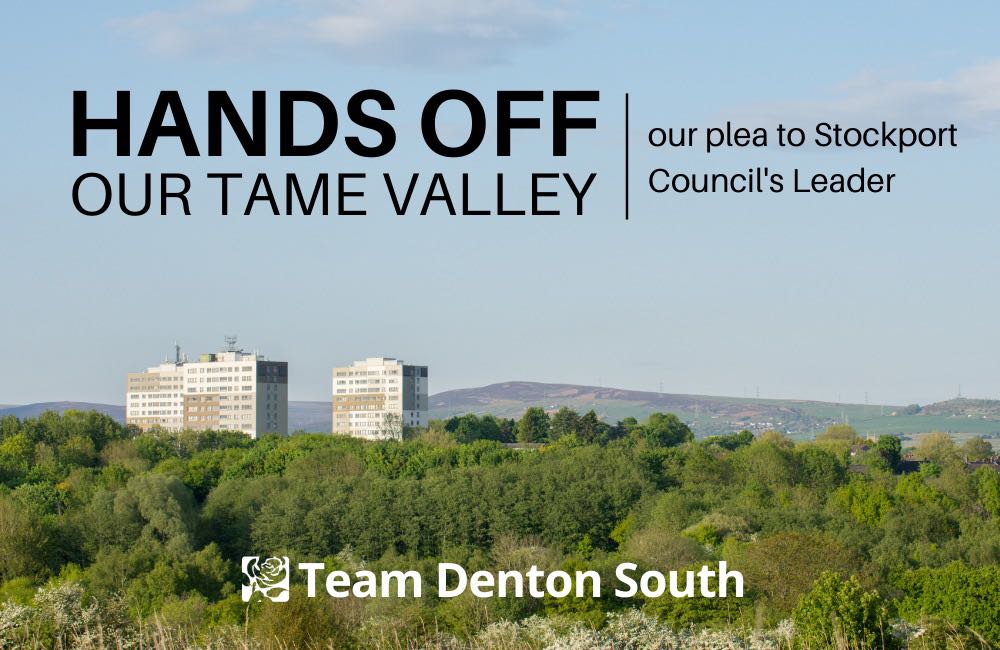 Furious politicians in Denton are demanding a meeting with Stockport Council's leader in the Tame Valley over what they describe as "devastating" plans to extend Bredbury Industrial Estate.
There are proposals to expand it deep into the protected greenbelt of the Tame Valley, at the border of Tameside and Stockport.
Commercial property giant Quorum had initially submitted outline plans for a 1.25m sq ft extension. Dubbed Bredbury Gateway, it would boast 18 units for general industrial, storage and distribution use, with 10,000 sq ft earmarked for retail and leisure purposes.
The proposals also include widening Bredbury Parkway and the relocation of its junction with Ashton Road, as well as a new car park to serve Stockport Sports Village.
But it amended them back in February to seek full permission to 'fast track' two of the proposed 25 units, which would boast 430,000 sq ft between them, at the Tame Valley site.
Denton MP Andrew Gwynne and Denton South councillors George Newton, Claire Reid and Jack Naylor say the proposals will have "devastating consequences" for Haughton Dale Local Nature Reserve and the wider Tame Valley.
On Wednesday afternoon (30 September), they sent a joint letter to Councillor Elise Wilson, inviting her to meet them in the Tame Valley to see first-hand the impact of the plans – which they say would amount to "environmental destruction" and hold Tameside "in complete contempt".
They are also urging Stockport councillors to vote to withdraw the proposed Bredbury Industrial Estate extension from the Greater Manchester Spatial Framework, ahead of Stockport Council's online meeting to approve the GMSF on 22 October.
They are also "reaffirming their commitment to fight this proposal every step of the way", asking Cllr Wilson to "think again to put the future of our boroughs first and to protect our precious greenbelt for generations to come".
The Denton politicians say their campaign to oppose the planning application has received "intensive and abundant support" from the Tameside and Stockport community.
Denton and Reddish MP Andrew Gwynne said: "The Tame Valley is precious to both Stockport and Tameside people. Its creation into a linear countryside park stretching from Saddleworth to Stockport was the former Greater Manchester Council's gift to the area in the 1970s. Its destruction will be Stockport Council's legacy if these plans aren't dumped now."
Cllr Newton, also speaking on behalf of councillors Naylor and Reid, said: "This major development will have a devastating impact on local biodiversity, air quality and access to green space. This reckless proposal must be withdrawn."
A Change.org petition entitled 'Save Woodley's Tame Valley – Say no to expansion of Bredbury Industrial Estate' has received over 1,200 signatures so far.