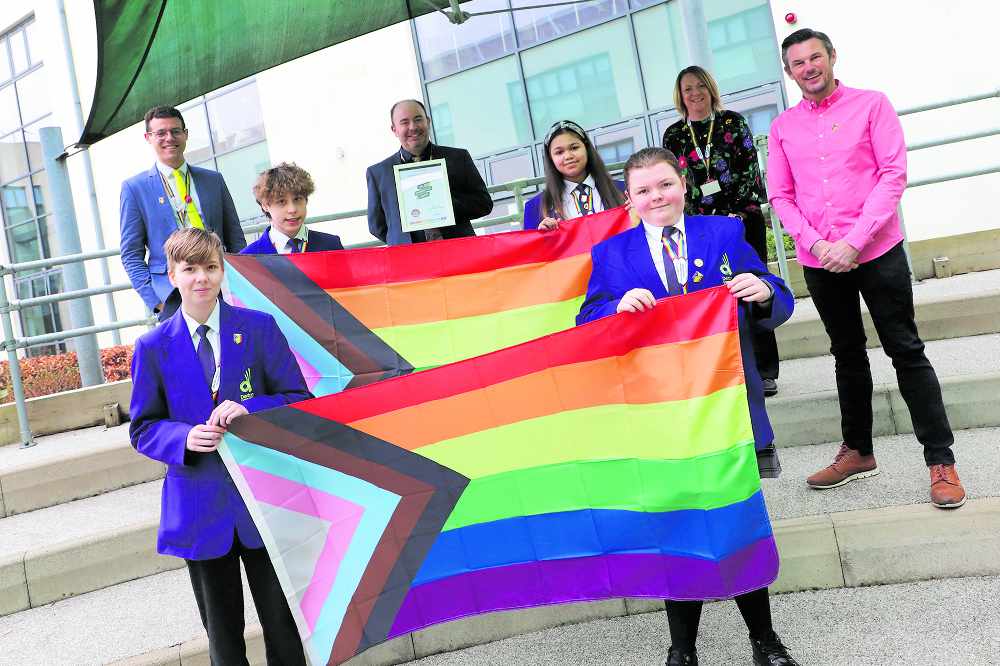 A Denton high school has been honoured with an inclusion award by the Proud Trust.
Denton Community College has earned the Rainbow Flag award from the Manchester-based charity for their work in LGBTQ+ positivity and allyship.
The charity works with schools and colleges in the North West of England to ensure that young people who identify as LGBTQ+ are well supported.
Head of Religious Studies and PSHE at the school, Liam Spencer, said he was delighted that the school's hard work has been recognised.
"This award recognises the transformative work we've done regarding LGBTQ+ inclusion at Denton Community College," said Liam.
"We've worked on educating staff, making sure our curriculum is balanced and open. We've reviewed policies to make sure that they're as inclusive as possible, we've made sure that there has been training at all levels in all parts of the school. It's been a long process of about 12 months, but it's been really rewarding for the school and we've seen some excellent changes."
Liam said that it's something that the students have been asking for and isn't just for those that identify as LGBTQ+, but also those that want to be allies.
"We want to make sure that the school is as accepting of all people as possible. It's not just necessarily been about inclusivity its been about encouraging allyship so making sure the other students, even if they don't identify as LGBTQ+, that they are defending and supporting other people that do, making sure that the space is inclusive for everybody and that people stand up for others.
"They've been amazing, they've really jumped on board and got involved in activities.
"We've noticed a shift. It was more the students asking for it, making it a more inclusive place.
"It's really important that people take that up and listen to the student body who want a space where everyone can be welcome."
Liam paid tribute to the students, who have embraced the changes they've made to support everyone.
"I'm really proud of them all, they've worked so hard and it's a credit to the young people they want to help others out as well as people in their own area."
Their hard work has been supported by the Mayor of Greater Manchester's LGBTQ+ supervisor, Carl Austin-Behan OBE, who Liam said has been a fantastic resource for help and connections.
"Carl is great with contacts so if you want to achieve something he knows everybody in the business that can do that," Liam added.
"Having his support brings that focus through, he's just got excellent knowledge to tap into."
The process to become Rainbow Flag certified takes around a year and is the culmination of plenty of hard work by the school.