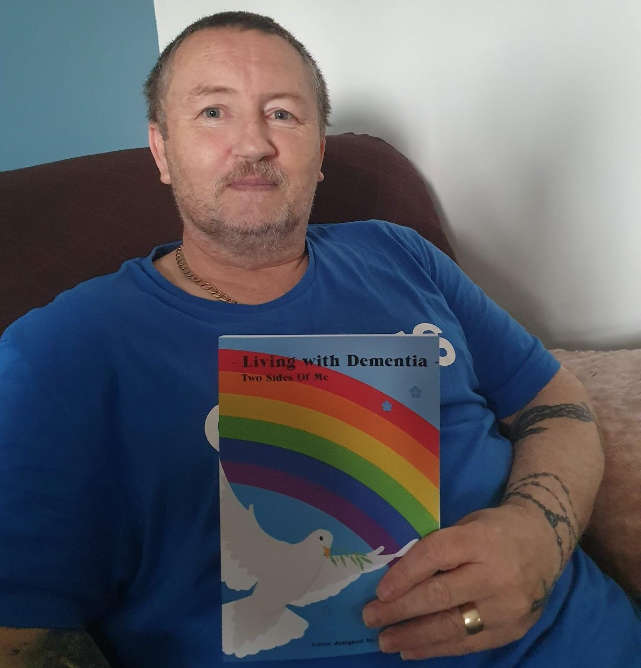 A man from Hattersley suffering from dementia has written a book of stories about his experience with the illness. 
Andy Pryor, 55, was diagnosed with Vascular Dementia, Alzheimer's and Lewy Body Disease last year after suffering from a stroke.
After his diagnosis, Andy's life changed almost overnight as he lost his job and driving licence.
Despite his debilitating illness, Andy has channelled his creativity into a book of short stories, drawing on his experience with the disease and its knock-on effects.
Andy writes the stories when his dementia is at its worst.
"I can't write them when I'm talking to you now. I'll wake up at two in the morning, in a dementia state walking around the house - I'll sit down and write stories."
The stories range from anecdotes of obstacles brought on by dementia to metaphorical poems.
Andy wrote the book because he found it created a distraction from his illness and provided a lasting memory for his family:
"If I ever get to the stage where I don't remember their names or faces, they've got a book to read."
Andy's book is on sale online, and has been well received already on social media.
"I've had people in America and Germany text and message me saying they love the book."
Dementia is an umbrella term for illnesses that slowly damage the brain.
Vascular Dementia is caused by a lack of blood flowing to the brain and is rare in people under 65.
Alzheimer's disease is a progressive illness and is the most common form of dementia, making up 60 to 80 per cent of cases.
Lewy Body Disease is associated with abnormal deposits of proteins in the brain, causing problems with memory, movement and other cognitive functions.
Andy's book is on sale on Amazon for £4.50 and can be found here.
You can listen to Andy's story below...