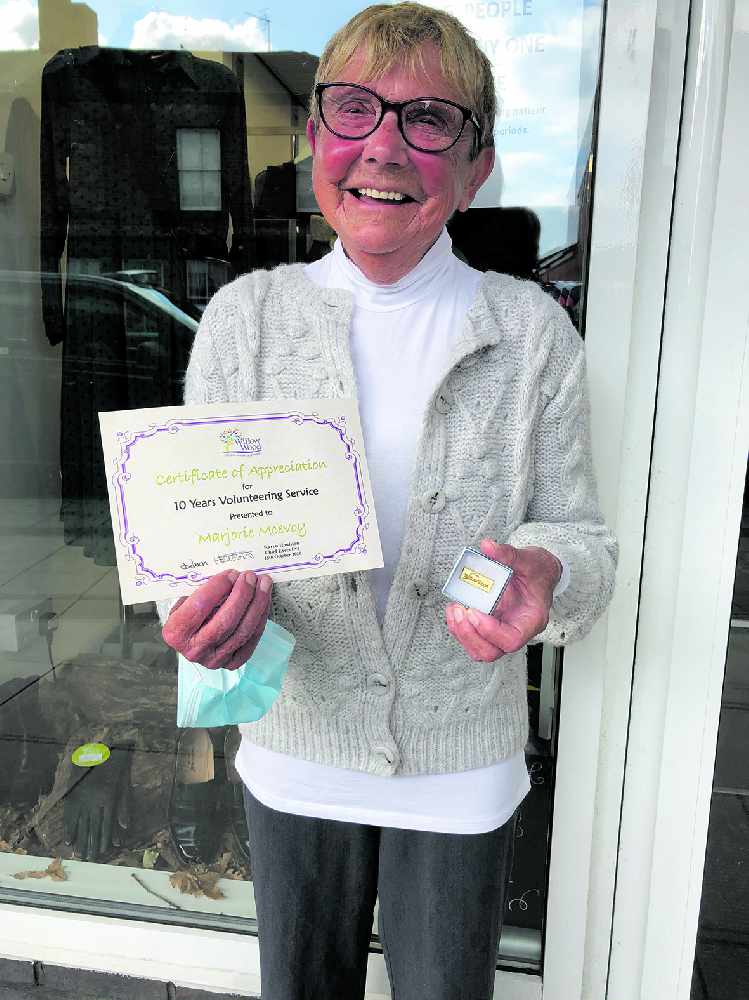 Dedicated Willow Wood volunteer Marjorie McEvoy has been helping out at the hospice for exactly ten years.
Her 'decade of devotion' has been rewarded after she was presented with a certificate of appreciation and golden Willow Wood brooch.
Marjorie (pictured) has spent most of the last ten years helping out in the kitchen at the hospice, but the coronavirus pandemic has meant her culinary skills have had to be put on hold.
Not to be dissuaded from contributing, she is now ringing the tills at the Willow Wood Hospice shop on Old Street in Ashton and has been helping out, preparing the shop for the autumn season ahead.
"When I finished work and having been a cook, I wanted to help out at the Willow Wood kitchen," explained Marjorie, who had previously worked as a cook at Aldwyn Primary and St Anne's RC Primary, both in Audenshaw.
"I filled out the application forms to volunteer and started there every Monday and Tuesday morning and I've absolutely loved it," added Marjorie, who lives with her family in Audenshaw.
"When I first went I was a bit apprehensive because it's a hospice and I didn't know how I would feel - but it's not like that.
"The hospice is just beyond belief. It's like going into a lovely family place. The care is beyond belief and I'm just sorry that at the moment with the way things are they cannot get the money in in the same way.
"The people who work there are wonderful - they have a wonderful chef and cook and catering team - but they are all so dedicated to what they do. All the people of Tameside should support the hospice because you never know if you might need it one day."
Marjorie says she is really missing working in the kitchen but helps at the shop in Ashton now two mornings a week after lockdown was lifted.
"They need all the support they can get, they really, really do," she added.
Sharon Hodgkiess, retail operations manager for Willow Wood and Denise Royle, Ashton Willow Wood shop manager, presented Marjorie with her award.
Sharon said the hospice is desperately appealing for more volunteers to get involved - especially to help out at the local shops with several not even able to open yet because of the lack of help available all due to the coronavirus pandemic.
"We do have a job description and many of our volunteers like that, but they also like to have a mixture of work, so they might be on the till one day, steaming and ironing the next or sorting through the donations - there are many roles that people can help with," she said.
Marjorie added the best thing she had found about volunteering was making friends, and getting out and doing something positive and rewarding and feeling good that she had helped.
Willow Wood holds an annual party to thank and recognise its army of volunteers, but this year that too has had to be put on hold.
"It's one of my stand out moments of the year," said Sharon. "We are gutted we can't hold it this year - the last two have been at West Hill School and we have performers and bands and all sorts.
"But we will be holding one next year - so everyone who has missed out like Marj this year will be recognised next year."
If you would like to help call into any of the shops when they are open, visit online or call the hospice and speak to the volunteer services team.
"We really do need more volunteers now - any age group, any skills, any background we will have something that will suit and everything from a couple of hours a week - whatever people can do it all helps and all counts."