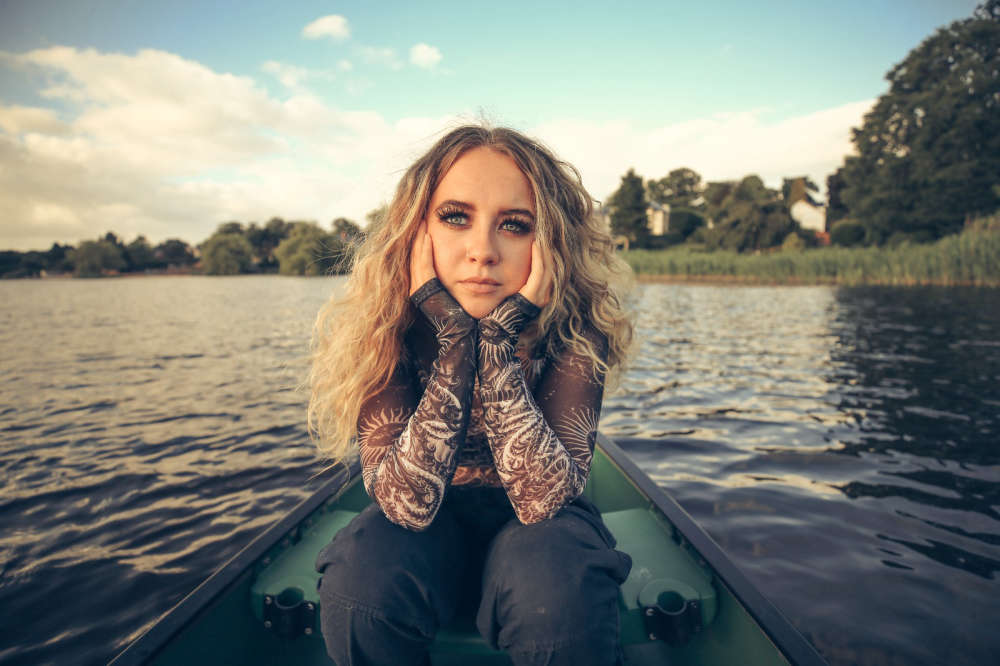 SINGER AND SONGWRITER: Stalybridge's Ambiere.
In his latest column, the Tameside Radio presenter tells us all about a hypnotic singer-songwriter brought up locally who produces "breathtaking" music and her new single is coming out next week.
For over six years, Ambiere has been one of the most hypnotic singer-songwriters on the music scene, and with plans of ensuring 2022 is a busy year, her fan-base will only get stronger.
Brought up in Stalybridge, Ambiere was born Amber Lane McIvor and entered the world of music at a young age.
A review of her music once described her as a mixture of The XX, Kath Bush, and Florence and The Machine, which I would in many ways agree with, but to me she has her own, distinct, mind-blowing, original sound.
Fairytale sounds and big beats is what makes Ambiere's music take you to another world, and her own stage presence does just the same.
No stranger to festivals, Ambiere has been on many strong line-ups at festivals such as Truck Festival, Made In Manchester, Y Not, and Blackthorn Festivals, and has also drawn huge crowds at Manchester City's City Square stage.
Singles released already include Whispers, I See Faces, Got It, Holy Faith, and Sparkly Marmalade, and her next two releases, in my opinion, take the magical world of Ambiere to a whole new level.
Next single 'Thea' will be released on May 20, and the single which will follow that is one which is very special to her.
Shortly after 'Thea' is released, the follow-up will be a track entitled 'Can't Forget You'. I've been fortunate to already hear this and it really did blow my mind.
The song is one which was written and produced with her former drama teacher Jim Ensor, and has been ten years in the making. It's one of the most breathtaking songs I've heard for a long time, and along with the forthcoming 'Thea', are both songs which need to be heard.
Speaking to Ambiere, it's clear that she plans on this being the year which sees more live performances from her, and the excitement she brings talking about her future is contagious.
The music she produces is breathtaking, and her live shows really are hypnotic. Once seen, never forgotten.
Ambiere deserves a huge future in music and I genuinely hope it happens for her.
She'll be performing locally at Astley Sports Village on Saturday 28 May, when she will be one of the must-see acts at this year's Made In Manchester Festival, tickets for this are available now from the festival website.
Check her out on all the usual social media channels and music platforms, and go and see her live, I can promise you a truly memorable night, and one of your new favourite singers.
You can listen to Dave on Tameside Radio 103.6FM on Monday evenings from 7pm to 9pm. Click here to subscribe and catch up on previous shows.
Read more from the Tameside Reporter
Click here for more of the latest news
Click here to read the latest edition of the paper online
Click here to find out where you can pick up a copy of the paper