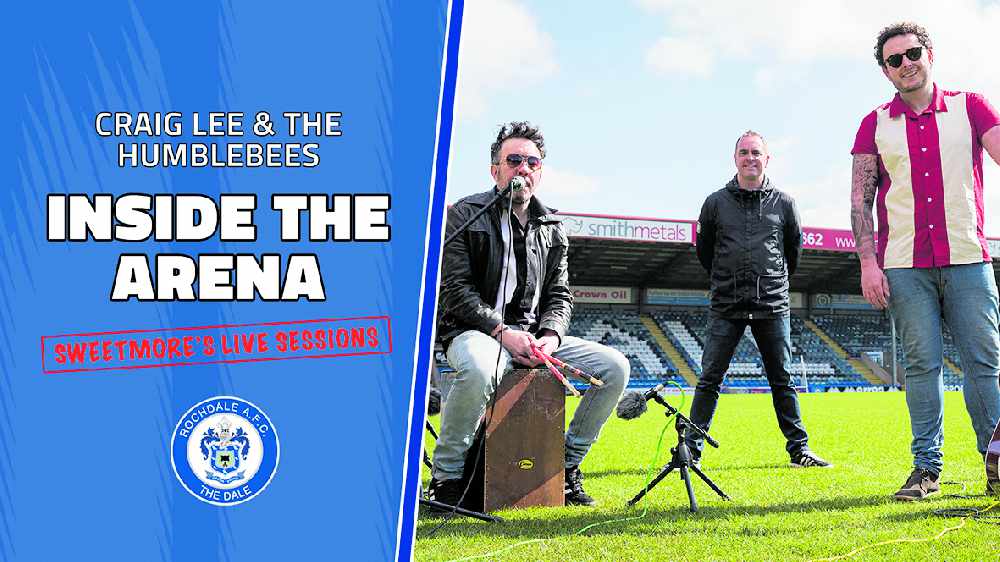 Tameside Radio presenter Dave Sweetmore tells us about another role he fulfils involving a Football League club and how musicians can get involved in the project.
In October of this year, I will have worked at Rochdale AFC as matchday stadium announcer and DJ for 20 years.
It's a role in which I'm very proud of, especially for the fact that we as a club have earned such a great reputation for the music we play on matchdays.
Music similar to what I play on my Monday night Tameside Radio show, which I would simply call 'some of the best and coolest records ever made'.
It's also another avenue in which I'm able to help, support, and play the music of local, unsigned bands to thousands of football fans from all around the country.
At the beginning of April, on the Rochdale AFC official YouTube channel, we broadcast our first ever 'Inside The Arena – Sweetmore's Live Sessions', a new weekly feature where, every Thursday Night at 7pm, a 15 minute video is released of an act from the North West performing three songs, along with a short interview, hosted by myself.
It's filmed on the pitch at the Crown Oil Arena, and the response we've had from fans, performers, and outside media has been amazing.
Our first performer was Craig Lee, who along with his band 'The Humblebees', earlier this year released 'Simply Because', one of the best and most loved records of 2021 so far.
Seeing Craig perform an acoustic version of this, along with two other songs, in such a unique setting, was a special moment.
Craig's Live Session, along with others released since then, featuring Alex Spencer, Clarissa Jade, and Matt Johnson, are available now on Youtube, on the official Rochdale AFC account, or by simply searching 'Inside The Arena'.
The live sessions are brought to you by LLH Films (www.llhfilms.com), and the team in which I work with who are behind the films, including Sam and Louie the cameramen, Sam and Laura the sound team, Mark the clapboard operative, and Sam, Greg and Leighanne who produce and promote the final film, have really helped launch and succeed with a very special project, which is an unbelievable thing for up and coming local musicians.
I must also thank Rick and Josh, the Rochdale AFC groundstaff for letting us use the pitch for live performances.
If you are a musician, or know someone who is, who would like to be featured on a forthcoming 'Inside The Arena – Sweetmore's Live Sessions', please email your details and a brief bio to dave@davesweetmore.com.
Please do check out our 'Inside The Arena' live sessions on YouTube, not only will you really enjoy the films and the music, you are also helping support great new musical talent, and you may even find your new favourite band or singer!
You can listen to Dave on Tameside Radio 103.6FM on Monday evenings from 7pm to 9pm. Click here to subscribe and catch up on previous shows.
Read more from the Tameside Reporter
Click here for more of the latest news
Click here to read the latest edition of the paper online
Click here to find out where you can pick up a copy of the paper