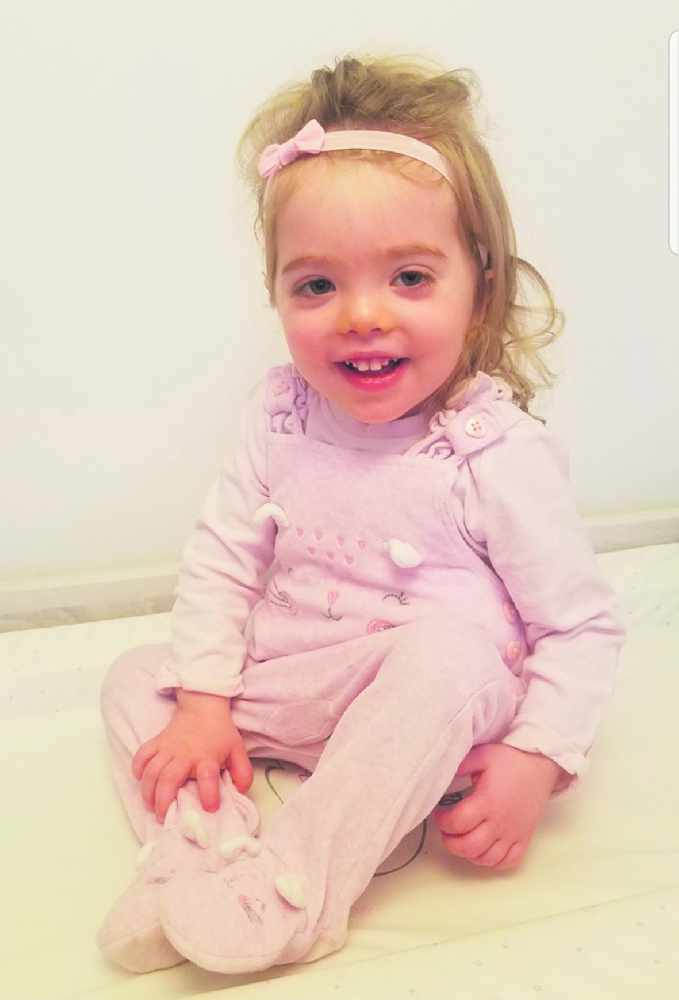 A little girl is taking on a walking challenge to help others in her position.
Ella Cooper, two, from Guide Bridge, will be walking around the outside of Manchester City's stadium the day after their FA Cup tie this weekend.
Supported by her parents, including her City-mad dad Scott, she's taking on the challenge to raise money for the Wiedemann-Steiner Syndrome Foundation.
Ella, who has been diagnosed with the disorder herself, struggles to walk without the aid of a frame but is testing herself for the good cause.
The syndrome is incredibly rare, with only around 1,000 people worldwide currently diagnosed with it. However, that's a figure that's expected to rise with more being diagnosed with the condition.
Her mum, Kay Garratt, explained: "She finds it quite difficult to put weight on and is quite behind on her development.
"Ella turned two on New Year's Day and is still not walking on her own. But she is a very happy little girl who smiles all year long."
After being given a frame by her physio, Ella is now moving better than ever and ready to take on the walk.
Around £770 has already been raised for the cause ahead of the walk and her parents say that Manchester City have been incredibly helpful throughout Ella's life.
"It's very special," said Scott. "Ella was in hospital over Christmas and we got to meet some of the City players and Pep (Guardiola).
"This is just another string to the bow that City are doing for us."
Ella's parents are very thankful for Manchester Royal Children's Hospital, who have been dealing with Ella since her birth.
"We really have to thank them for all the tests they've done on Ella," said Kay.
"They did every test possible and they were all coming back fine. It was 22 months in limbo, not knowing what was actually wrong with Ella because everything was coming back normal."
Ella never drank milk as a baby and all her food has to be pureed for her to eat it.
Despite such challenges, she had her first day of nursery last week and is looking forward to making friends and learning.
The walk takes place this Sunday (April 18) and you can donate online at https://bit.ly/3tujIXr