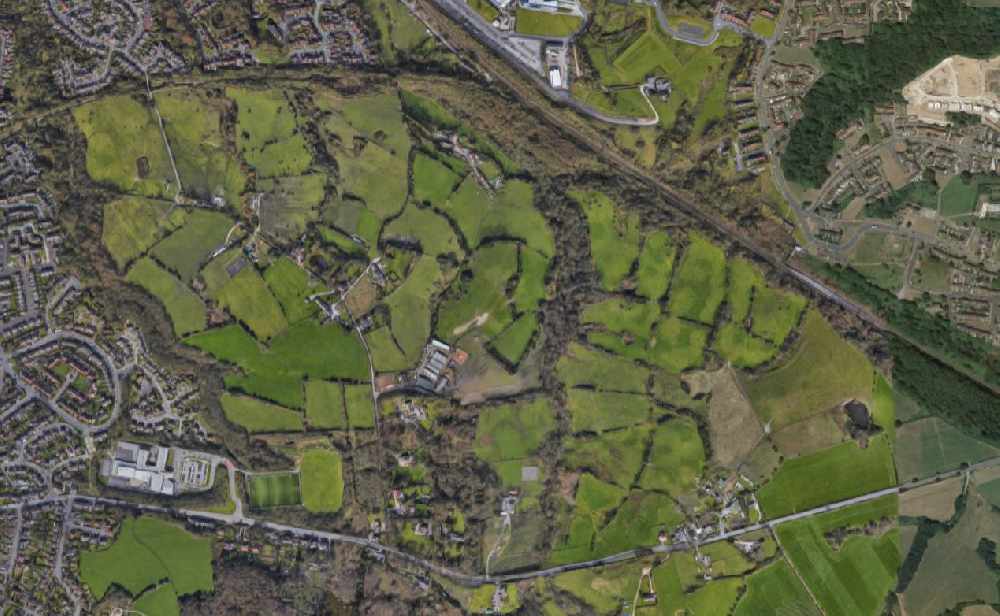 GODLEY GREEN: The area of greenbelt where the 2,300 home garden village could be built.
A petition opposing the controversial Godley Green Garden Village has soared past 4,000 signatures. 
Claire Elliott, an active member of the Save Tameside Greenbelt Facebook group, organised the petition back in March to raise awareness of the proposed development.
By Wednesday, 4,070 people had registered their objection to the plans that would feature 2,350 houses on greenbelt land in Hyde.
The signatures are part of a larger campaign to oppose Tameside Council's formal planning proposal, including raising funds of £4,200 to enlist legal help.
Claire said this week: "We are pleased as a group to have surpassed 4,000 signatures. Word is getting out and awareness is being raised of the potential loss of a popular piece of our countryside in Hyde.
"We believe as a group that using our greenbelt is wrong and premature. Especially when our local plan is yet to be finalised and our infrastructure would struggle with this massive expansion.
"Priority should instead be placed on the brownfield sites that can accommodate nearly 7,000 houses. We should be building truly affordable and social housing, that's what's needed."
The petition can be found at you.38degrees.org.uk/petitions/save-the-greenbelt-in-hyde-godley-green
Tameside Council is backing the plans and insists 'community' is the guiding principle behind the proposals.
The vision for the Godley Green Garden Village incorporates a range of low energy homes for first time buyers, large families, extra-care provision, self-build and apartments.
Infrastructure such as 6km of cycle paths, shops and a new primary school next to Alder High School will also be built.
The council added: "This all comes in addition to a 10 per cent increase in biodiversity and a commitment to protecting Werneth Brook and Brookfold Wood.
"Currently, less than 15 per cent of the site area if publicly accessible as much of the land is private ownership.
"That figure will rise to almost 45 per cent once the garden village is built."
Project lead Cllr Ged Cooney said: "Godley Green isn't just about new homes, it's about developing a sustainable, thriving community. As a garden community it gives us the opportunity to do something different, with people at the very heart of the development process.
"Godley Green Garden Village will do more than provide the much-needed, quality homes Tameside so badly needs. First and foremost it will be a place where people can work, raise families, travel easily and enjoy green spaces.
"We will use the development to create work and skills opportunities for local people and communities with a focus on vulnerable and marginalised young people.
"I think it's fair to say the development represents a once in a lifetime opportunity not only to provide something that's different, but ethically based too."
Tameside Council intended to put a formal planning proposal in at the end of April, but have since delayed this action.
However, Executive Leader Cllr Brenda Warrington says the council is pressing ahead with the plans for the Godley Green Garden Village.
She added: "We are required by the government to have plans to build around 11,000 new homes over the next 17 years. Failure to come up with a realistic and deliverable plan to meet that target means that the developers will step in to do it for us."
Cllr Warrington believes the council's plans are the best choice for residents to preserve the greenbelt and ensure sustainable housing.
You can read her column which discusses the subject here.
Read more from the Tameside Reporter
Click here for more of the latest news
Click here to read the latest edition of the paper online
Click here to find out where you can pick up a copy of the paper