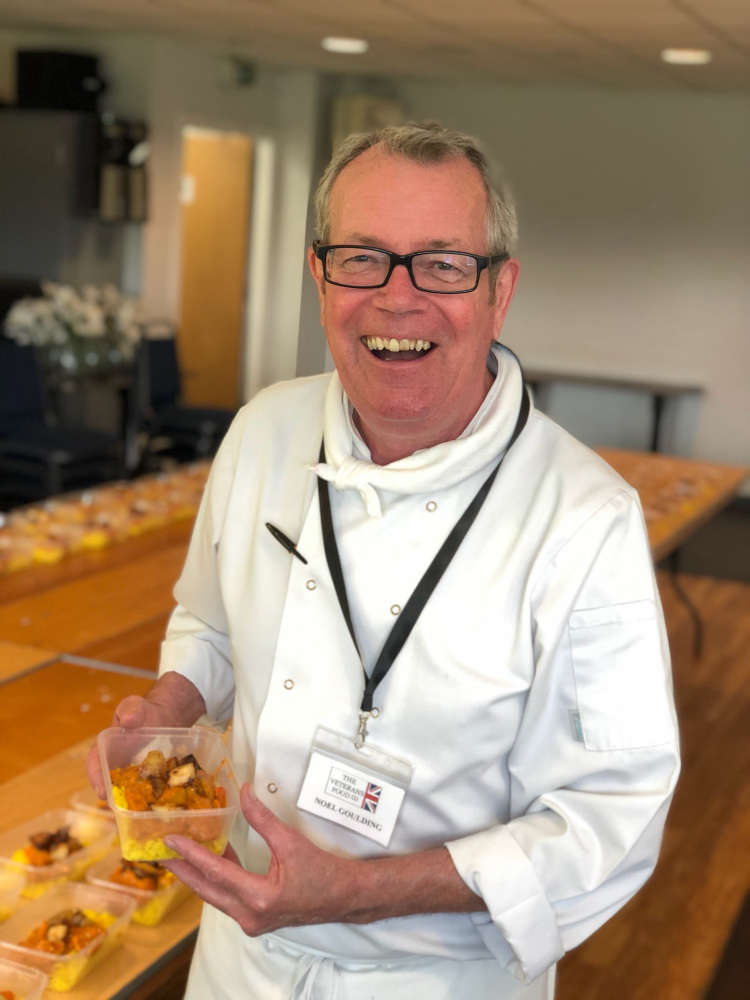 GUEST CHEF: Noel Goulding.
Tameside residents are being invited to attend events taking place in support of Malnutrition Awareness Week.
Many older people and those with serious health conditions that increase their risk of malnutrition, have been without access to their usual support or care networks due to the Covid-19 pandemic and the subsequent lockdowns.
This has meant that some people have not been able to get out as often as they used to, and may be feeling less fit and able, or are worried about winter, the approaching flu season and what will happen with coronavirus and their health in the future.
It is now more important than ever for people to increase nutrition and hydration from food and drink, to prevent ill health, malnutrition, falls and to keep as healthy as possible to strengthen their immune system.
To mark Malnutrition Awareness Week (MAW) which runs from October 11-17, St George's Kitchen is hosting an On Your Marks, Cook Smart! cooking event.
The guest chef will be Noel Goulding from the Veterans Food Co with the event taking place next Thursday, October 14, from 1-3pm at St George's Church, Church Walk, Stalybridge.
Residents are being invited to attend - the event for free.
This cooking session will focus on sustainable foods that are better for the environment, such as plant-based foods that are also high in protein such as lentils, pulses and grains.
There will be an emphasis on easy to cook foods for older people who may have mobility issues, arthritis, or do not want to prepare and cook for long periods of time every day, with simple batch cooking methods including tinned, frozen foods to reduce waste and multiple trips to the shops.
There will also be a stall at Ashton Outdoor Market on Friday, October 15, from 9.30am to noon with a team of nutrition and hydration champions, which will include professionals and community champions.
The team will be raising awareness of avoidable conditions to try to prevent malnutrition and dehydration in older years and promote good nutrition and hydration throughout life with simple tips and conversations.
By raising the profile of malnutrition in Tameside, the campaign sets out to help members of the public better recognise the signs of possible malnutrition.
Tameside Council's Executive Member for Adult Social Care and Population Health, Cllr Eleanor Wills, said: "In Tameside, so far, we have recruited more than 100 nutrition and hydration champions who are out in the community and in the Trust having these conversations with our residents and their families and carers.
"I hope people will come along and join whilst learning more about how to prevent malnutrition in older people.
"If you would like to become a nutrition and hydration champion and be trained up by our Health Improvement Service Be Well, please contact Lauren Foster by email at: lauren.foster1@tameside.gov.uk"
There are lots of useful resources and information related to raising awareness of malnutrition and dehydration as work is being undertaken with partners across the borough to prevent these avoidable conditions in people over 65.
Details can be found at https://www.tameside.gov.uk/ageuk-info
For more information, tips and advice on malnutrition and dehydration, and how to join the conversation throughout the awareness week, search Malnutrition Awareness Week BAPAN.
Read more from the Tameside Reporter
Click here for more of the latest news
Click here to read the latest edition of the paper online
Click here to find out where you can pick up a copy of the paper