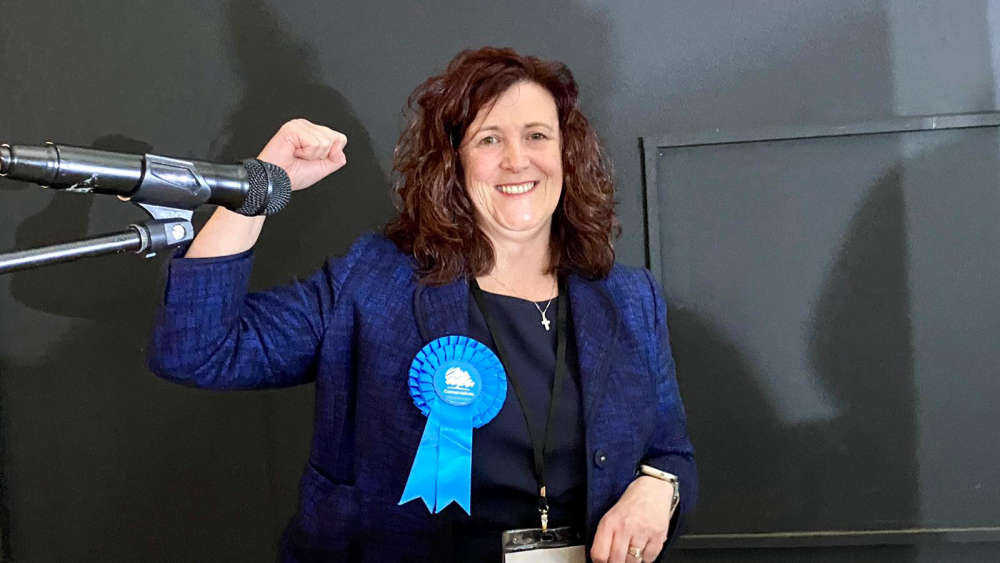 Andrea Colbourne celebrates her election. Image: Nigel Wood.
"Is Brenda about because I think we need the keys for that bulldozer."
Conservative candidate Andrea Colbourne celebrated victory in Hyde Godley at last Thursday's Tameside Council elections, with the above words directed specifically at Tameside Council leader Cllr Brenda Warrington.
For controversial plans to build more than 2,000 homes to create the Godley Green Garden Village on greenbelt on the edge of Hyde were the key issue that drove this election battle.
With the controlling Labour council fully behind the plan and Tameside's Conservatives campaigning against it - the choice was clear cut.
With only Labour and Conservative candidates vying for the ward too this time, this was an opportunity for the local electorate to make their voices heard.
Andrea had come close last May, missing out by just 52 votes when Labour's Cllr Joe Kitchen held on to his seat in a result he said had been too close for comfort.
But back then there were three other candidates for the Greens, Lib Dems and Liberals in the mix, who collectively polled 324 votes themselves.
But in a two-horse race last Thursday the only thing that was certain before the election was that there would be a new face representing Hyde Godley, with long-standing councillor Jim Fitzpatrick retiring.
Result: Hyde Godley ward

Andrea Colbourne (Conservative) - 1417
David McAllister (Labour) - 1334

Ballot papers issued: 2779
Turnout: 29.6%

Andrea Colbourne is elected. pic.twitter.com/HvmmGdFv1x

— Tameside Reporter (@newsintameside) May 6, 2022
The controversial garden village plans have been at the heart of an often acrimonious battle between campaigners and Tameside's Tory and Labour councillors.
Stalybridge Conservative councillor Liam Billington infamously took off his shirt in one council meeting to sport a t-shirt underneath with a campaigning cartoon depicting 'Brenda the Bulldozer'.
Fast forward to February's full council meeting and the leader rounded on Tameside's Tories to declare: "I will be on that bulldozer that actually starts to dig up ready to build houses on Godley Green and believe me it will be rammed down your throat."
It was always possible those words would come back to haunt the Leader and Andrea Colbourne certainly wasn't about to let that opportunity pass as she took the seat.
The result was still a close one however, as she crossed the line 83 vots ahead of Labour candidate David McAllister.
Planning for the Godley Green Garden Village is due to be considered later this year but even if approved by the council's planning committee, will then go to the Secretary of State who will make the final decision on whether to allow it to go ahead.
Read more from the Tameside Reporter
Click here for more of the latest news
Click here to read the latest edition of the paper online
Click here to find out where you can pick up a copy of the paper