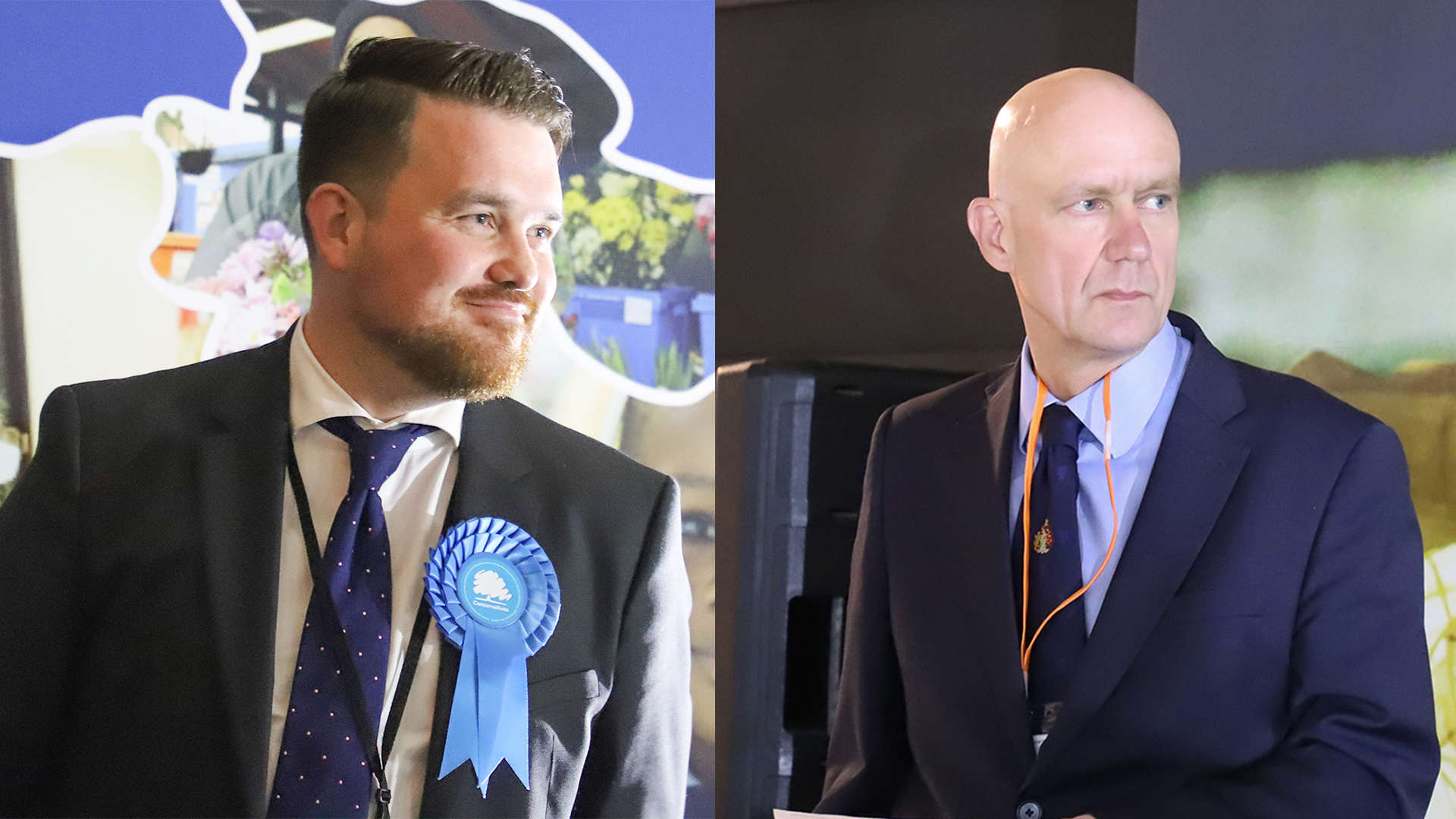 Stalybridge South councillor Liam Billington (left) and Tameside Council chief executive Steven Pleasant. Images: Nigel Wood.
'Wow it must have really pained you to say that!' - those were the words Conservative Councillor Liam Billington started his victory speech with as he retained his Stalybridge South seat.
It was a direct swipe at Tameside Council Chief Executive and returning officer Steven Pleasant.
Having declared the outcome, the chief exec strode straight to the councillor to shake his hand and congratulate him.
However, there is little love lost between Tameside's Tories and the council boss at present, with a major row ensuing following a tweet he made in response to a recent BBC Question Time episode.
As previously reported Steven Pleasant had used his official chief executive Twitter account to respond to comments made by a Conservative voter on the programme after an audience member who voted for the Tories told minister Damian Hinds his government was a 'disappointment'.
In a post he subsequently quickly deleted, the Chief Exec replied on Twitter saying: "She was good. Tory voter with compassion and empathy for others. Who knew!!"
Responding to complaints from the borough's Conservative councillors he apologised to the opposition group, explaining the views he expressed had specifically referred to his frustrations about central government support for refugees.
In an email to Tameside's Tory group, he said: "The words I used were not considered and I accept I should have worded any sentiments very differently, hence my deletion of the post within minutes of posting. That does not excuse me posting it but hopefully a recognition that it was a mistake on my part."
However Conservative group leader Doreen Dickinson said he had 'broken all the ethics' and although she had accepted the apology, other members of he group had not.
Stalybridge South councillor Liam Billington has certainly been a 'colourful' addition to the council chamber and pulls no punches when telling it like he thinks it is.
However, his immediate response as he took to the podium to thank the voters of Stalybridge South was met with a momentary stunned silence, followed by some voices of disapproval and certainly no cheers from Conservative colleagues.
However, he gracefully moved on to thank his supporters, ultimately thanking all the council staff for working at the count 'so quickly and efficiently'.
"Thank you to everyone who voted for me and put their faith in me once again. I promise to work harder than ever for you.
"We work day in, day out for residents in Stalybridge South, we work as a team," he added, acknowledging his fellow ward councillors Doreen Dickinson and Clive Patrick for their continued support over his four years as a councillor.
Read more from the Tameside Reporter
Click here for more of the latest news
Click here to read the latest edition of the paper online
Click here to find out where you can pick up a copy of the paper