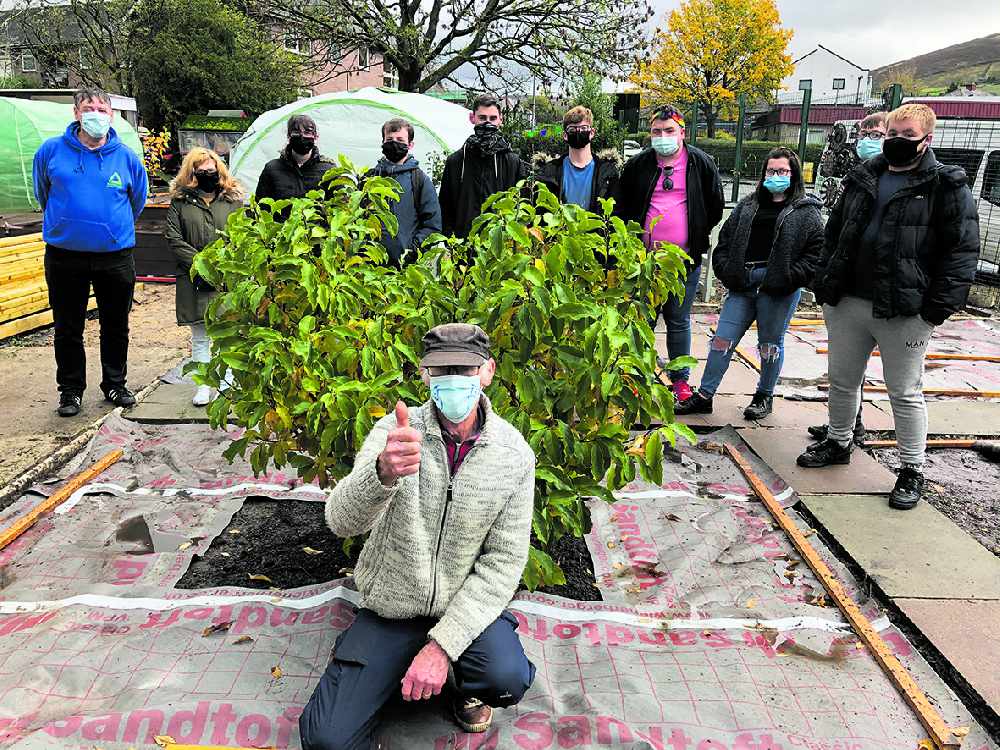 The Prince's Trust Foundation Team 8 of Ashton spent ten days working on an incredible community project in partnership with the You Can Youth project in Carrbrook in Stalybridge. 
The You Can Youth project was founded by Terry Drabble 21 years ago.
Working with the latest team from the Prince's Trust, they have helped to transform a piece of land on Crowswood Drive which will eventually be used as a community garden, teaching families how to plant and look after their own gardens.
The Prince's Trust organisation strives to create 12-week life-changing programmes for those unemployed between the ages of 16 and 25.
The programme provides them with the opportunity to meet new people, learn new skills and train on their team programme.
The first stage of the programme is a community project, in which the group of 11 members was sent out to different projects in the community.
They then had to perform a democratic vote between them to choose which project they will work on. Once the team decided, the members could then apply for certain roles within the project, for example the health and safety officer or the Pproject manager.
The team within Tameside, working with Groundwork of Greater Manchester, have completely transformed the community gardens within Carrbrook to assist in the creation of an inspiring area for all to share.
Research suggests that more children and young people have issues with their mental health and anxiety today than any prior decade, this can lead to disinterest in schoolwork and a breakdown in social relationships.
Therefore, these projects aim to keep young people busy and improve their mental well-being by allowing them to improve circumstances within the community.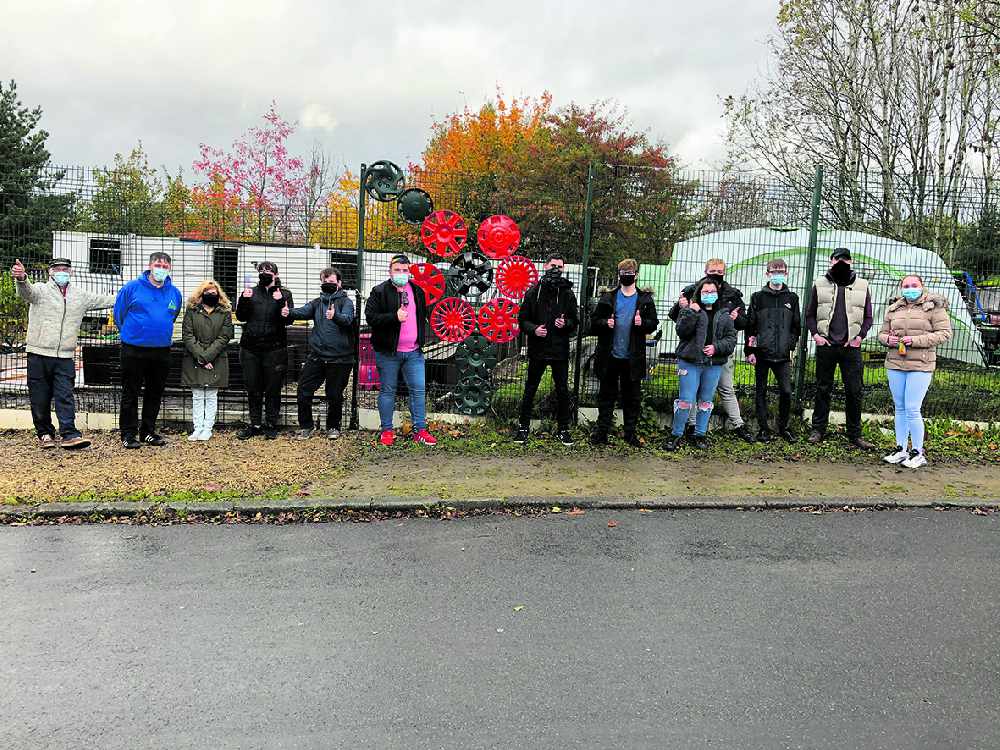 Members of the team pose with their poppy hub cap creation
The Reporter spoke to Terry who told us his current role is the head coordinator and fundraiser.
Community stalwart Terry showed his appreciation for the Prince's Trust on their work, saying they have given him a 'blank canvas' ahead of the new year to begin.
"Through all the wind and rain, they never stopped working and without the work of volunteers nothing would ever get done," he said.
He believes in giving young people a chance, telling us 'young adults just need something to work at, instead of being sat at home feeling depressed.'
He said everyone would be recognised for their work on the project, as every young adult will receive a thank you letter and an invitation to return next year to see how their hard work has transformed the area.
Megan Neville-Cooper, who had responsibility as publicity officer and events manager for the Prince's Trust team, told us how much her confidence had grown already from working as a member of the team.
Chris Turner, from Hyde, was the project manager and spoke of how his confidence and patience also grew.
"When we arrived, it was just piles of mud. We have been laying the ground, chipping the paths and painting the planters just to make it look more aesthetic," he said.
"Terry gave us a list of outcomes, which we had completed in the first week, so then he was able to set us more tasks to complete."
Chris said the whole project had been invaluable in teaching the team to learn about management techniques, delegation and working together as a team towards a common goal.
Christopher Grieves, Prince's Trust team leader for the Ashton team, explained how Prince's Trust works.
"We have delivered this service in Ashton for three years, with this being our eighth team," he said.
"They must each perform ten days of physical work in the community, with the week before spent planning for the project."
He also explained how the group had created a poppy from wheel trims which is displayed on the front gate of the gardens and explained how the Prince's Trust aims to make young people more employable by giving them information for their CVs.
The programme consists of work placements and an employability week. Most of their young adults then go onto further education and employment.
Team 8 will finish their full project just before Christmas, meaning the new team will begin in January next year.
If you would like to be a member of the next team, or would like more details, you can get in touch with Chris via email at chris.grieve@groundwork.org.uk
Main image:
THUMBS UP: Terry Drabble thanks members of the team.