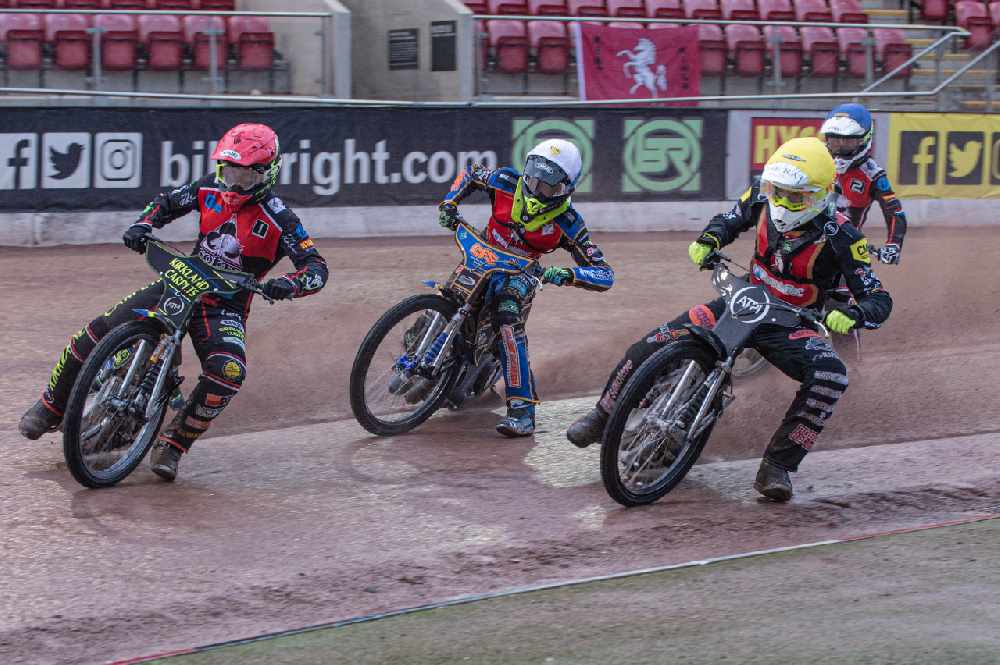 Both teams in Belle Vue's National League clash with Kent were declared a "credit to British Speedway" after soldiering on in challenging conditions after torrential rain in Manchester.
The Cool Running Colts fell short by a single point overall as Kent took the 44-45 win, but skipper Kyle Bickley says his side have nothing to be ashamed of in the wake of their brilliant performance.
Heavy downpours threatened at the crucial time, but club management held their nerve and waited out the worst of the weather with the National Speedway Stadium circuit coping stupendously.
It was unfortunate that both teams did not come away with something for their trouble after a dramatic night of action-packed racing, but Bickley says his side should not be too disappointed.
He said: "There was nothing more any of us could've done tonight. The boys rode so hard and in challenging conditions. Defeat is tough to take because we were so close, but it is what it is.
"Everyone on both teams was just raring to go. There was no doubt in our minds that we wanted to race and as soon as the rain stopped, we were ready to get on with it. That was unanimous.
"We expected a tough match from Kent. They are a strong side and you have them the credit they deserve too. Hopefully the fans enjoyed it, and we'd like to thank them for their support."
The club would also like to extend their thanks to supporters for their faith and support on the night, as well as the track staff and volunteers for their efforts to ensure the meeting went ahead.
The Rentruck Aces head to Wolverhampton on Monday, August 5 before the Cool Running Colts take control at the National Speedway Stadium against Leicester next Thursday, August 8.
Tickets for our National League clash are available online at www.bellevue-speedway.com
RESULT – BELLE VUE V KENT – THURSDAY, AUGUST 1
Belle Vue 'Cool Running' Colts 44: Connor Bailey 11+1, Kyle Bickley 10, Jordan Palin 8+2, Danny Phillips 6, Leon Flint 4+1, Ben Woodhull 4, Ben Rathbone 1
Kent 'Touch Tec' Kings 45: Drew Kemp 17+1, Dan Gilkes 12+3, Anders Rowe 8+1, David Wallinger 4+1, Jordan Jenkins 4, Luke Barnes 0, Alex Spooner r/r
National League Points: Belle Vue 0 Kent 3
Report by Hayley Bromley
Picture by Ian Charles