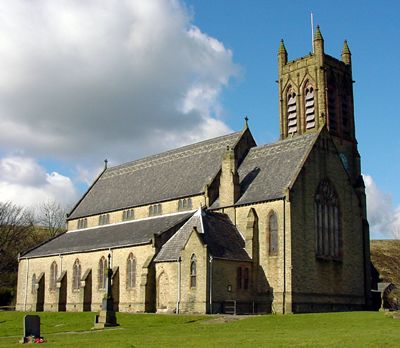 There will be another tree-mendous event in Mossley next month.
St George's Church is holding its third Christmas Tree Festival and want people to be a part of it.
The festival, between December 13-15, will see up to 50 decorated trees in the church, with funds from the event split between St George's Church and Emmaus Mossley.
Father David Warner, the vicar of Mossley, said: "Last year we had 50 decorated trees and raised more than £900, with 700 visitors. We'd like to beat all of those records!
"We're inviting you to join in by sponsoring a tree and decorating it to reflect your organisation - 5ft real trees will be provided and will be in place and labelled with the name of your organisation ready for you to decorate - please use battery lights only.
"If you can't commit to this, you can sponsor a tree and we can decorate it on your behalf (with a label to show you've sponsored the tree). Alternatively, you can join our list of sponsors by sending a donation to support this venture (and maybe sponsor a tree next year!).
"We need to receive confirmation you want to be involved by November 25."
This year musical groups are being urged to take part with music and song.
There will be 30 minute slots available at 11am, noon, 2pm, 4pm on Friday, December 13 and 2pm, 4pm on Saturday, December 14.
The festival will be open from 10am on the Friday with refreshments all day and a special concert in the evening featuring Mossley Hollins High School band and local primary schools.
It will also be attended by the Civic Mayor of Tameside Cllr Leigh Drennan and special guest Terry Waite CBE.
From 10am on the Saturday, there will be a 'Breakfast with Santa' during the morning and a special Christmas concert by St John's (Mossley) Band at 7.30pm and open from noon on Sunday. A prize raffle will run all weekend and be drawn at 3pm on Sunday.
Someone from each organisation needs to be available to remove the tree and decorations from the church between 9-11am on December 16. If you'd like to keep the tree for your own use it must be collected then - remaining trees will be sent to Emmaus Mossley to be sold off after this point.
For more information contact Fr David on 01457 237667, email vicarofmossley@gmail.com or visit the Facebook page @mossleyparish.