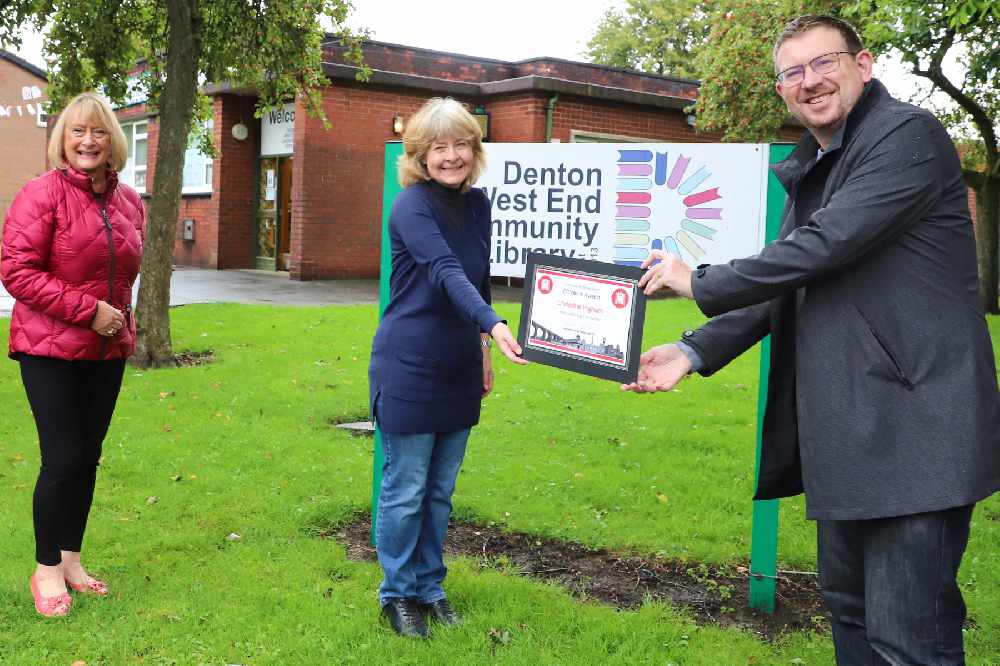 MP Andrew Gwynne has presented his latest Citizen's Award to Denton West End Community Library volunteer Christine Ingham. 
Christine is one of the key volunteers who helps to keep the library open and up and running.
However, she was nominated for the honour for all the additional work she has done during lockdown.
At the height of the pandemic Christine was based in the library on her own to ensure social distancing, making activity packs for the children of the area.
The packs were left outside the library along with surplus books for residents to collect.
The activity packs proved immensely popular with children, whilst providing much-needed support to parents who were struggling to entertain their children for so many endless months.
Some parents even drove across from Ashton to pick up a pack.
Andrew stated: "Christine spent a huge amount of time producing the packs. Well done - the award is certainly well deserved!"
He attended the library at the weekend alongside Denton councillor and Leader of Tameside Council Cllr Brenda Warrington to present the honour to Christine.
Main image:
AWARD: MP Andrew Gwynne present the honour to Christine watched by Cllr Brenda Warrington.