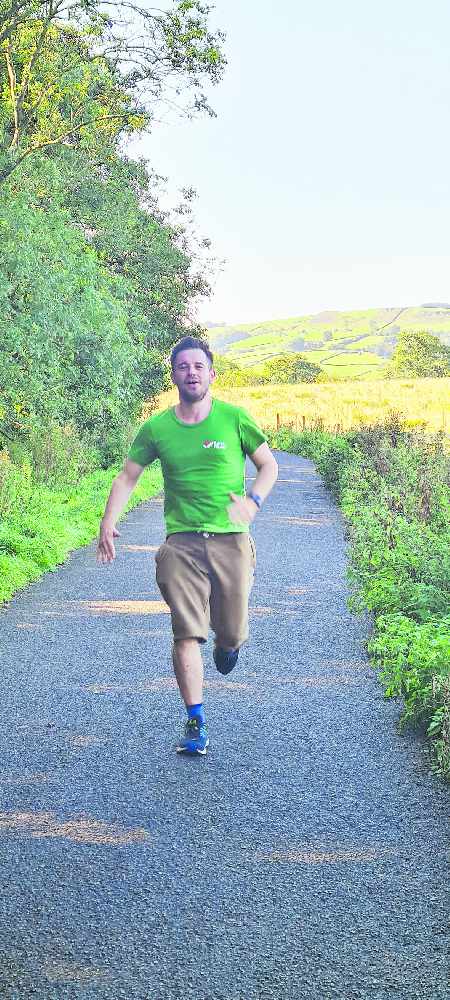 A worker for Denton-based Syria Relief is clocking up the miles for charities both at home and abroad.
Charles Lawley, 33, from the High Peak, is currently taking on a month-long, 170 miles running challenge.
The distance is significant, as it is the same distance that refugees walk from Aleppo in Syria to Arsal in the Lebanon, a route that thousands of families take each year.
All proceeds are set to be split 50/50 between the charity Charles works for, Syria Relief, and High Peak Foodbank.
He explained: "I work for Syria Relief and the civil war in the Middle East is something that I'm incredibly passionate about, the levels of poverty there are getting worse.
"But we're going through a very tough time here as well, most of us have never lived through anything like this.
"There's lots and lots of families locally who need support so my aim is to raise money for both causes. Every donation will get split 50/50 between the two charities.
"The 170 miles is significant because that is the distance from Aleppo in Syria to Arsal in Lebanon which is a walk that many refugees have had to do on foot to flee to safety.
"But they end up living in squalor in tents in refugee camps by the Lebanese and Syrian border, so I thought it was a particularly pertinent milestone to aim for. I'm lucky enough to do it in my own time with no fear for my life
"To make that journey you have to go across the Anti-Lebanon Mountains so you get very high up on it and in winter many freeze to death doing that journey."
It's quite a challenge for the 33-year-old, who was never a serious runner before taking up the challenge.
"I've never done anything more than 5k so about three miles is usual. I started running about four weeks ago and thought it wasn't too bad.
"But I don't know how my 33-year-old knees are going to take it. I started last Thursday and I've done over 23 miles already. The most I've done in one go is seven and a half miles.
"I'm not a natural runner, it isn't something I've ever done before, I haven't even done a small version of this."
Charles recently returned from a trip to Beirut, where he saw first hand the devastation that the explosion in the port had caused across the city.
He said: "When the events of August 4 happened, when you saw the explosion in the port of Beirut, we had the expertise, we had the men on the ground to respond so we did that.
"Initially it was incredibly surreal, it was like a Godzilla film - there were crushed cars and buildings torn down.
"There were 350,000 made homeless but they have found shelter for them. The short term needs have been met so it's long term needs now in Beirut.
"A lot of children in Beirut have been traumatised by what has happened because their minds can't cope with the explosion. A lot of them are scared it's going to happen again, even pushing two months on.
"The long term need is rehabilitation of buildings, of homes - 350,000 made homeless that's about 100,000 homes. There's still some homes where it needs to be decided if they can be fixed or pulled down."
If you would like to support Charles' fundraising campaign, head to https://www.justgiving.com/fundraising/lebanontosyriainhighpeak.