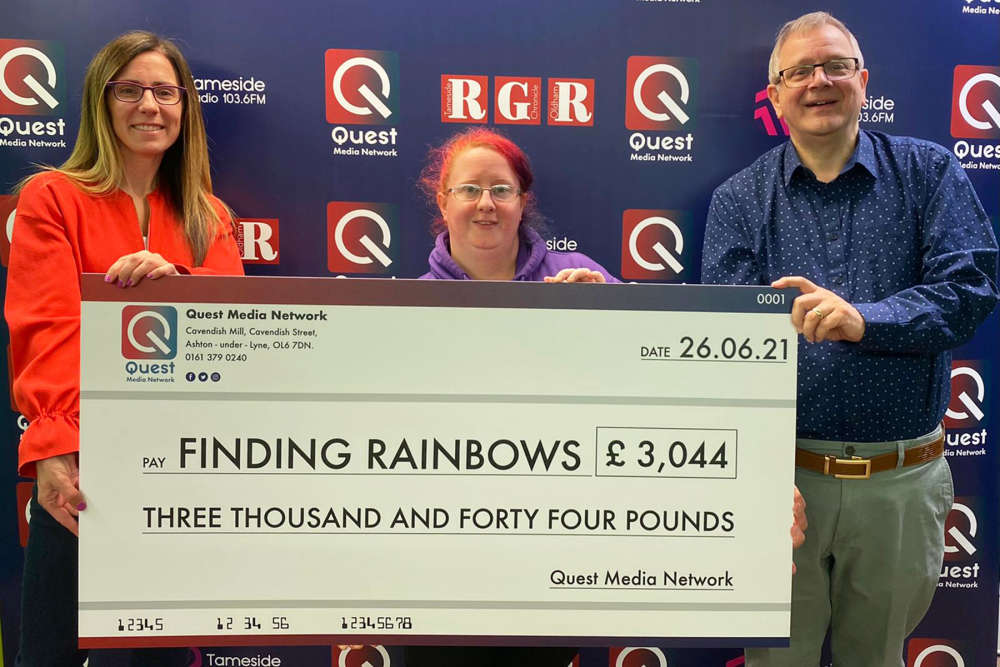 PRESENTATION: Quest Chief Executive Emma Marsh and Reporter editor Nigel Skinner present the cheque to Lisa Ridehalgh from the charity.
The first charity supported by sales of your Tameside Reporter and Glossop Chronicle has been presented with a cheque for more than £3,000.
Finding Rainbows is a local charity specialising in supporting families and individuals who have sadly suffered the loss of a baby or child.
The charity offers befriending /counselling services and more, including holistic treatments, while also running projects such as Over the Rainbow which offers support to anyone who has suffered a bereavement.
The charity was founded by Natalie Cook, following the loss of her baby boy Kaiden. As Natalie struggled to find help and support, she set up the charity to help others like her.
The charity was the very first to be nominated by readers to receive funds from the sale of your Reporter and Chronicle.
For each copy sold for just over three months, 20p from the £1 cover price was donated to the charity - with a grand total of £3,044 raised.
Those funds have now been presented to the charity.
Upon receiving the money, Lisa Ridehalgh, deputy manager at Finding Rainbows, said: "We would like to say a huge thank you for the donation and to all readers of the Reporter and Chronicle and members of the community for their support for the charity.
"The money will go towards continuing to support our work in helping those cope with baby loss and to help other projects going forward and will also help the charity as we open back up from the restrictions."
A young charity champion
One of those projects is called 'Upon Angel Wings'.
Lisa explained that the charity accepts donations of wedding dresses or bridesmaids / flower girl dresses which are then transformed by seamstresses into 'angel gowns' for funerals of babies.
These gowns are in turn donated to bereaved families, funeral directors or hospitals - and then provided for families.
But the charity was recently surprised to receive one donation from Teagan Cox - who is just nine years old.
Teagan, from Stockport, said she loves helping other charities and Finding Rainbows is not the only local group she has supported.
For the big-hearted youngster has also donated her locks of hair to the Little Princess Trust charity which makes wigs for children with cancer.
Teagan is presently growing her hair again and plans to make another donation of her hair soon.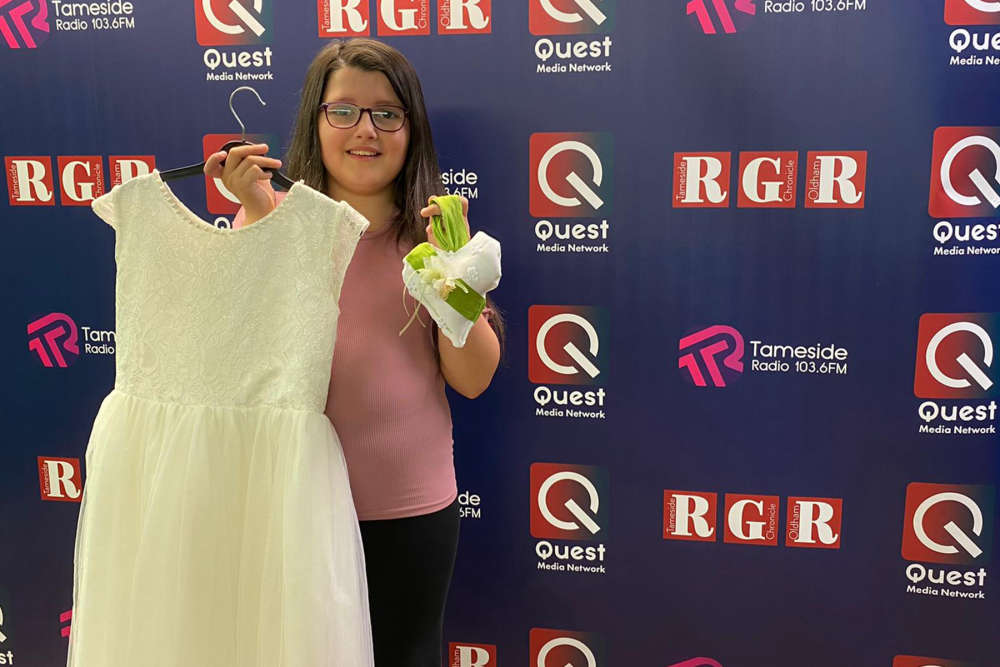 KIND-HEARTED: Nine-year-old Teagan Cox.
Lisa said they were truly touched by Teagan's donation of the dress she had worn at a relative's wedding and wanted to say a public thank you to her.
Tasked with turning the already beautiful dresses into 'Angel Gowns' are volunteers like Wendy Taylor, who, to date, has made more than 100 gowns.
Wendy explained: "I started in lockdown and had a sewing machine and can do alterations.
"I saw the charity needed a seamstress and decided I could spare the time each week. We also make hearts out of the dresses as well."
Wendy has sewn for some 35 years in factories and made her own items to wear, but says all the skills to make the gowns can be easily taught to those who would like to come forward and help.
However - if you have some experience in helping to create dresses then the charity would like to hear from you.
Anyone who would like to donate a dress can also do so, although the charity has a list of a good number of dresses at present.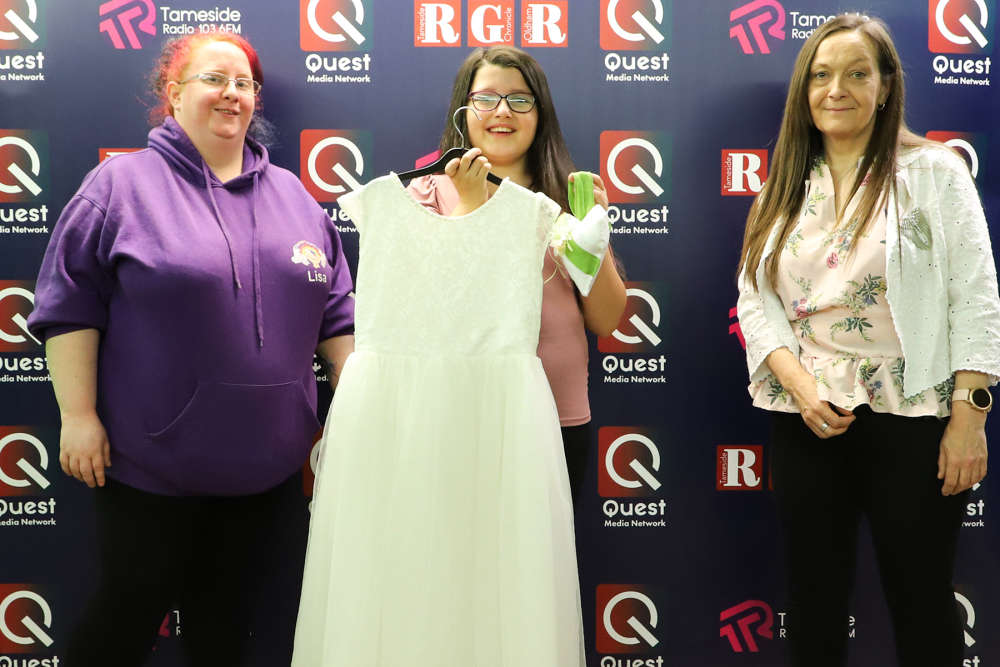 THANK YOU: Lisa with Teagan and seamstress Wendy.
'This is our way of helping smaller charities'
Chief Executive at Quest Media Network, Emma Marsh, said: "We launched our charity papers to help our smaller charities in these tough times.
"The pandemic has hit everyone hard but especially the charity sector, not least smaller community organisations.
"This is our way of helping them and we would like to thank all of our readers for supporting us and helping to raise so much.
"We look forward to supporting more charities in the months ahead."
Over the last few months, the sales of the papers have been helping to raise money for Our Kids Eyes in Tameside and Glossop Mountain Rescue Team.
Vote for our next local charities to support
We are once again asking all of our readers to vote for one of three charities that you would like us to support for the next three months.
We are asking you to nominate one of the following in Tameside:
• Noah's Art,
• The Wooden Canal Boat Society,
• Blood Bikes Manchester.
And one of the following in Glossop:
• Mummy's Star,
• Mentell,
• St Christopher's Trust
To vote for your charity, simply go to www.questmedianetwork.co.uk/charity-edition-votes.
The pandemic has hit all charities incredibly hard - they have been unable to organise and stage any of the usual fundraisers they rely on each year and which guarantee their futures and the vital work they undertake.
For larger charities the cost has literally been measured in millions of pounds of lost fundraising and revenue. But for smaller causes without the reserves and resources to fall back upon, the consequences have been even more catastrophic.
Naturally the more copies that we can sell, the more money we can raise for the chosen charity.
The lockdown and continuing pandemic has also hit local businesses and the high street, so our charity editions are also aimed at helping local newsagents and shops selling our publications.