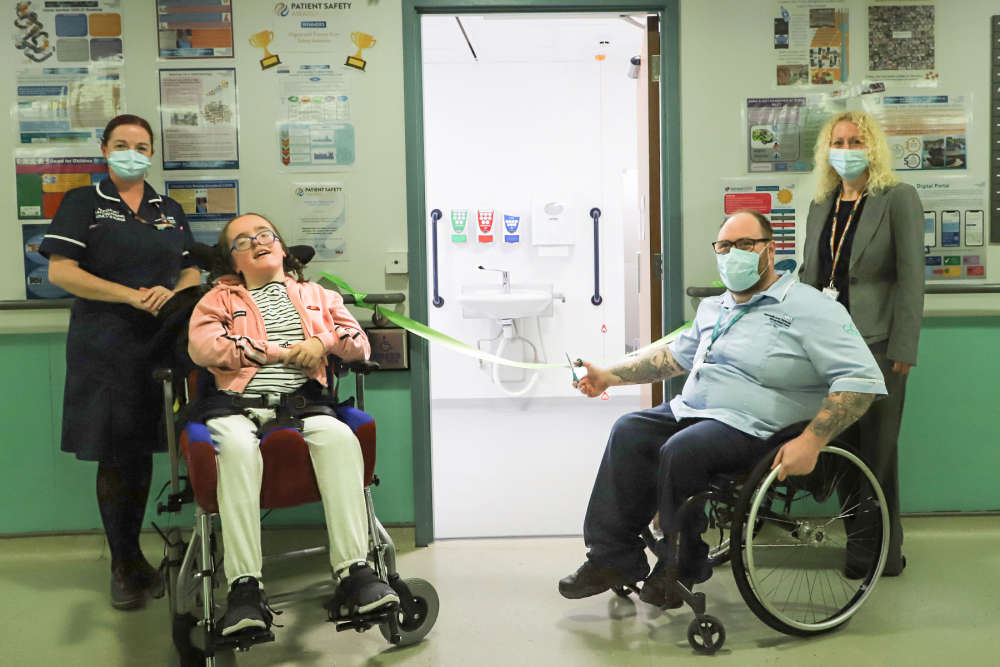 OFFICIAL OPENING: Lucie Williams, left, helps out at the ceremony and says she will really benefit from the new facility, the first of its kind at a hospital in Greater Manchester.
Tameside Hospital has become the first NHS Trust in Great Manchester to install a specialised toilet and bespoke changing room to support disabled patients.
The new facilities are especially for patients who have severe limited mobility, and for whom a standard facility just isn't adequate.
The Changing Places room, which is situated near the main Hartshead South entrance, was officially opened recently.
Luice Williams, who helped open the facility, is one person who will benefit from the 'Changing Places'.
Luice's mum Kerry Williams, who is a Specialist Safeguarding Adults Nurse, says she is particularly proud of the Trust for leading the way in the region.
She said: "Standard accessible toilets or disabled toilets do not provide changing benches or hoists and most are too small to accommodate more than one person.
"Without Changing Places toilets, the person with disabilities is put at risk, and families are forced to risk their own health and safety by changing their loved one on a toilet floor.
"There are only 50 hospitals in the UK with these facilities and none until now in Greater Manchester.
"There are families in our community who do not access health services appropriately as there are no suitable toilet facilities for either the patient or the person they are caring for.
"We believe that the addition of this essential bathroom for many of our residents will ease the distress and encourage disabled people to keep their hospital appointments."