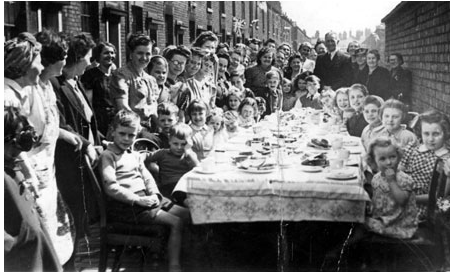 Tameside residents are being encouraged to get involved in the 75th anniversary of VE Day by hosting street parties with their neighbours.
The 8th of May 2020 marks 75 years since Victory in Europe Day (VE Day), with a three-day international celebration planned around that weekend.
People across the world celebrated Germany surrendering after six years of WWII on 8 May 1945. People danced in the streets as the day marked the end of the war and the suffering it had brought to millions.
This year, the early May bank holiday has been moved from Monday 4 May to Friday 8 May to mark this landmark anniversary.
To capture the spirit of celebration and bring communities together, Tameside Council say it has simplified the process to help residents close their roads on the weekend of 8 May and will be encouraging more people to close their roads as part of an initiative called Open Streets.
There is no cost involved for closing a road and a new street party guide has been launched with ideas for games, quizzes and organisation tips to make sure parties thrown are a success.
Communities will also be able to borrow bunting and road signs for free on a first come first serve basis.
Cllr Leanne Feeley, Executive Members for Lifelong Learning, Equalities, Culture and Heritage, said: "Street parties are a brilliant way to bring communities together, form friendships and raise community spirit. With us all living more independent lives, people often feel isolated within their community and street parties are the perfect opportunity to combat this.
"The simplified procedure makes it much easier for residents to close their roads and I hope many choose to get involved in this international celebration."
The street party guide is available online at https://www.tameside.gov.uk/VE75 or by calling 0161 342 4144.
The deadline to apply for road closure for VE Day is midday on Monday 13 April.