Four yoga teachers in Broadbottom will be running special classes over Zoom to mark International Yoga Day this weekend and raise funds for the Alzheimer's Society. 
They will be teaching a range of half-hour Zoom sessions on Sunday (21 June).
This is the proposed schedule:
10.30am to 11am - Helen Roscoe
Helen says: "I'm passionate about working with people in creative ways in order for them to move through life with more ease. Expect a guided practice integrating movement, breath and stillness in order to bring us into the now moment. Ensure you have space to move freely, a mat or a large towel or rug to practice on and a cushion or bolster for support."
Email yoga@helenroscoe.com to secure your place by midday on Saturday (20 June).
11.15 to 11.45am - Helen Oughton
Helen says: "It will be yoga for walkers, runners, cyclists, climbers. Getting outdoors keeps us fit, but leaves us with tight hips, hamstrings and shoulders. Loosen up with this gentle but focused session. Mat, strap and blocks useful but not essential."
Email helenoughtonyoga@gmail.com to secure your place by midday on Saturday (20 June).
12pm to 12.30pm - Joan Abrams
Joan says: "It will be Iyengar Yoga on a chair – an unusual way to practise your yoga and fun to do! The chair acts as a very interesting and versatile 'seat' for a wide range of yoga poses you know well, but with helpful support. You will need a yoga mat, safe chair, cushion/blanket."
Email joanabrams@hotmail.com to secure your place by midday on Saturday (20 June).
12.45pm to 1.15pm - Barbara Hastings-Asatourian
Barbara says: "Let's lie down and relax, and practice 'Yoga Nidra' a deeply holistic restorative way to end our celebration of yoga, ready to move into the afternoon refreshed in both mind and body. Bring a blanket and a soft pillow or cushion."
Email b_hastingsasatourian@yahoo.com to secure your place by midday on Saturday (20 June).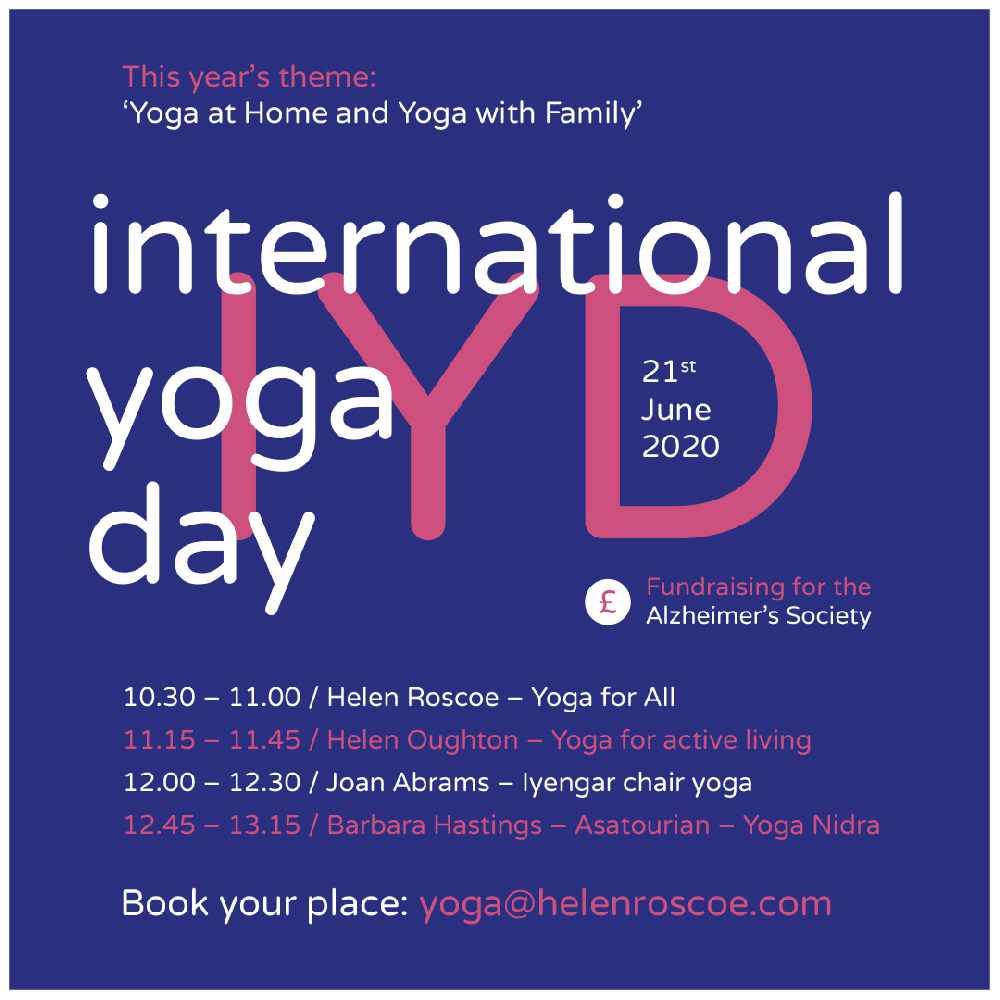 If you sign up to any of the sessions, a scheduled Zoom invitation will be emailed to you.
People are advised to check that their Zoom camera can see you on your mat and that your machine is fully charged up before you begin.
Anyone who takes part is also being encouraged to give a voluntary donation to the Alzheimer's Society via this Just Giving page https://www.justgiving.com/fundraising/International-Yoga-Day.
The International Day of Yoga aims to raise awareness worldwide of the many benefits of practicing yoga. This year's theme is 'Yoga at Home and Yoga with Family'.